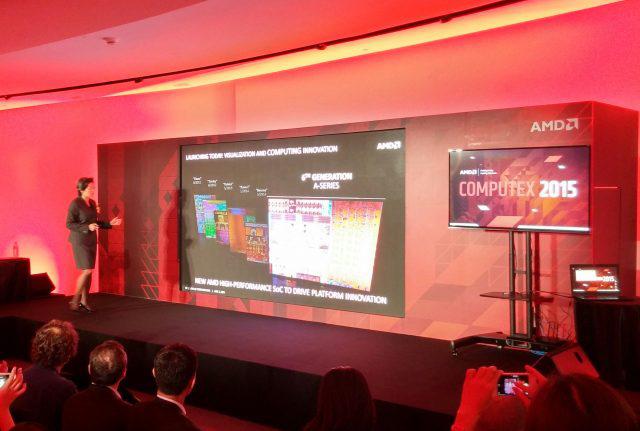 In this line of work, we hear the word "revolutionary" a whole lot. Generally though, it's just thrown in there for dramatic effect, and has no real bearing in the grand scheme of things. This is not one of those cases.
We were lucky enough to be some of the first outside of AMD to hear about the latest APUs, and we were blown away. The 6th Gen A-Series processor, which you may have heard of as "Carrizo," is the result of some extremely clever engineering, and a lot of tweaking. The result is an APU that lets users have an exceptional computing experience, the likes of which were just impossible in the past. The newest generation of APUs from AMD allow users to stream content, play online games smoothly, and even do some heavy lifting, all with increased battery life, at an extremely competitive price point.
The Sixth Generation APU also marks a few firsts in the market. It's the first to offer High Efficiency Video Coding (HEVC) hardware decode support for notebooks, the first Heterogeneous Systems Architecture (HSA) 1.0-compliant design, and the first ultra-secure ARM TrustZone-capable high-performance APU.
This new APU has 4 CPU, and 8 GPU cores. While the entire process is a little more complicated, basically what the engineers at AMD did was skip trying to cram more cores into the same space, and instead, spend time looking at what to put, as well as exactly where to put things on the silicone, in order to get the most performance. The result, apart from a really impressive processor, and an extremely elegant solution to a difficult problem, is more than twice the battery life from the previous iteration, twice the gaming performance against the same hardware from the competition, and the ability to do more of everything on your device. They've even included DirectX 12 support, to make the absolute most of APU+discrete graphics, and the aforementioned HSA support.
"The notebook remains the ideal, versatile, connected hub in people's lives – the one device that does it all and does it well, and today's consumer shouldn't have to pay a premium to enjoy high quality streaming video, superior online gaming, and powerful content management as mainstays of today's computing experience," said Matt Skynner, corporate VP and general manager, Products at AMD. "That changes today with the 6th Generation AMD A-Series Processor, designed to deliver exceptional experiences never before seen in a mainstream notebook, truly making innovation available to everyone. Our partners have plans to introduce our 6th-generation APU in many of today's most innovative notebook platforms, demonstrating the full potential of the APU's capabilities."
AMD included a run-down of the features of what we all knew as "Carrizo," which we will list below.
Superior Streaming Entertainment
6th Generation AMD A-Series Processors bring HEVC/H.265 to the notebook for the first time, enabling consumers to benefit from higher quality, lower bandwidth streaming video playback versus traditional H.264 videos.
Enjoy superb visual quality for entertainment including support for Ultra HD resolution videos using AMD Perfect Picture with Steady Video technology.4
Benefit from energy-efficient playback that allows for almost 2x more viewing on a single battery charge than its predecessor.5
Power through media conversion faster with up to 5x accelerated encoding performance compared to CPU-only processing.6
Smooth Online Gaming
6th Generation AMD A-Series Processors come with discrete-class graphics built in, harnessing AMD Radeon™ Graphics Core Next (GCN) Architecture to deliver up to 2x the gaming performance of competitive processors.
Enjoy true, playable HD notebook gaming with the most popular online titles including DoTA 2, League of Legends, and Counter Strike: Global Offensive, among others.
Play for hours unplugged on the latest eSports titles, almost twice the duration of its predecessor.7
Benefit from AMD Dual Graphics combining 6th Generation AMD Notebook Processors with select AMD Radeon™ R7 Mobile graphics to boost frame rates in games by up to 42 percent.8
Enjoy smooth, stutter- and tear-free gaming with AMD FreeSync™ technology.9
Be ready for the future with support for multi-threaded APIs including DirectX™ 12, Vulkan™ and AMD's Mantle that enable the most advanced gaming technologies designed to improve performance and visual fidelity.
Innovative Computing Experiences
6th Generation AMD A-Series Processors punch above their weight, harnessing up to 12 Compute Cores (4 CPU + 8 GPU)* to realize up to twice the performance of competitive solutions in compute-heavy workloads.10
AMD Gesture Control is available on mainstream notebooks, allowing users to navigate and control their notebook with a simple wave of the hand without added costs.11
For the most complete Microsoft Windows® 10 experience, 6th Generation AMD A-Series Processors accelerate video playback on the forthcoming operating system with native HEVC decode supported, and enable the latest Windows® 10 features with Secure boot and resume, Trusted Platform Module (TPM 2.0), and Drive Key Encryption using the first AMD Secure Processor for performance APUs.
According to the folks at AMD, we should be seeing the first 6th Generation devices this June, right from your favorite OEMs.
There's a whole lot to digest, and we promise we'll let you know everything that happened here in Taipei. For a more detailed look at the 6th Gen APU from AMD, catch the next issue of Gadgets Magazine!