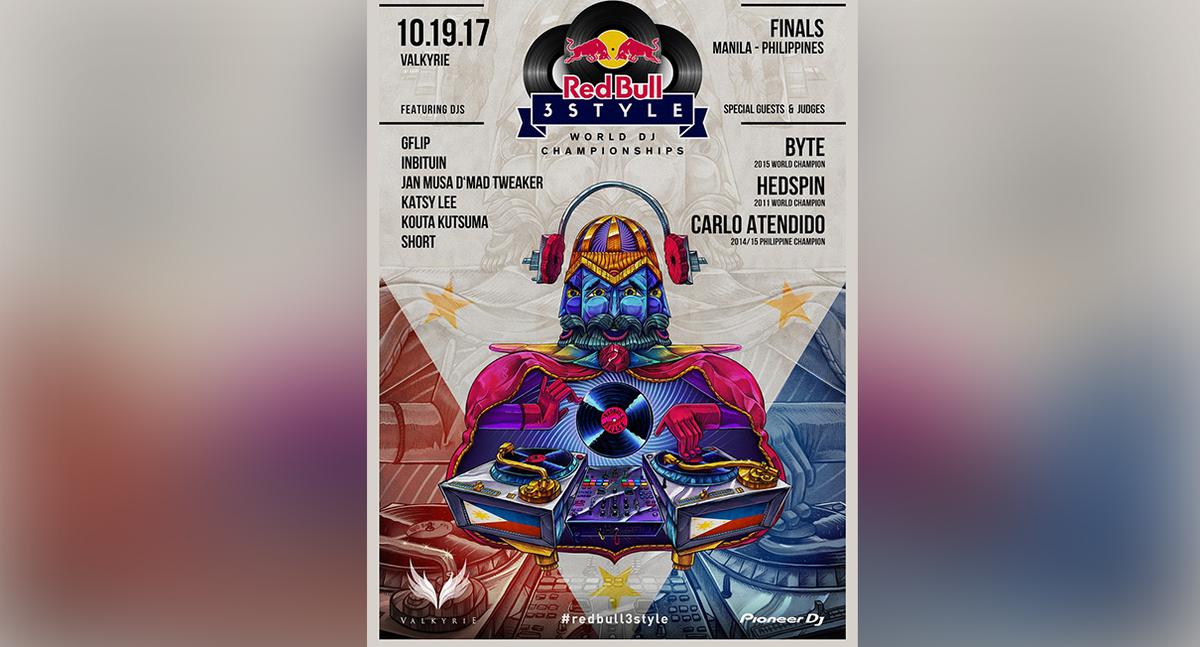 Only a few days are left before the best of Filipino DJs battle it out at the Red Bull 3Style Philippine National Finals that's to be on October 19th 2017 in the Valkyrie at the Palace, Bonifacio Global City, Taguig.
Participating DJ talents all began in equal grounds with each of them submitting a five minute audition video featuring three  different genres of music. On October the 19th they'll be battling it out for a place to compete at the world finals. Here are the finalists:
Kathleen Lee (Katsy Lees) – A standout as the only female competitor in the national finals. Does she have what it take to make history as the first woman to win the Philippine Championship?

Kouta Kutsuma – A staple on Magic 89.9, the Japanese-Filipino DJ makes his 3Style return with the intention to claim the elusive Championship. Will 2017 be his year?

Jan Musa (D'Mad Tweaker) – Beginning his career at the age of fifteen, D'Mad Tweaker developed an innovative style that has allowed him to become a highly competitive DJ. Will this give him an advantage to become a highly competitive DJ. Will this give him an advantage on the national finals?

Charles Angeles Jr. (iNBiTuiN) – An influential figure in the local scene, he is regarded as a Knight of the Turntable. As a man who balances his artistic vision with responsibilities of family will inBiTuiN come out on top and represent the Philippines,  the Philippines at the world finals

Novel Fortick (Short) – A Pioneer of the Cebu Dj scene, Novel Fortick makes his way north of the national finals. Will Fortich take the Philippines Championship and represent the Visayas and the country at the world finals in Krakow Poland?

Gary Bonita (DJ GFlip) – The Open Format Turntablist began his career in 2012 and became recognized name in the streets of Okinawa Japan and Manila. Will the young upstart cement his place in history by winning the Philippine Championship?
The finals will be judged according to originality, skills, music selection, and crowd response. Judges include:
DJ BYTE – 2015 Red Bull 3 Style World Championship

DJ Carlo Atendido – 2x red Bull 3Style Philippine National Championship

DJ Hed spin – Red Bull 3 Style World Champion
Already on its eighth year, the soon to be held Red Bull 3Style promises to be its biggest and most exciting edition yet. This year's 2017 World Championship will be held in Krakow, Poland.
In addition, the 3Style National Finals World Tour will make its return from September to November, with dates in Europe, Asia, and the Americas!
The time is now for a new face to step up and represent the Philippines.