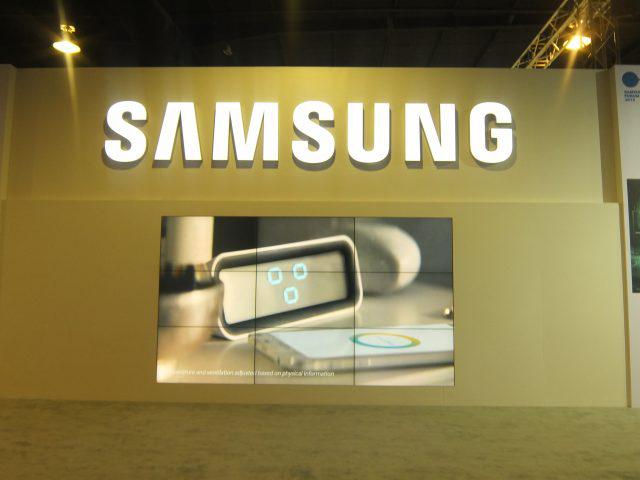 Samsung kicked off the Southeast Asian leg of its product showcase at the Impact Forum, Thailand last week, and Gadgets was on site to catch some of the company's 2015 offerings for the local region.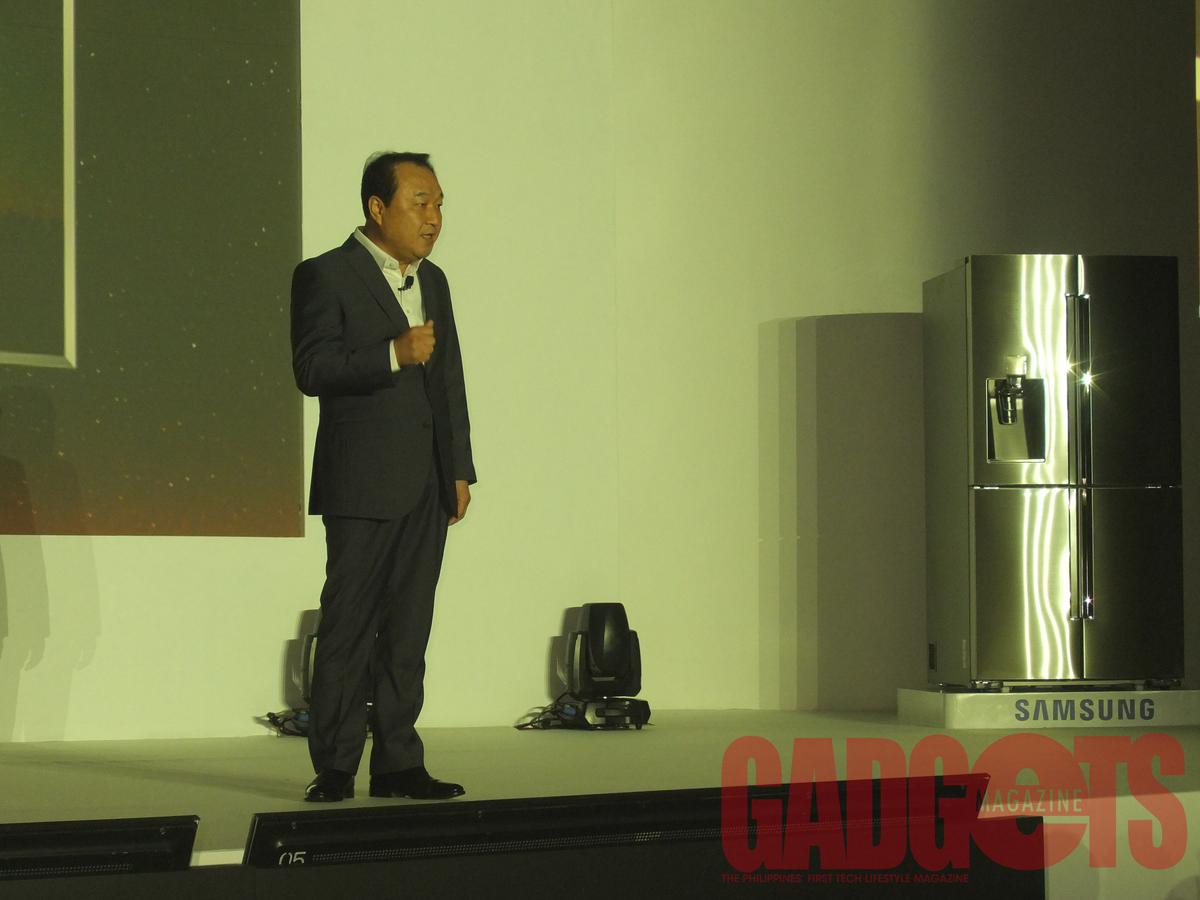 "Samsung has continuously demonstrated a strong legacy of innovation, and this year is no exception," said Yong Sung Jeon, president and CEO of Samsung Electronics South East Asia & Oceania. "I am thrilled with the new line-up of products we're bringing to Southeast Asia and am confident that it will meet people's needs in the region."
Showcased at the event were the company's smartphones, cameras, 4K and SUHD TVs, curved PC monitors, multimedia audio solutions,  product accessories, kitchen appliances, washing machines, vacuum cleaners, air conditioners and purifiers, and enterprise wares.
Samsung A Series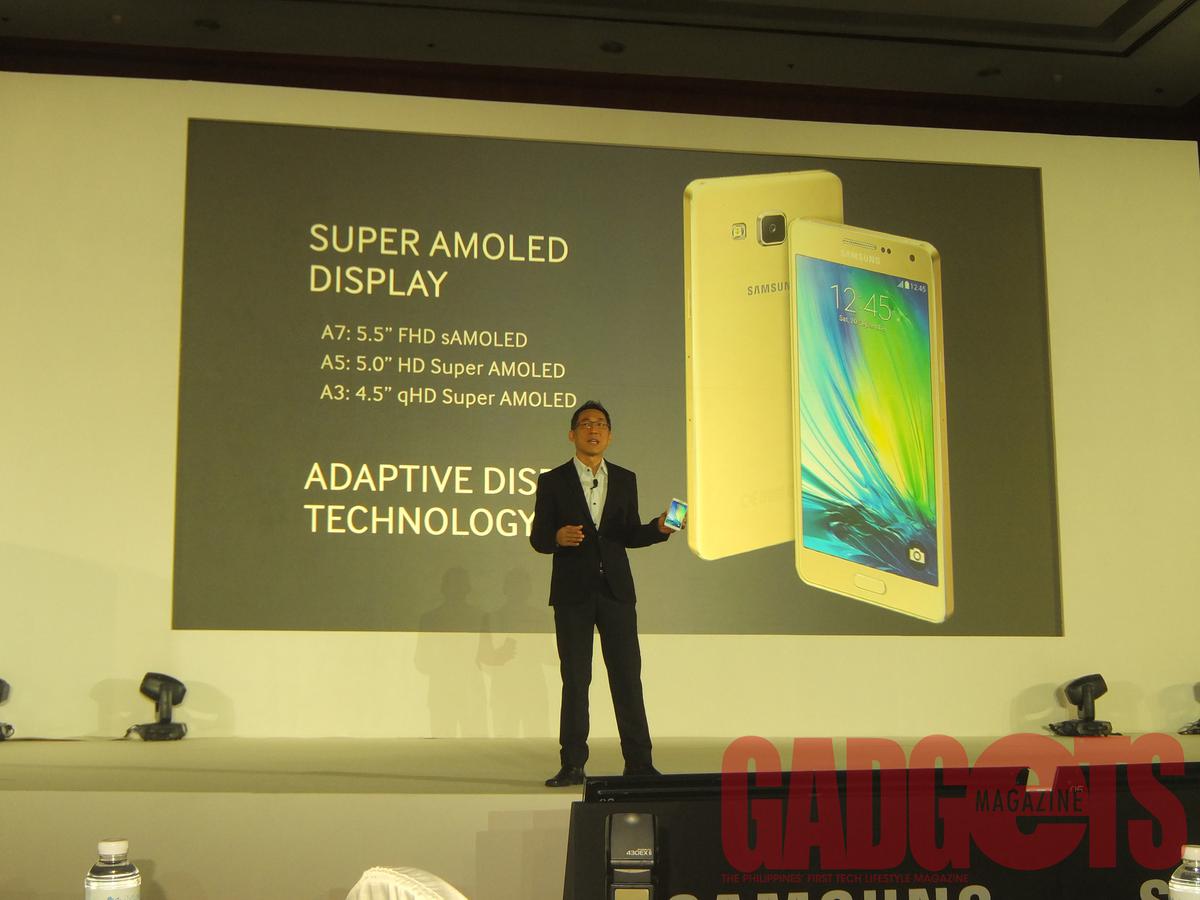 The locally-released A Series also made a showing at the Samsung SEA forum. The A7, A5, and A3 are full metal devices with 5MP front facing cameras, 16GB internal storage, Super AMOLED displays, LTE capability, and specs that make them as powerful as they are stylish.
Samsung E Series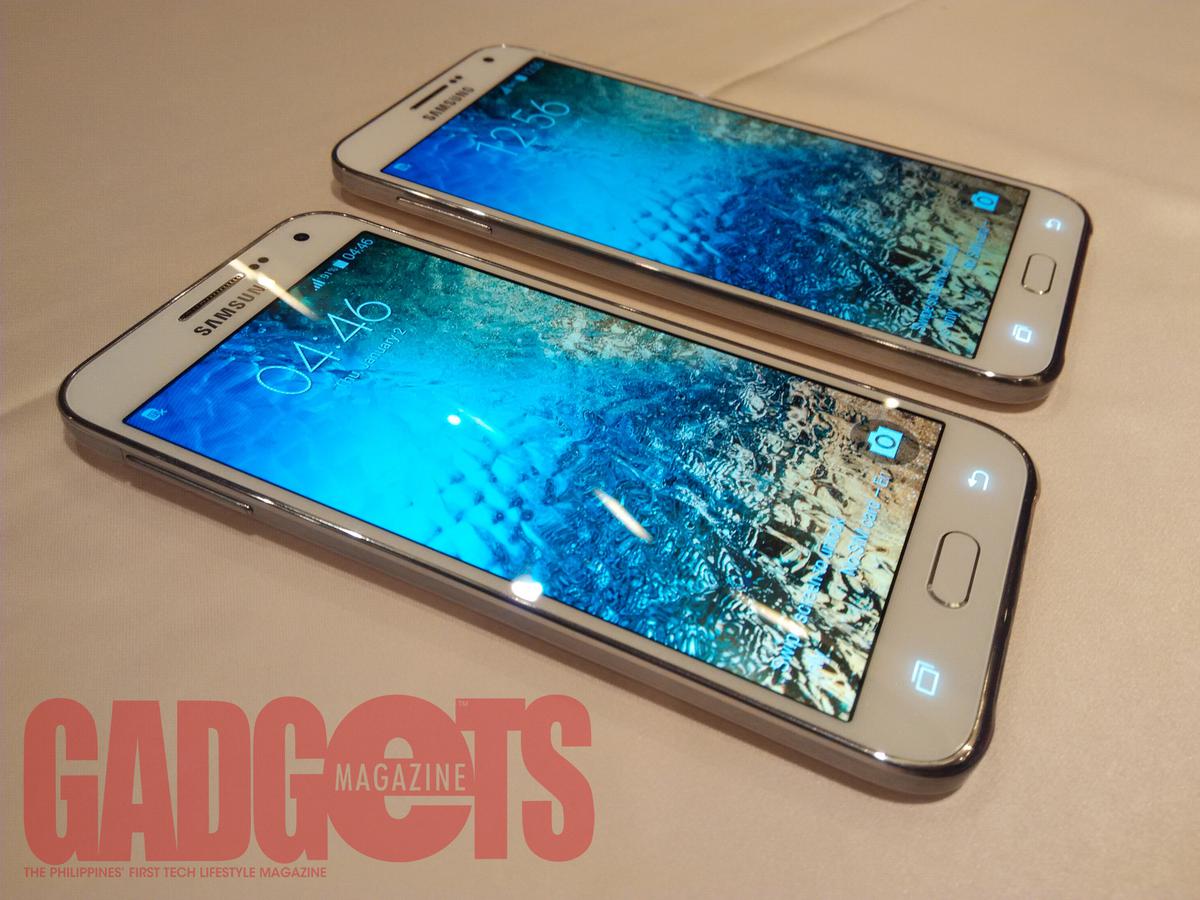 Samsung's new mid-range family, the E Series, currently has two members in its roster: the E5 and the E7.
The E5 is a 5-inch device with a Super AMOLED screen, 8MP main and 5MP front snappers, 1.2GHz quad-core processor, Android 4.4 KitKat, 1.5GB RAM and 16GB expandable ROM, and 2,400mAh battery. It will sell for PHP 13,999.
Meanwhile, the E7 is a 5.5-inch device with an HD Super AMOLED screen, 13MP main and 5MP front cameras, Android 4.4 KitKat, 2GB RAM and 16GB expandable memory, and 2,950mAh battery. It will retail here for PHP 15,999.
Samsung NX500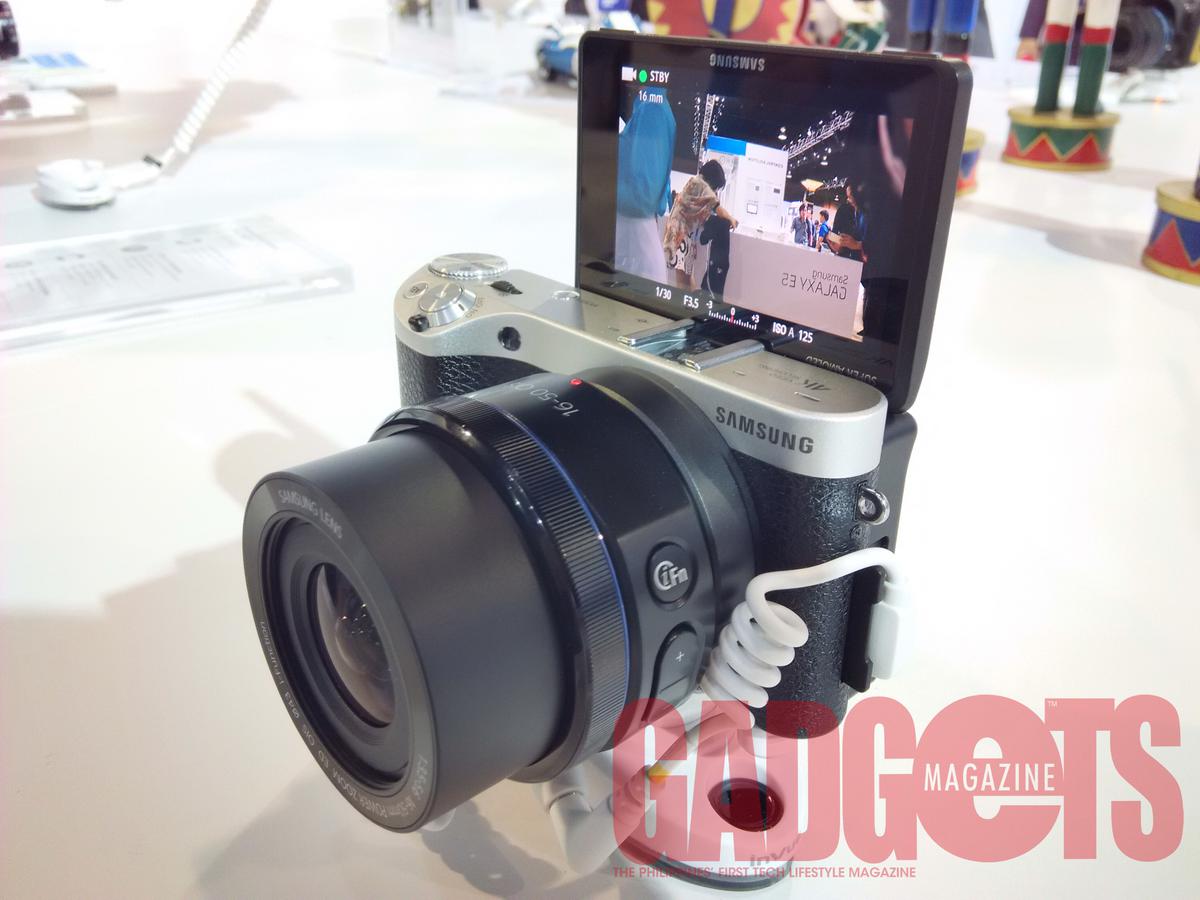 The newest addition to Samsung's NX compact camera family, the NX500, is shaping up to be the best of the bunch.  It boasts a DRIMeV Image processor, a high-speed NX AF system III, and 28MP BSI APS-C sensor for clear and detailed shots no matter the situation. 4K video recording capability is also present in case you're up for ultra high definition footages. For connectivity, the NX500 has Wi-Fi and Bluetooth modules.
The ultra-high resolution videos are compressed via the built-in HEVC Codec that more than halves the size and bit rate of H.264 footage while maintaining the same quality. Additionally, the Interval Capture mode allows stills to be converted into a UHD time-lapse video right on the NX500. Its burst mode captures up to 9 frames per second, and, coupled with the Samsung Auto Shot feature, ensures accurate snaps even when the subject is in motion.
As it has no optical view finder, shot composition is done through a 3-inch Super AMOLED tilt-and-flip touch screen.
Samsung SUHD TVs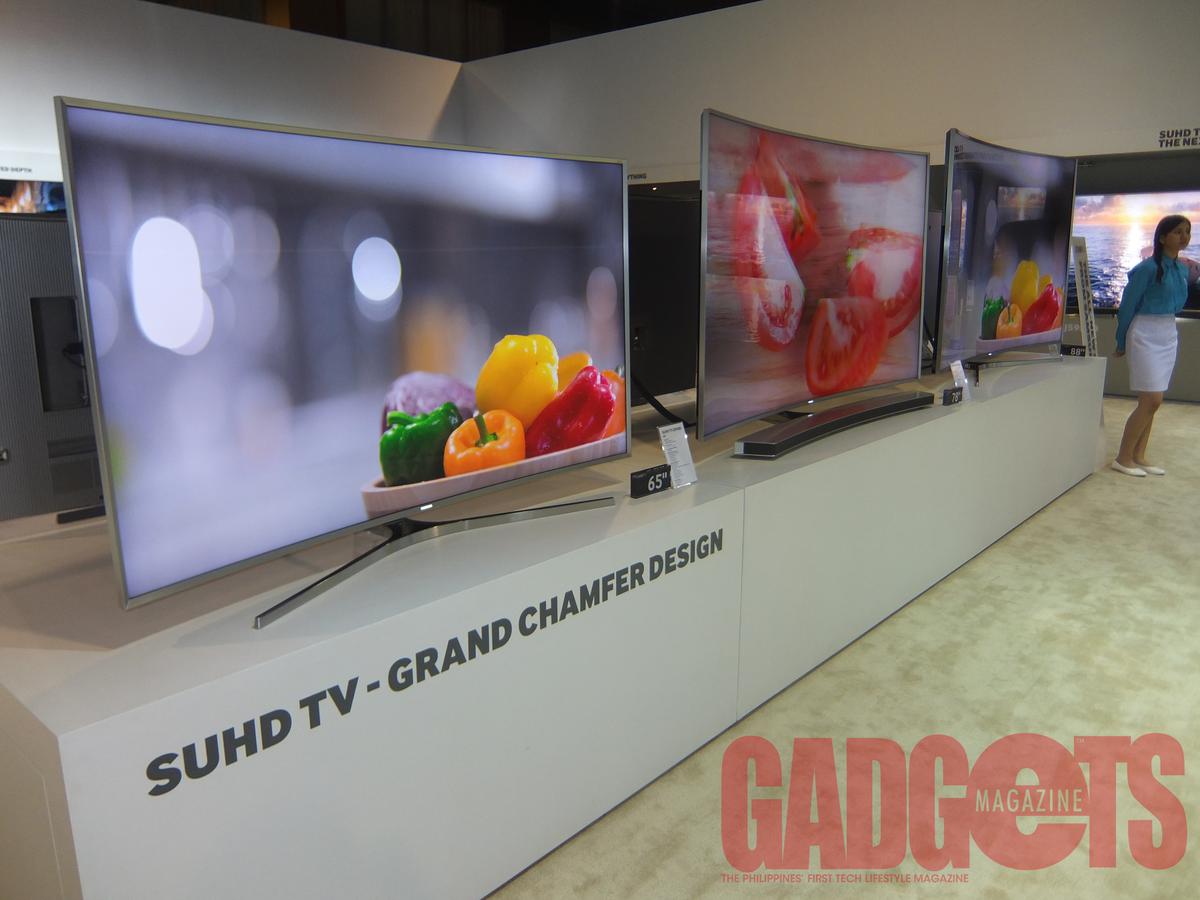 Building on their success in the television department, Samsung has gone ahead to make sets that surpass the capability and quality of 4K TVs.  Announced at the CES 2015, the SUHD TVs bank on nano-crystal display technology and an SUHD re-mastering engine for more engaging, detailed, and stunning images. The former utilizes microscopic light sources for 64-times the color expression of regular TVs, while the latter analyzes the brightness levels and adjusts them for contrast that is two and a half times better than 4Ks.
A total of three SUHDs will be offered to Southeast Asia: the JS9500, JS9000, and JS8500, with sizes ranging from 55- to 88-inches.
To kickstart the development of super ultra-high definition content for their new products, Samsung partnered with 20th Century Fox in re-mastering movies, most notably the Life of Pi.
In line with this, Samsung has formed the UHD Alliance—a group of companies working together to raise the standards for next-gen video entertainment. The Alliance includes some respected names in the industry including Panasonic, LG, Sony, Sharp, Netflix, Disney, Warner Brothers, and 20th Century Fox.
Samsung Tizen OS for Smart TVs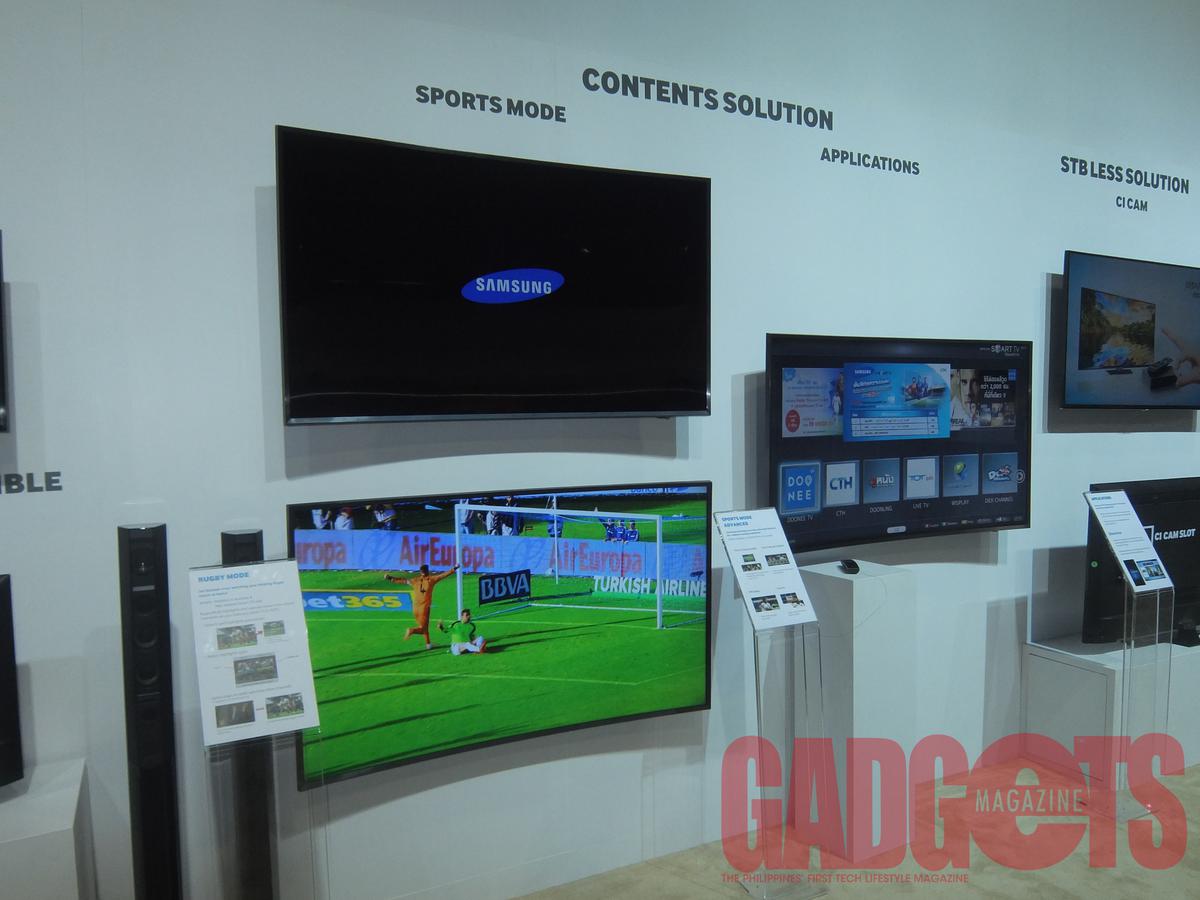 All 2015 smart televisions released by Samsung will ship with their Tizen operating system. It boasts various connectivity options, both to the Internet and your other appliances; a flexible app development ecosystem; and wide content availability.
The Smart Hub home screen is more responsive and intuitive. Now, consumers' most recent content and Samsung's recommendations can be accessed all in one screen. Samsung phones can easily mirror content to the Smart TVs using Bluetooth Low Energy and the Quick Connect feature.
If you're the type who falls asleep while watching the telly, Tizen can act as your alarm and give you weather, time, and show schedule briefings. Additionally, Tizen TVs are future-proofed as they are Internet of Things-ready, not just with other Samsung devices but also with products of various partner manufacturers.
Along with Tizen, Samsung Smart TVs released in the Philippines will ship with the Samsung Seasons feature. International TV shows will be made available to users, with the first episode free, and full seasons rentable for 30 days.
Family TV 2.0 will also be on hand so users can save and send photos and sound clips of their TV moments.
Samsung Curved Monitors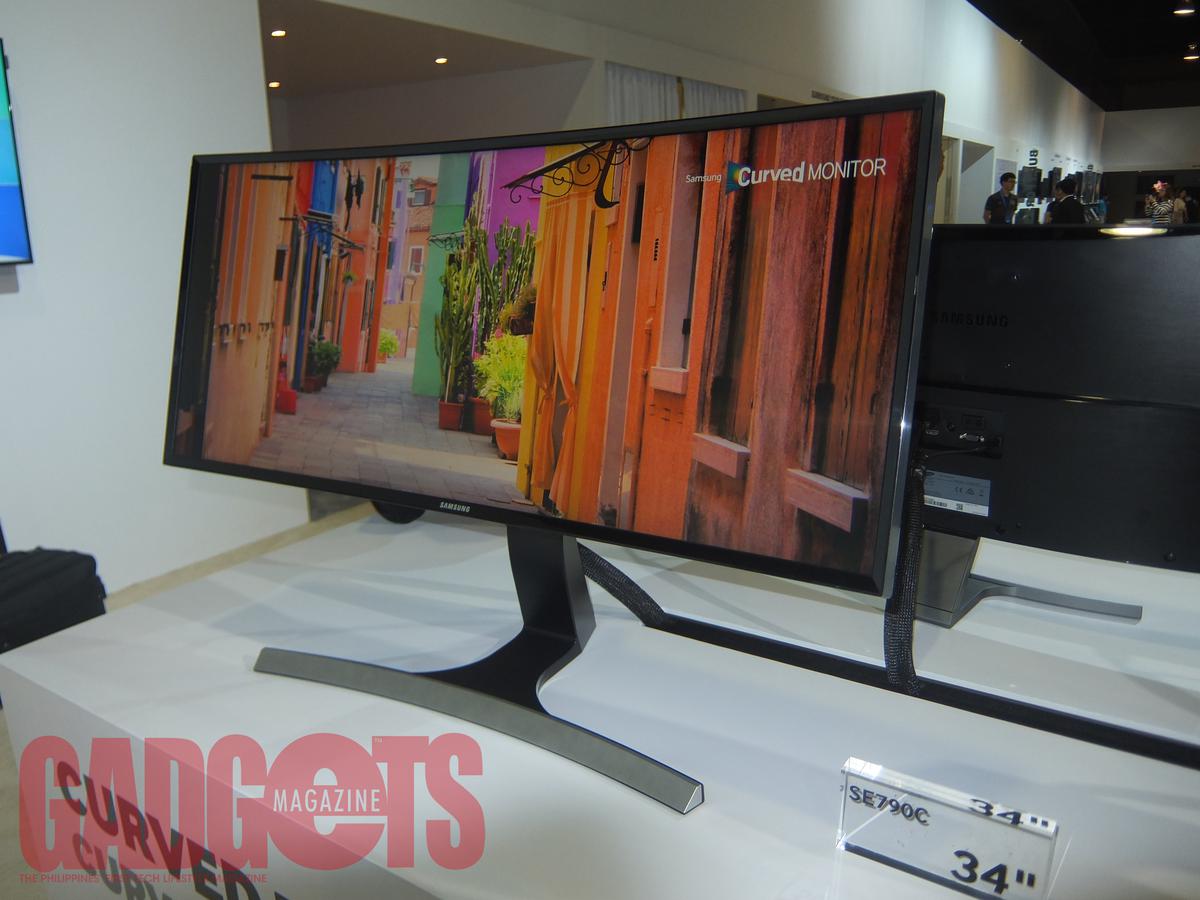 Three curved monitors—the SE790C, SD590C, AND SE510C—made a showing at the conference, seeking to make viewing computers more engaging and pleasurable to users. These come in a sleek and minimalistic package with sizes of 34-inches (SE790C0) and 27-inches (SD590C and SE510C), and refresh rates of 4ms.
The SE790C stands as the flagship and boasts an Ultra WQHD panel with a 3440×1440 resolution in a 21:9 ultra-wide aspect ratio. Meanwhile, the SD590C and SE510C have FHD displays with 1920×1080 resolutions. All come with a variety of essential features including Flicker Free and Game Mode, as well as adjustable stands to make sure you're focused on what you should be doing.
Immersive Audio with the WAM 7500/6500 and Curved Soundbar 8500 Series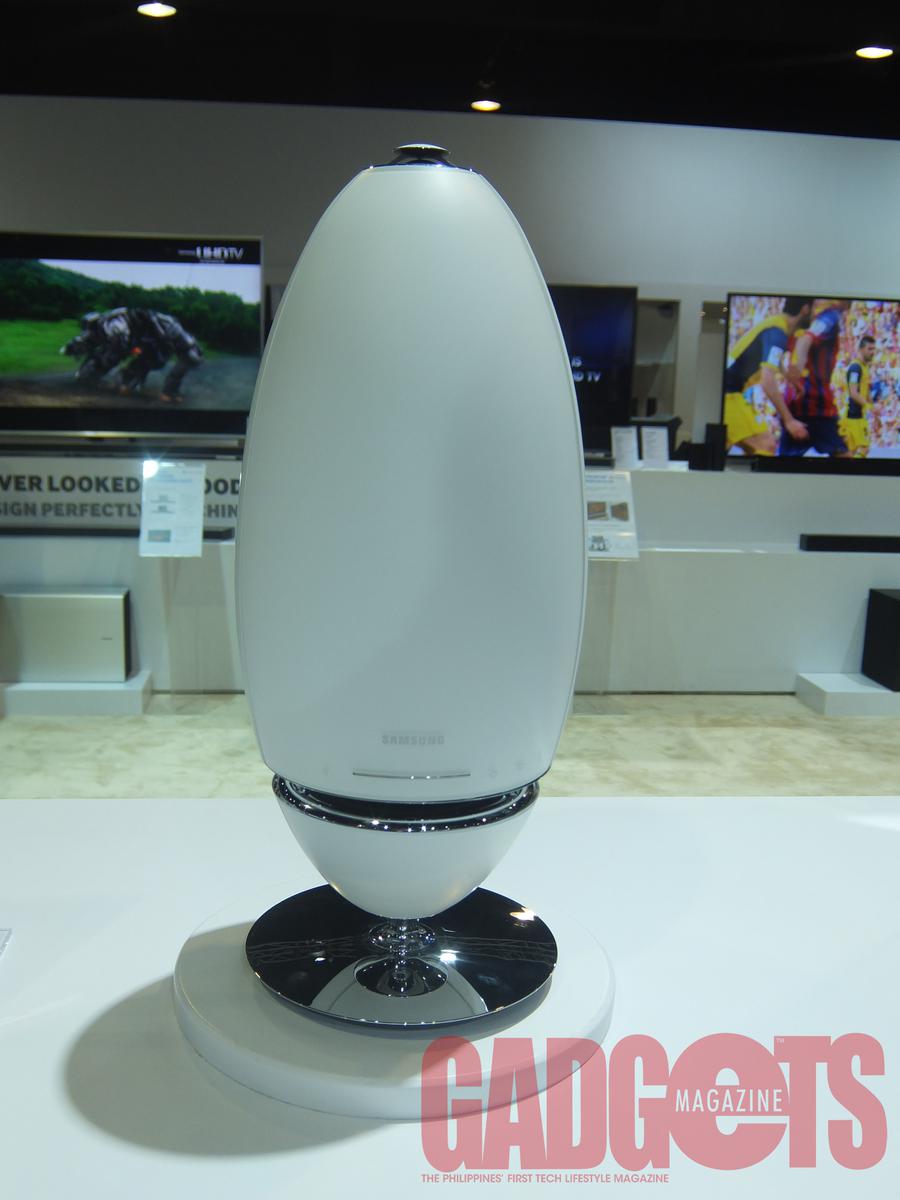 With the help of their Audio Lab team, Samsung developed three audio-immersive products with a wider-than-average sound output.
The WAM7500/6500 boasts the company's signature ring radiator technology for omni-directional outputs throughout your multimedia center. The 7500 is the larger of the two with a stand for tabletops, while the 6500 was meant for portability as it comes with a handle and integrated batteries.
Meanwhile, the Curved Soundbar 8500 series is meant as an add-on for 48- to 78-inches large Samsung Curved TVs. It doles out 9.1 channel audio, connects wirelessly to the televisions, and can also stream music using Samsung's multi-room functionality. Deeper bass is also guaranteed with its patented Multi-Air Gap subwoofer.
Samsung Chef Collection 4-Door Refrigerator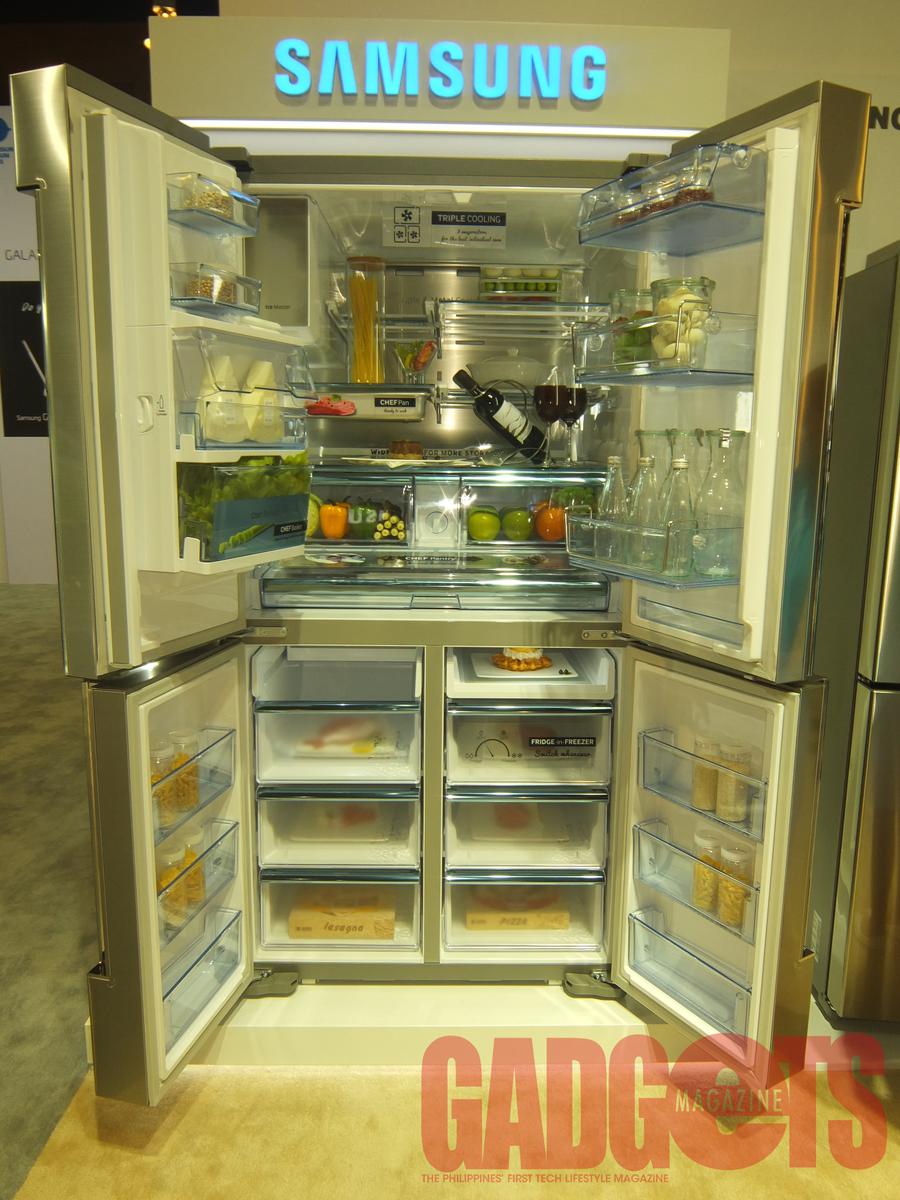 In partnership with Michelin-starred chefs, Samsung developed these special kitchen helpers to help with consumers' culinary needs. The Chef Collection Refrigerator (RF9900) has various special temp zones meant to store specific food. Cooling is made more efficient thanks to Precise Chef Cooling technology that minimizes temperature fluctuations to 0.5-degrees Celsius as opposed to the regular refrigerators, 1.5-degrees Celsius changes. A Metal Cooling Plate at its back also helps maintain temperature throughout the ref.
Additionally, the Triple Cooling System means three single airflow channels in the fridge keep humidity at bay, keeping each section much cooler. This technology also allows a Fridge-in-Freezer compartment—essentially a space that is convertible to either a fridge or a freezer depending on your needs.
Finally, the Chef Collection Refrigerator comes with a Chef Pan, a stainless steel container that can be used for marinating, storing, and cooking food in the oven, and is dishwasher safe.
Samsung Activ DualWash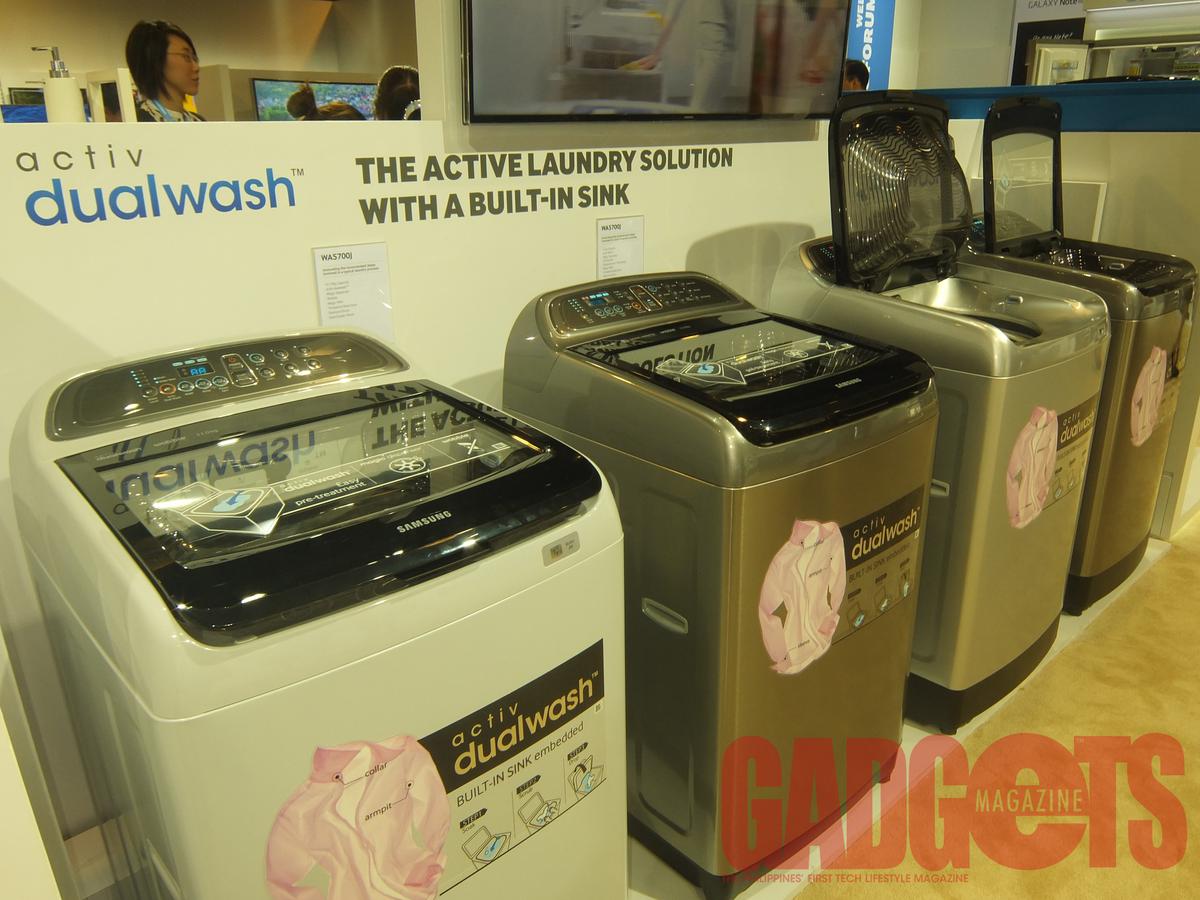 Samsung's newest washing machine aims to make cleaning clothes much more tolerable. It has a built-in sink under the top lid which allows users to pre-treat any delicate clothes before dumping them into the main drum underneath. A water jet and gentle scrubbing surface on the sink ensures that dirt and grime are removed without putting in too much effort. Detergent is stored in a Magic Dispenser where it is dissolved and spread with a propeller.
Samsung Powerbot VR 9000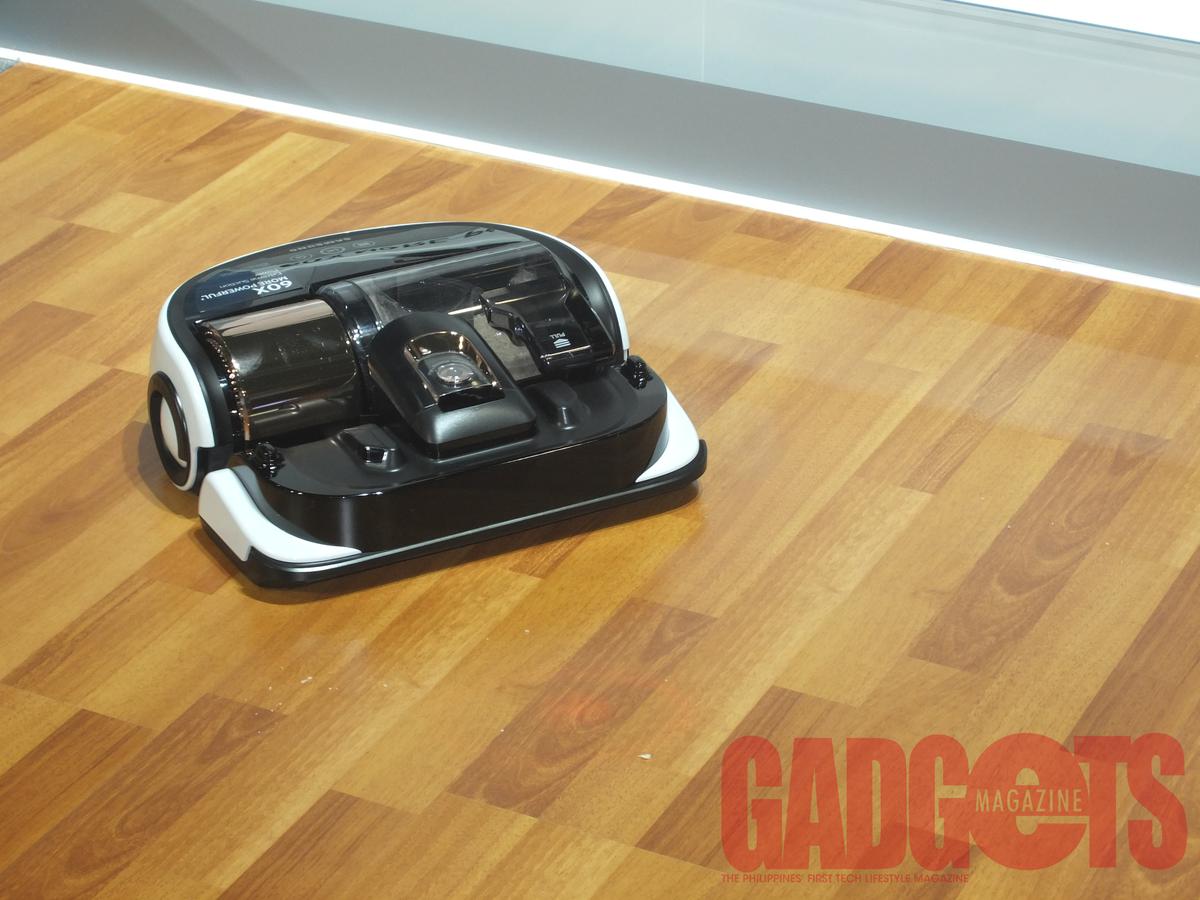 Samsung's most advanced vacuum cleaner yet, this robot floor sweeper boasts of technologies that help it take care of any household terrain, from hardwood to carpet. It runs on a Digital Inverter Motor which not only makes it energy efficient, but also powers its suction up to 60 times better than other robot vacuums.
It's able to detect any obstacles in its way thanks to a Height Performance FullView Sensor. Coupled with high-performance chips and an on-board digital camera, the Powerbot VR 9000 is able to map out your home and decide for itself the most efficient cleaning route via a Visionary Mapping Plus System. Finally, you can use a remote to point the 'bot to where you want it to go. Once its juice runs dry, it automatically parks itself in its docking station for recharging.
Samsung AR7500 Wall Mounted Air Conditioner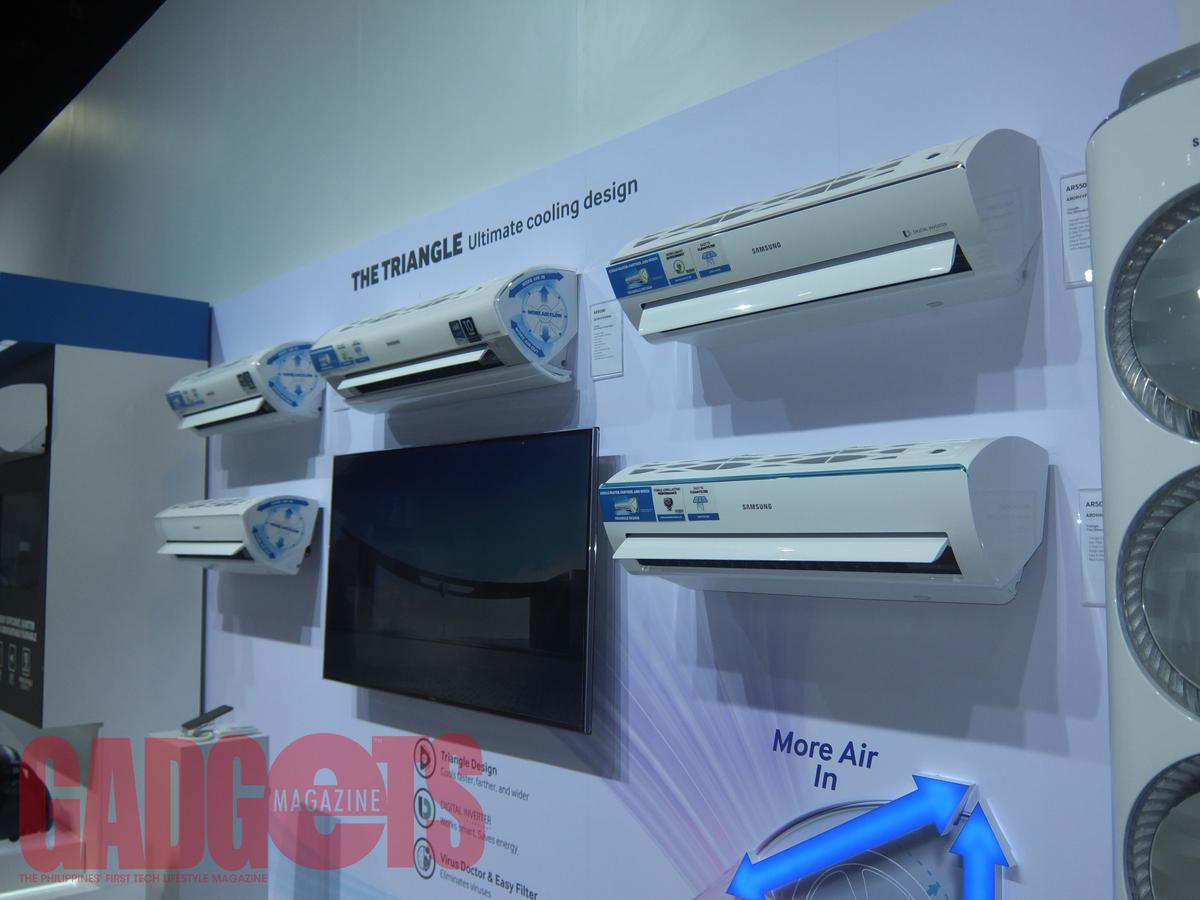 With Digital Inverter Technology in a triangular-shaped body, the AR7500 can blast the heat out of any room in seconds. Its design allows for 139 percent wider inlet, 154 percent wider outlet, and a bigger fan that propels air 26 percent faster, 14 meters farther, and two times wider than regular, box-shaped aircons.
Helping users achieve cool temps in seconds is a Fast Cool mode, which automatically switches to Comfort Mode to retain desired climate. Helping keep the air output clean of dust and microbes are the Virus Doctor and Easy Filter features.
Samsung AX7000 Air Purifier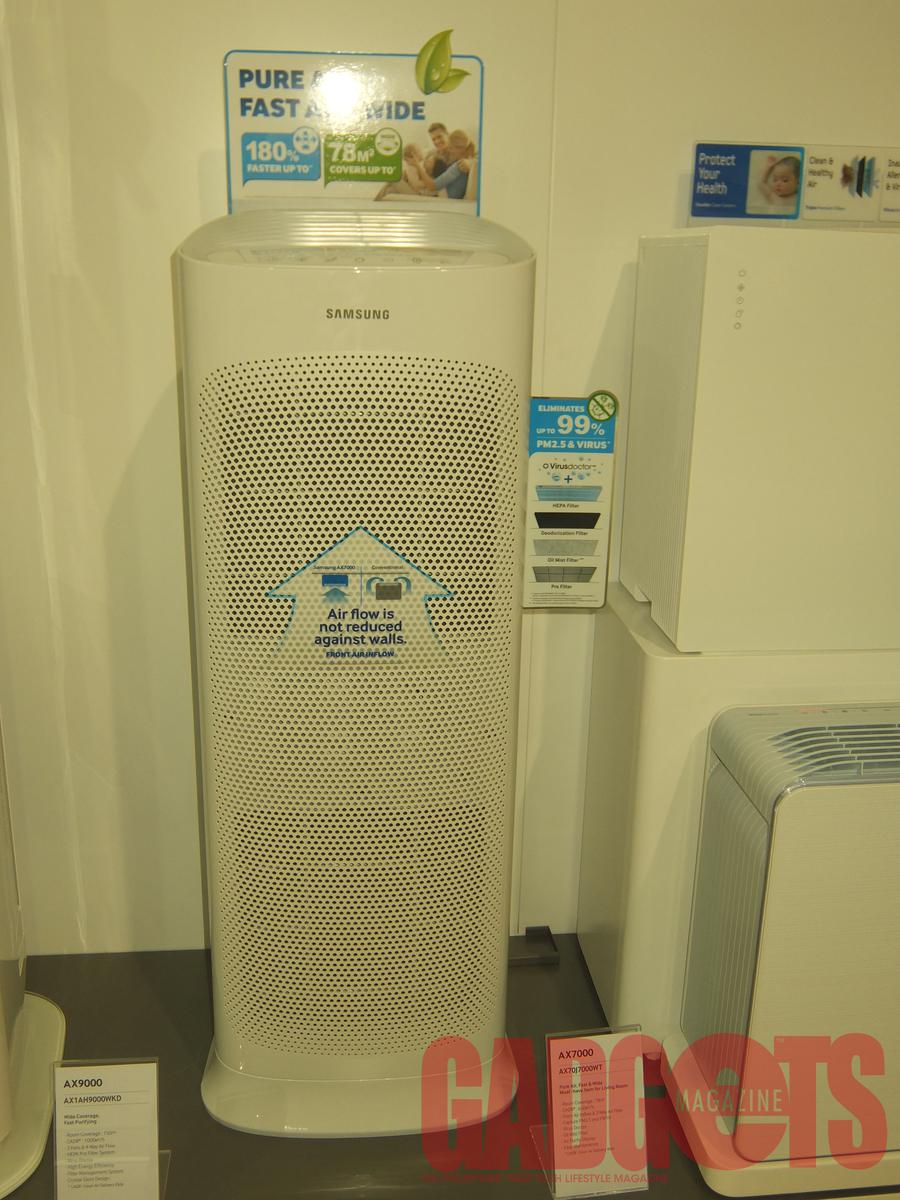 A saving grace for pollen and dust allergic people everywhere, the AX7000 has Dual Power Fan and two 5 step filtration systems to purify the air it draws in. Even oily and stanky kitchen air is no match for the AX7000's Oil Mist, Deodorization, and HEPA filters. The AX7000 leeches the bad out of the air at a rate of 773 cubic meters per hour.
Samsung MultiXpress MFC printers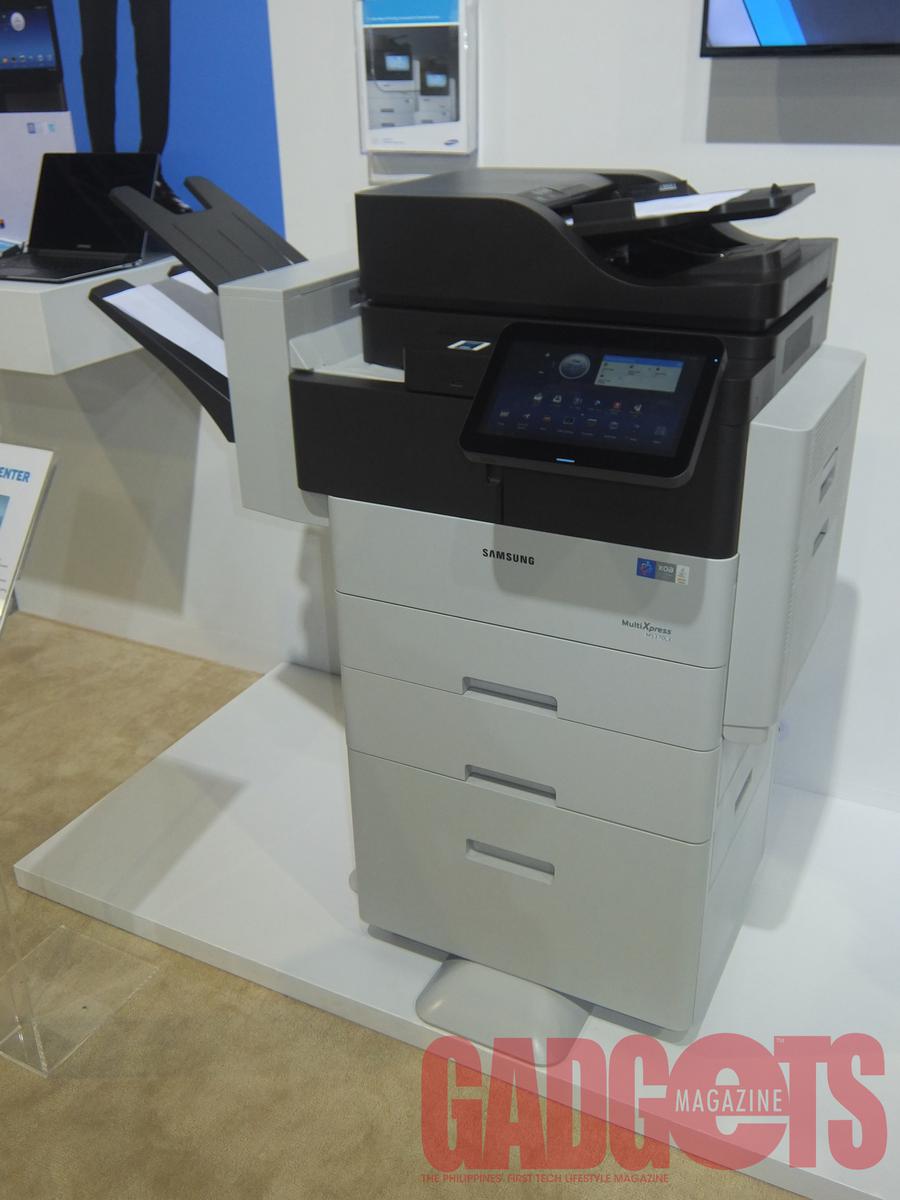 These enterprise-oriented multi-function centers come with an Android UI useable through a 10.1-inch full touchscreen panel. It runs on a system with a 1GHz dual-core CPU for faster speeds when printing emails, maps, images, and other documents.
Samsung App Ecosystem
For the music lovers out there, Samsung will be releasing their in-house music streaming app Milk Music in the Southeast Asian region. Optimized specially for Galaxy A devices, Milk Music features a dial with music genre options for a seamless experience when switching between moods. It's currently available in Australia and New Zealand for free (with ads) or with an AUD 3.99 fee (no ads).