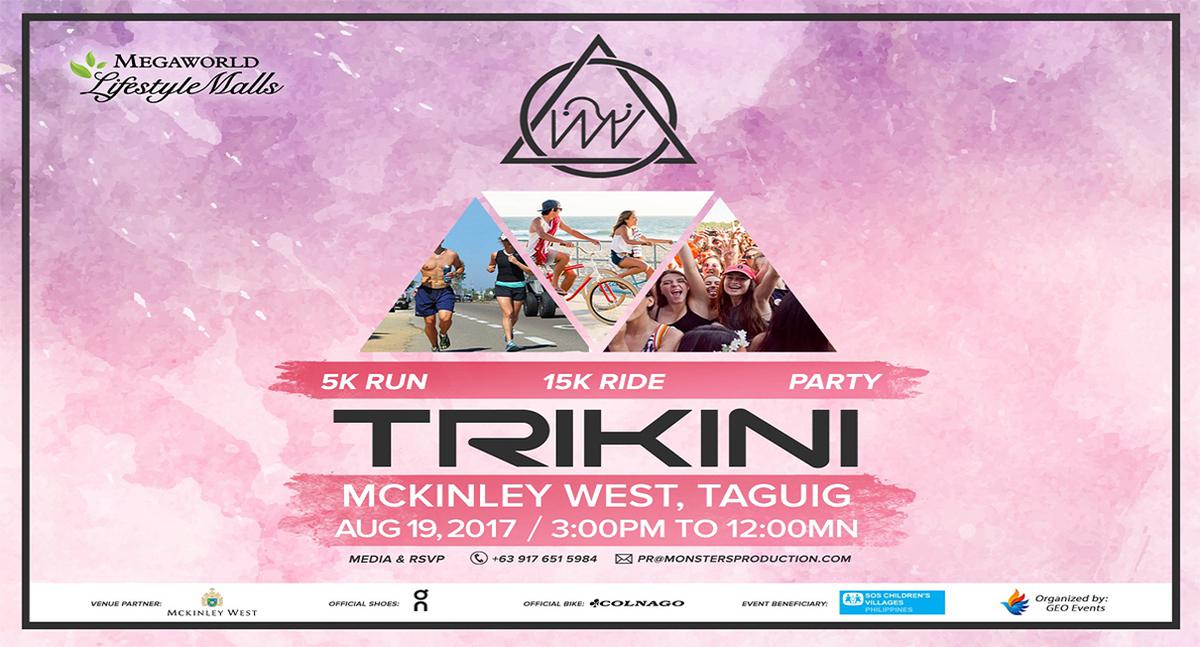 A fun-filled party gains extra value especially  when its  proceeds go to a noble cause. Megaworld Lifestyle Malls, in partnership with GEO Events Management, is set to hold Trikini, a fitness party for a cause, at McKinley West Park, on August 19th 2017.
"We think Trikini is a great way to get people together for fitness and for helping the SOS Children's Villages foundation", shares Isabella Velasquez of Extrapolation. " It feels great to be part of something with this kind of purpose. There aren't a lot of events like this.
Trikini, an urban fitness party  that'll feature a mix of  running, biking, and partying, aims to advocate fitness at a time where health is an escalating concern. To be held at Mckinley West Park, the exclusive venue at the heart of the city is set to provide attendees a space to comfortably and safely enjoy the outdoors in their sports, active or beach wear outfits.
The event includes an  Active Zone, an area where guests can enter either a 4k run or a 15k bike ride. While cash prizes would be donated to the SOS Children's Village Philippines, the winners will receive prizes and tokens from On Shoes and Colnago. Likewise, the event will also include a Fest Zone that'll  feature  performances of SinoSiKat, Extrapolation, Sanya Smith, and more. These among others are just some of Trikini's  exciting number of activities.
"If you're into fitness and fun, Trikini allows you to have both in a way that helps you support a cause", added Velasquez. Proceeds  of the one of the kind event will go to SOS Children's Village Philippines. For forty years, the charity has been providing healthcare, housing, and  education to unprivileged children and families in the country.
"The ultimate goal is to encourage more city dwellers to live active lifestyles and enjoy the outdoors, no matter what the season!" says Sam Okal of GEO Events Management. "The Trikini series shall continue in other locations and seasons, aligned with our mantra it's always a matter of here and now to get fit and enjoy outdoors."
To be part of the one of the one of a kind Trikini experience, interests goers may visit Ticket World outlets (all National Bookstore outlets and Eastwood Mall concierge) or visit the website tickworld.com.ph. Ticket prices are PHP 1650 (Lite Pass) and PHP 2650 (Deluxe Pass).