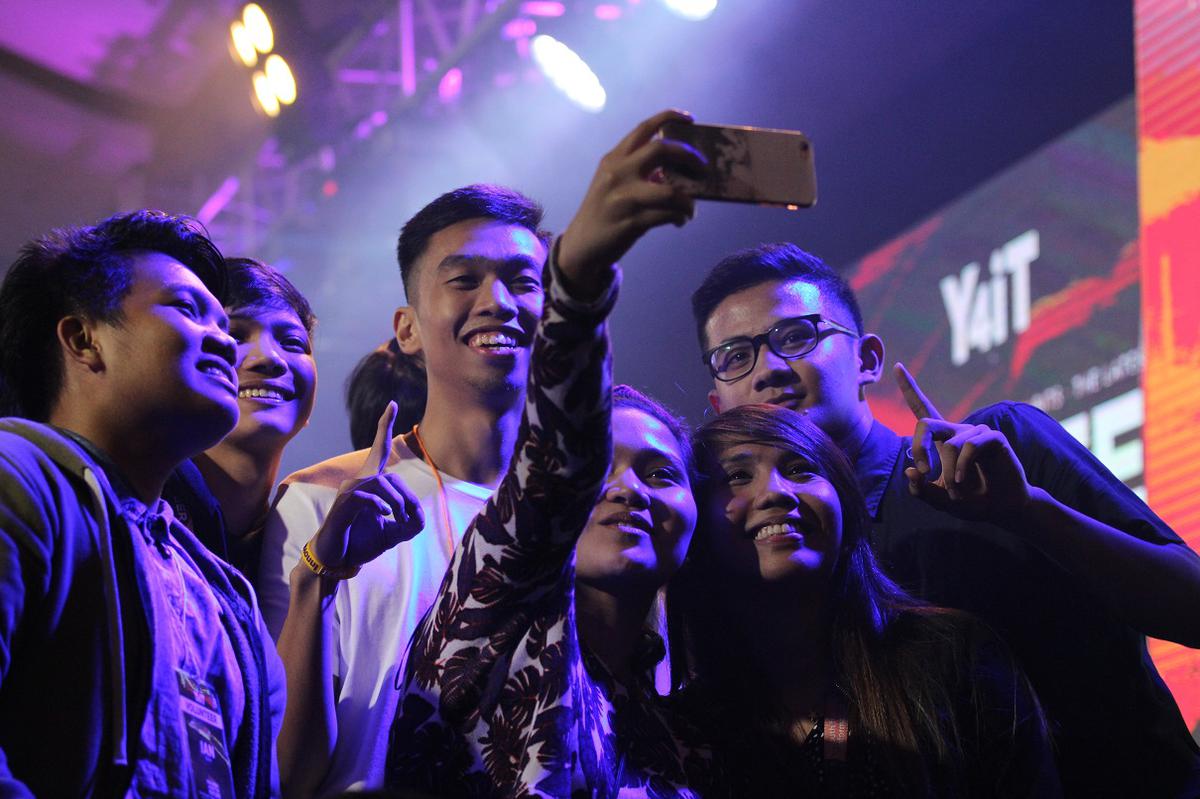 The Youth Congress on Information Technology (Y4iT), on its 15th year, aimed to inspire the youth to act on being catalysts of change with its theme "Engineer a Better Future." Thousands of delegates, most of which were IT students from all over the Philippines, came to SMX Convention Center on 5 -7 September 2017 to learn, collaborate, and network with experts in the IT field.
The recently concluded Y4iT featured a total of 55 local and international experts in the IT field. To kick off the 3-day event, Department of Information and Communications Technology (DICT) Undersecretary Monchito Ibrahim delivered a welcome address to the Y4iT participants. Commissioner Raymund Liboro, Chairman of the National Privacy Commission (NPC) underscored one of the most important issues in the IT landscape today– data privacy in his keynote speech. "It's very, very, important that the Philippines establishes itself as a responsible country with responsible citizens in protecting data and upholding the right to information privacy," he remarked.
Moreover, DICT Assistant Secretary Allan Cabanlong recaps the history of cybercrime in the country. He said, "If one of you is not secure, then all of you are not secure." He further recognized that DICT's role is  "to educate, empower, and encourage the Filipino youth to be part of cybersecurity." Speakers, including RIGELTECH Corporation Managing Director, Albert Dela Cruz and Allan Jay Dumanhug, Co-Founder of Secuna, also talked about information security and privacy in the Philippines. Dr. Raymond Francis R. Sarmiento, Director of UPM-NIH National Telehealth Center, discussed data privacy in the health sector in the Philippines.
Prof. Ariel Betan, further encouraged the youth to stay with their chosen IT career by saying that they are on the right track. Engr. George Tardio, speaking in behalf of DICT Secretary Rodolfo  Salalima, spoke about what the DICT can do to help our future IT professionals. He said, addressing the participants, "DICT has got your back."
Accessible Internet connection is an important factor for establishing an IT career in the Philippines. Speakers such as, Billy Cheon of Internet Corporation for Assigned Names and Numbers (ICANN), tackled the accessibility of the Internet and shared ideas on participating in designing better Internet. He reported that "45% of Filipinos have no access to the Internet – we have to bring them online." Moreover, Mary Grace Mirandilla-Santos, an Independent Internet Policy Researcher talked about the reliability and affordability of the PH Internet.
Learning resources and opportunities for Information and Communications Technology (ICT) were also introduced on stage by some of the speakers. Michie Ang of Women Who Code Manila, showcased the Swift Playgrounds and its possibilities. To end her talk, she invited everyone to participate in the Swift PH Community. Sam Harris, AWS Education Program Manager, talked introduced AWS Educate, a free online program "to ensure that there's enough cloud skills in the market."
Our IT experts also gave the participants practical and applicable pieces of advice in developing mobile and web applications. Oracle Netsuite UX Research Coordinator Rodge Bucao talked about user experience in his talk UX Foundations – Why we should bother knowing our users. "'Dogfooding' won't help recognise low frequency usability problems," he advised. Joan Magno, Senior Product Manager of Kalibrr, discussed the essentials of creating a well-designed app– snappy, steady and simple. Gino Cariño, Co-founder and CEO of Makerspace Manila emphasized having a "Design Thinking Mindset" for IT professionals. Ramon C. Pastor President & CEO, Rogomi Inc. discussed the current trends in Apple development.
On the other hand, the Y4iT participants were also shown how ICT serves as an enabling tool for the betterment of the larger society. Bernard Alan Racoma of UP NOAH Center elaborates on the various features of the NOAH web application. Mashup Garage Strategist, Alvin Chan cites IT giants like Facebook to exhibit the practical application of games and gamification.
Speakers also showed the participants how ICT, specifically Artificial Intelligence (AI), is changing the society. Microsoft Philippines' David Tapang said "Science fiction is often the precursor to science fact." Microsoft Technical Evangelist Arnie Locsin elaborates further on how innovations in AI make a difference in people's lives. CEO and Founder Senti, Ralph Vincent Regalado showcases examples of Machine Learning using Google Technologies. Dr. Prae Seributra, President of Starfish Country Home School Foundation talked about developing innovation skills through project-based learning. She mentioned that a lot of jobs will be taken over by machines, so we need to find what skills to develop in order to prepare of the future. Surawut Phornthabthong, Senior Solution Architect, Amazon Web Services discussed the future of Amazon AI.
3D2GO President Fred Chua discussed the possibilities in 3D printing technology and showcased the different applications of 3D printing, including fashion, prosthetics, and in the medical field.
This year's Y4iT is special because for the first time in the Y4iT stage, a former Y4iT attendee has now become a Y4iT speaker. Chezka Monica Fermin of Bataan Peninsula State University, the Best Research Paper awardee of the Y4iT Research Summit 2017, presented her group's thesis project ARphanum, an educational mobile application with augmented reality.
Other speakers – a roster of local and international leaders and experts – Managing Director of Accenture Digital Lead in the Philippines JP Palpallatoc on 2017 IT trends; VP for Engineering of Kalibrr, Joseph Pencil on the Microservice Application Development and Cloud Deployment Strategies; Project Manager at the UP ITDC, Dr. Jasmine Malinao on Insights to the Challenges of the Design, Implementation, and Management of Multidimensional Workflows; Nicole Cordoves, Writer and Online Editor at Manila Bulletin Corporation, on the publishing efforts of Manila Bulletin in its digital platform; Oracle Academy Regional Director, Damian Haas on the challenges and opportunities for the "Fourth Industrial Revolution;"  Head of the Data Science and Information Technology at COBENA Business Analytics and Strategy, Inc. Dr. Allan Sioson on data analytics; Palo Alto Networks PH Systems Engineering Lead, Marc Lainez on the Next-Generation CyberForce; Country Manager of Jobstreet.com PH Philip Gioca on the Filipino IT's Local Situation; UP ITDC Senior ICT Associate on the challenges of creating scalable IT solutions with enterprise applications; and Communication Researcher at Philipps Universität Marburg Marie Jude Bendiola on digital immigration in the time of the Internet.