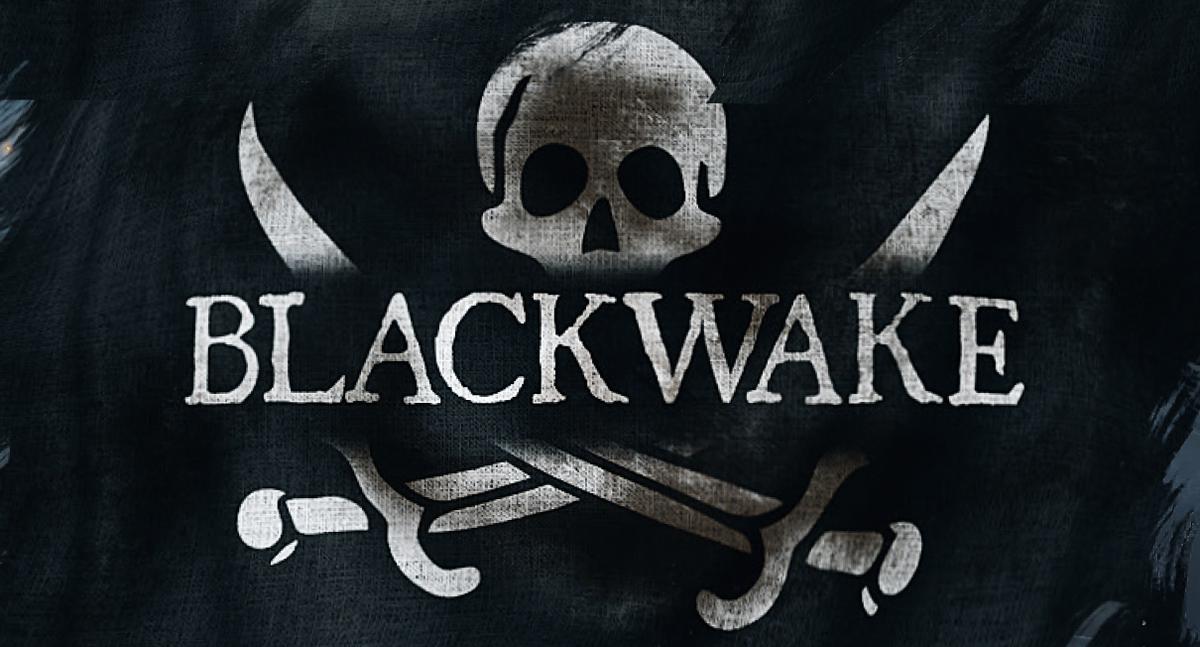 Finding a new type of game is paradoxically a difficult task given the thousands upon thousands of games available. We're so used to action, adventure, first person shooters, MMORPGs, open world, sports, puzzle games, card games, and more. Blackwake is a pirate-themed game that is in Early Access right now, and is taking on your friends on the high seas is an interesting challenge.
Blackwake doesn't have a giant developer team behind it—it is a two-man project that seeks to expand as the game develops. Currently, you are put on either the English Navy or the Pirates teams on three ships. These ships vary in size and are composed of historical ships in the Age of Sail. You can have up to 27 players on your team, so you can bring a lot of your friends onto any server you want. The first team to run out of tickets (reinforcements) loses.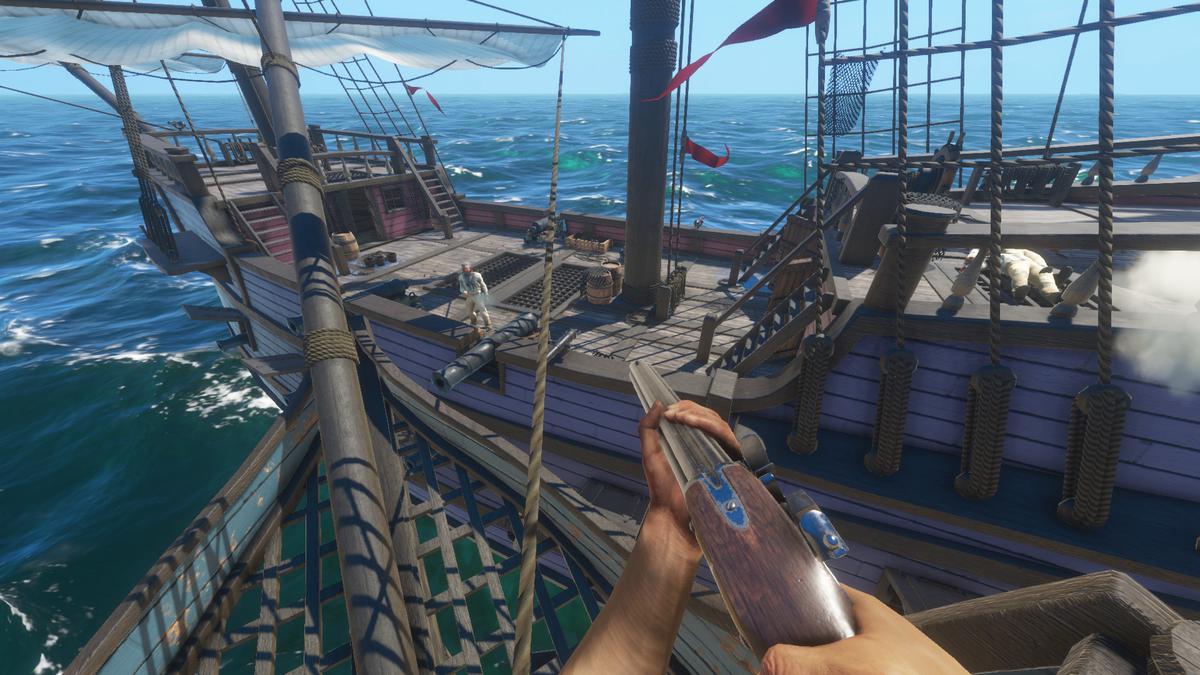 The first thing you do in the game is vote for a captain. This is someone you might want who knows how to navigate a ship, as he/she will be responsible for aligning you to fire the cannons at enemies. In addition, no one is forced into a role, so the captain can delegate tasks such as loading cannons, fixing the sails, holes and pumps on a ship, or using small guns to shoot out enemy sails to slow them down. Weather will also affect the way you play—you can play during the day or at night, in clear conditions or in stormy ones, which might require you to alter your strategy.
If you get unlucky enough to get boarded or if you board the enemy ship, you can take on other players. However, there is currently no clear distinction between allies or enemies, so you might end up killing members of your own team. Using the weapons is quite a cumbersome task—keeping true to the Age of Sail weaponry, many of the firearms are extremely slow to load, fire and reload. One can use melee weapons to gain an advantage, although you could get broadsided in an effort to kill an enemy player.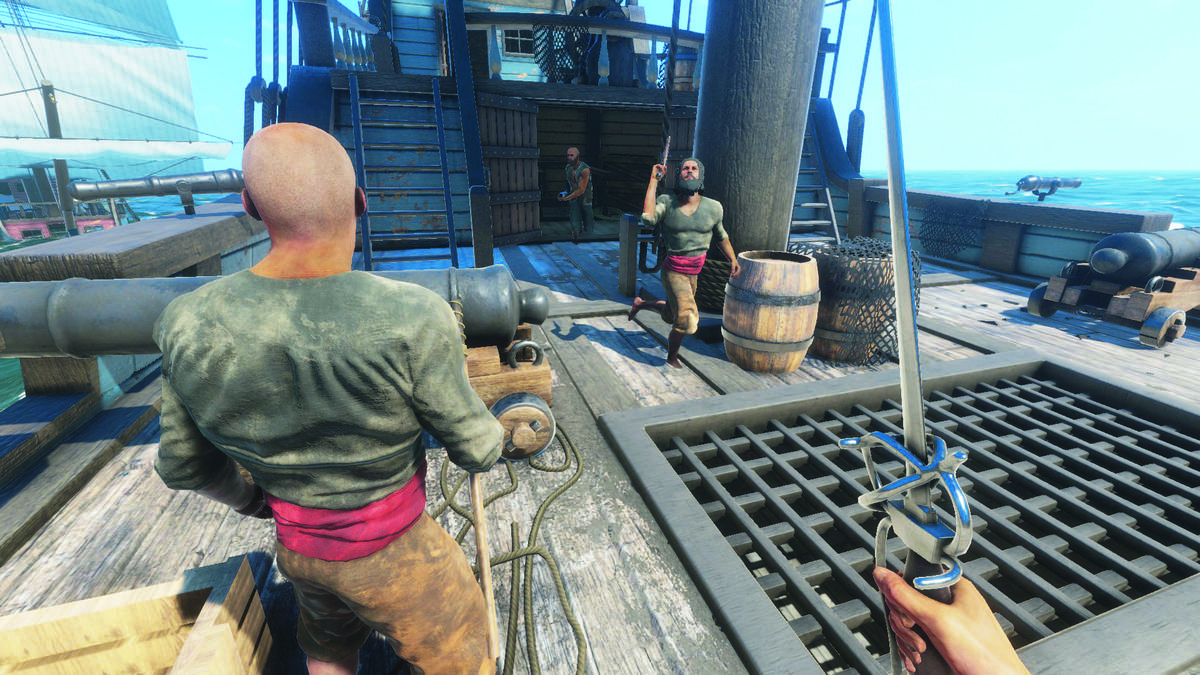 One of the best aspects of this game is the ability to filter through voice communications, making communication crisp and clear. Teammates next to you, people on the same ship, people on the same faction, and global chat are all separate voice entities. In many multiplayer games today, voice communications are often garbled and confusing unless there is a clear team effort.
The in-game customization is pretty basic, but there could be more in the future. You can rename your ship, recolor your ship, and unlock cosmetic outfits as you level up in a testament to your skill, time played, and persistence. At the end of each match, there are highlighted players—people who have the most cannon hits, repaired the most holes, or have a certain number of melee kills, for example, are shown at the end of the game.
While still in Early Access, Blackwake shows potential for a powerful multiplayer game that differentiates itself from the competition by providing multiple avenues of voice communications so you and your friends can sink enemy ships and win the game.
Also published in GADGETS MAGAZINE May 2017 Issue
Words by Jose Alvarez
Developer: Mastfire Studios Pty Ltd | Publisher: Mastfire Studios Pty Ltd | Platform(s): PC