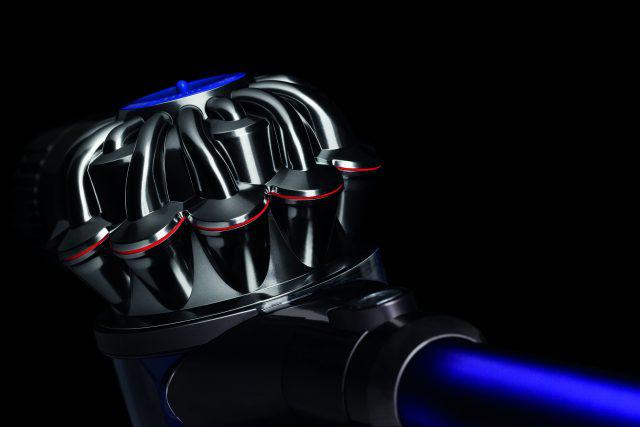 Father's Day is coming up (Sunday, June 21st to be exact), and you're thinking about what to get your old man. For most of us, our wallets don't stretch to big boys' toys; cars, trucks and helicopters are out of the question. But technology company Dyson may just have found a way to get a motor faster than an F1 engine into your dad's hands. (And as this motor is inside a vacuum cleaner, mom should be happy too!)
Power to the motor
The Dyson Digital Motor V6 sits at the core of Dyson cordless technology. The motor uses digital pulse technology and a neodymium magnet to rotate at a speed of up to 104,000 times a minute. Weighing just 218 grams yet able to generate 425 watts of power. It's powerful but lightweight and easy to maneuver.
James Dyson, British inventor, founder and chief Engineer at Dyson said, "Our digital motors create new technological possibilities. The V6 motor is faster and stronger than its predecessor with a higher power density; giving our cordless machines the performance of a mains powered machine – without being tethered to the wall."
Packs a punch
From start to finish line, the Dyson Digital Slim ™ DC62 cordless vacuum, powered by the V6 motor, gives powerful suction to clean any room or car interiors. A newly configured motorhead tackles dust and dirt on any surface. Its carbon fiber antistatic bristles reduce the build-up of static charge to help capture fine dust on hard floors. And for carpets, its nylon bristles do the work of trapping ground-in dirt on carpet.
Plus, 15 cyclones work in parallel across two tiers to capture even the finest dust. Each cyclone has been tuned to guarantee high centrifugal forces, up to 293,000G (to put that into perspective, humans can withstand G-forces of up to 50G), that captures dust and spins it straight into the bin.
High dust separation happens because there is an equal flow of air throughout the cyclone pack.
Cut the Cord
Forget about wrangling with the cord. With no cord, the DC62 is easy to maneuver on high, low, in-between and hard to reach places. Turn it into a handheld and take to the car. Storage is simple, too. Docked in a wall-mounted station, the DC62 is always good to go.
Pricing and Availability
The suggested retail price of Dyson DC62 is at PHP 33,500. It is available in Century City Mall (concept store), Rustan's Makati, Rustan's Shangri-la, Rustan's Gateway, Rustan's Cebu, Abenson Alabang, Abenson Ascott, Anson's The Link, Robinsons Appliance Magnolia, Robinsons Appliance Eastwood, SM Appliance Rockwell, and SM Appliance Megamall.
About Dyson
In 1993 James Dyson launched the world's first bagless vacuum cleaner because he was fed up with the lousy suction of the then prevailing cleaners. It was the result of 5,127 prototypes and 15 years of frustration and perseverance. Just 18 months after the launch, the DC01 became the bestselling vacuum in the UK. Since then, more than 4,000 in-house engineers at Dyson have helped to improve on outdated designs of everyday machines.
Dyson Digital Motor
The Dyson digital motor – V6, is one of the world's smallest fully integrated 1600W motors.
Dyson digital motor V6 runs over twice as fast as a conventional full-size motor.
Conventional motors spin at 25,000rpm, F1 car engines at 19,000rpm and jet engines at 17,000rpm. The Dyson digital motor V6 spins at up to 110,000rpm.
The Dyson V6 motor spins 5 times faster than a Formula one car and 10 times faster than a Boeing 747 engine.