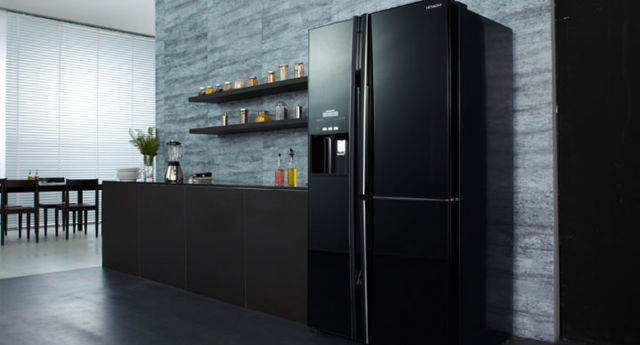 Unless you fancy going every day, if not every meal, to the wet market (or the local grocery chain if that's more your style), getting a quality refrigerator to store your bulk purchases makes more sense in terms of time, effort, money, and of course, your health. Though there was a time when you had to play Russian roulette with a few days-old hunk of meat, we're now way past the eating-bacteria-laden-food stage. And with a tropical climate such as ours being the perfect breeding ground for unwelcome stomach guests, a refrigerator is a no-brainer.
However, it's not as simple as going to an appliance store and picking any box that goes cold. No, you need something that chills and freezes food effectively so your bills don't skyrocket. Added intuitiveness and creature comforts are fine bonuses but your main concern—as with any doodad really—is power efficiency.
That element is at the core of Hitachi's newest refrigerator products: the Luxury, Mirror/Glass, Big French, French Bottom Freezer, and Big2 series. Featuring inverter and dual fan cooling technologies, Hitachi's latest wares are able to keep your grub sufficiently cooled while only using as much energy as needed. Specifically, the inverter compressor is able to adjust cooling power over a wide range to keep the box at optimal temperatures, while the two fans ensure that the freezer and refrigerator compartments are getting their bout of cold air.
Besides the two technologies, Hitachi's most advanced lineup boasts the Eco Thermo Sensor which allows the on-board computer to address even the slightest temperature changes inside the fridge; Vegetable Compartment to keep leaves greener longer at a 90-percent humidity level; Touch Screen Controller to easily change fridge settings; Nano Titanium Filter to prevent bacteria and mold growth; 4L Tank Type Ice and Water Dispenser; long-lasting and eco-friendly LED Lights; roll-proof Bottle and Wine Shelf; and 18L of Extra Storage Space near the door ice bank.
Additionally, the Luxury series has the Vacuum Isolation Panel for improved heat insulation; Eco Monitoring Sensor which reduces power consumption whenever the fridge is not in use; and Auto Door feature which allows for touch- and swipe-enabled door opening.
Far from looking like janky monoliths, these refrigerators from Hitachi are sleek and stylish, with design aesthetics allowing them to fit into any modern kitchen. Though each product has a different cabin layout from the others, rest assured that they can all help turn your next meal into a five-star feast.