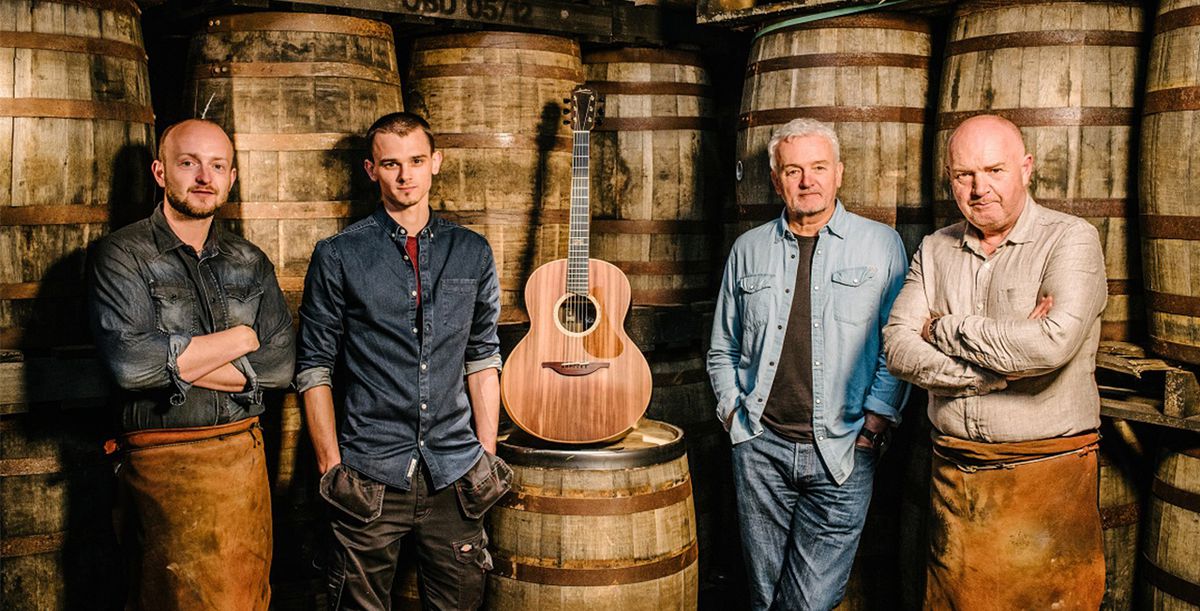 Father's day is fast approaching. For those looking for the perfect gift to say a much deserved thank you to hard working fathers out there, look no further. Bushmills Irish Whiskey, the oldest licensed distillery in Ireland, recently partnered with guitar manufacturer and Northern irish icon, Lowden Guitars to launch an new and exclusive line of limited edition guitars made from Bushmills Irish Whiskey barrels and ancient bog oak. The crafted pieces are a result of merging hundreds of years of copper and luthier craftsmanship with three types of wood that are imbued with heritage and tradition.
Lowden Guitars has been crafting  best in the market guitars for over four decades, selecting only the highest quality of wood. Assuring the guitars come extra special, the wood used for the special edition pieces  were personally handpicked by Lowden Guitars founder, George Lowden. Preserving tradition, George Lowden is passing down his guitar craftsmanship skills to his sons to further empower and preserve the Lowden legacy.
For Father's day, Bushmills Irish Whiskey tapped Northern Irish singer-songwriter Ciaran Lavery to release an acoustic performance of the song, "Tell them All"  to debut the limited edition Bushmills X Lowden F-50 guitar.The song was recorded at the Old Bushmills Distillery, and was written from the perspective of a son listening to his father's wisdom.
"As a musician, I believe it takes time for a guitar to find its true voice", says Lavery. "What's truly stunning about the Bushmills X Lowden guitar is that from the moment I picked it up I could see, hear, and feel the quality craftsmanship and wood that went into making it. It was as if someone had played it for twenty years and handed it to me. That's pretty special and I can only imagine what it's going to sound like in twenty years." Lavery's performance perfectly encapsulates the Bushmills X Lowden collaboration which celebrates the passing of craft and legacy from father to son/daughter.
To watch Ciaran Lavery debut the Bushmills X Lowden F-50 limited edition guitar, visit http://bit.ly/2r2CokQ
Five Bushmills X Lowden guitars are available to buy direct from the Lowden Guitars workshop, each retailing £8,500 GBP (PHP 536,041) . To find out more visit www.lowdenguitars.com/bushmillsxlowden