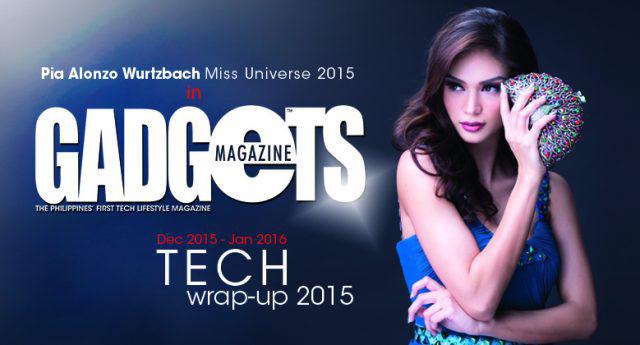 Even though she was very busy prepping for the world's most prestigious catwalk, we were lucky enough to get Pia Alonzo Wurtzbach on the cover of this year's ending salvo. It's only fitting that Gadgets Magazine's 2015 wrap-up is accompanied by one of the country's foremost beauty queens during one of the biggest moments of her life—winning the Miss Universe 2015 pageant.
Pia quenched the country's 42-year Miss Universe title drought with her outstanding performance in both the beauty and brain departments. However, it was a very long road towards the crown. She joined Binibining Pilipinas a total of three consecutive times, each time getting closer to representing the Philippines on the world stage. While she met her fair share of criticism along the way, Pia never backed down, her unwavering resolve allowing her to cross the top item off of her Christmas wishlist.
During the final stretch before Miss Universe 2015, Pia was devoting herself 24/7 to toning her physique, health, as well as mind by keeping up with news and issues around the world. She said that the country's support, as well as her fans' adoration on social media, really mean a lot to her and have motivated her to train harder for the competition.
Meanwhile, the upcoming New Year, with all its bells, whistles, and resolutions, is a ritual for her, saying "I look forward to that. I make a list every year." She hopes that after the pageant, she'd be able to relax and enjoy life more. Besides wanting more time to hang out with her friends, Pia's also making it a point to travel more this 2016, something she wouldn't be short of given her upcoming Miss Universe duties.
"Since I was so busy with my duty as Miss Universe-Philippines, I have not been able to go around. Though I've been able to go around the country which is great because I've been to some places I've never even been before."
Asked on how she manages to keep up with her resolutions, Pia answered "Don't make it so overwhelming. Make it realistic. Don't do 10 or 20 na mabibigat like crash dieting or quitting smoking cold turkey."
Even Pia herself admits that it took years for her to get to where she is now. "There's no such thing as an overnight transformation." If you're looking to get a headstart on your career, skills, self-development, and even love life, the New Year's as good a time as any. With hard work and a little elbow grease, who knows? You may end up in the Miss Universe equivalent of your chosen field.
Check out our shoot with Pia Alonzo Wurtzbach below!