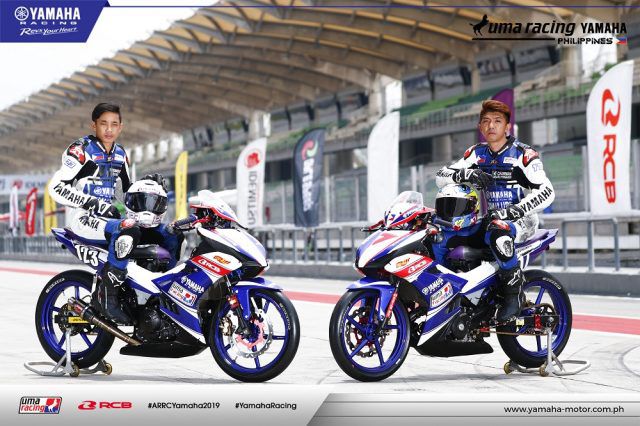 The Philippines' very own Masato Fernando and McKinley Kyle Paz leads in the first race championship round of the FIM Asia Road Racing. The two were selected as wildcard racers last season, and has became officially part of the entire season for the 150cc category under the UMA Racing-Yamaha Philippines Team.
Paz already left a remarkable impression on his first day of practice at the Sepang International Circuit where he placed second among all riders. "The Chairman" Fernando, on the other hand,  conquered the fourth spot entering the race day. He was riding the Sniper 150, which has the moniker King of the Street compared to its class. With a nation rallying behind them and a fiery passion burning inside, they were ready to show the region what Filipinos were made of.
It was a battle of inches at the start, but the Philippine team pushed themselves to the limit and came out with a victory. Giving the country its first taste of the victory, McKinley Kyle Paz started the campaign with a resounding win and claimed the first position  It wasn't a coast to the top spot, with riders often alternating at the pole position. However, it eventually came to the final lap for the teen sensation. The precision it took to overcome his competitors was breathtaking to watch as he grabbed the victory.
Masato Fernando was defiant to the end as he put himself in a good spot heading into the next race and earned precious points by picking up the fifth position. He was also able to avoid a crash when other participants had a tumble heading to the final corner.
Masato will undoubtedly come back with a vengeance for race number 2. As for Kyle, he will look for an elusive repeat against strong roster of rivals who are now gunning for him. The Philippine contingent also earned the best team award for the first leg of the ARRC championship. Both representatives promise to prepare for another grueling round against Asia's best to keep their spot at the top of the ARRC.
Team UMA Racing- Yamaha Philippines team is supported by Yamaha Motor Philippines Inc., UMA Racing, Racing Boy, Aracer, Proliner, You-all, Galfer, Nasty Port Flow, Koso, NGK, and RK.