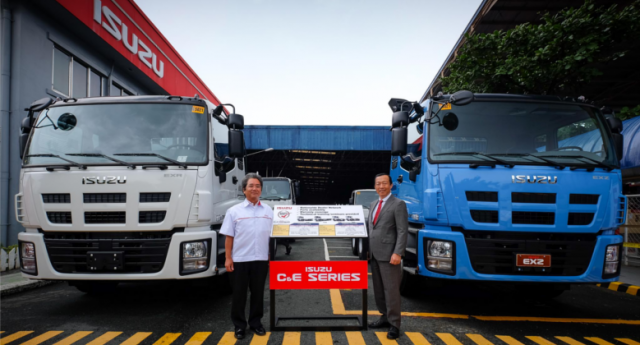 Isuzu Philippines Corporation (IPC) exhibited five of its newest C and E Series heavy-duty trucks at the 2015 Isuzu Truck CBU Special Display at their plant in the Laguna Technopark at Biñan, Laguna.
Lasting for four days, the showcase included the EXR51F Tractor Head golden yellow (available in 20-tons, 42-tons and 45-tons); the EXZ51K Tractor Head marine blue (available in 33-tons and 60-tons); the CYZ51M Cab and Short Chassis (available in 33-tons); the CYH51T Cab and Long Chassis (available in 41-tons); and the NPS75 4×4 Cab and Chassis; all promising even more power, durability, and fuel efficiency than their predecessors.
The trucks are powered by a 14.2L 6WF1-TCC direct-injection OHC diesel engine which outputs a maximum 390hp @ 1800rpm and 1,863Nm of torque. This power plant also arrives with an electronic controlled common rail system that reduces harmful fumes while improving fuel efficiency.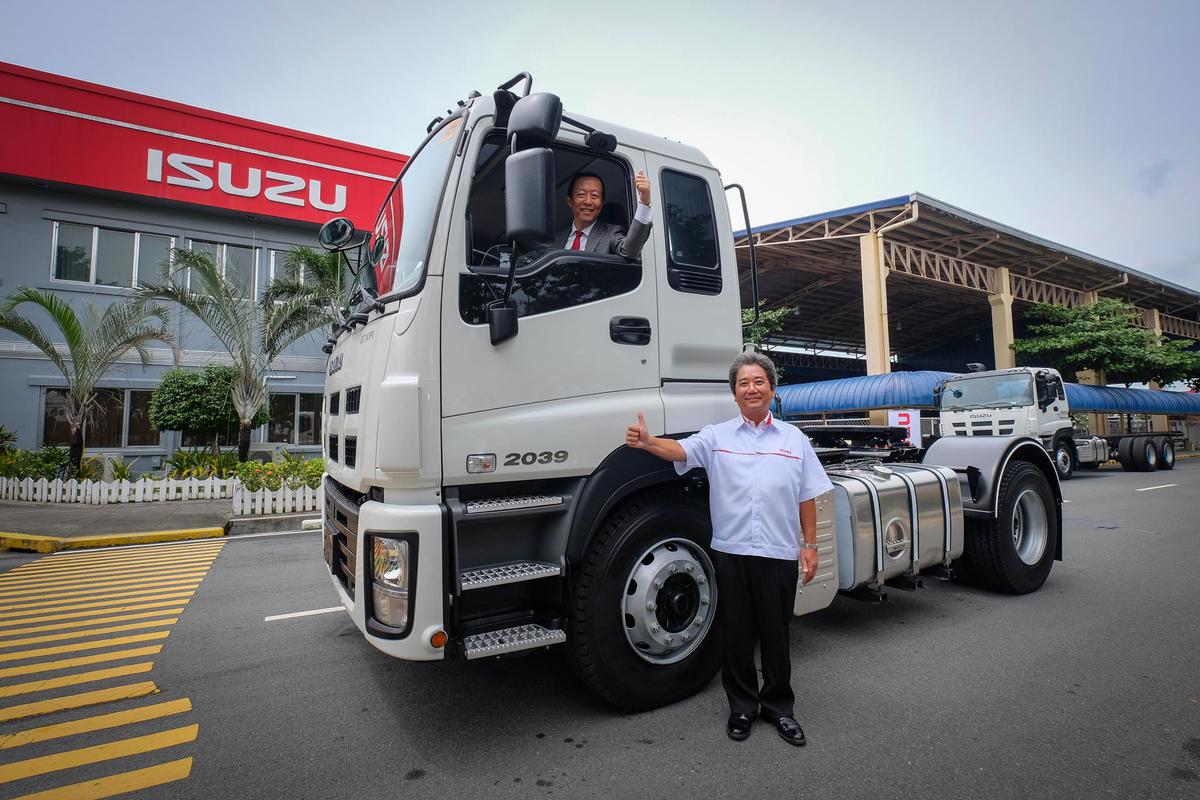 "To be the number one market leader in the truck segment, you need to have a variety of products that will build and maintain customers. Today marks another special day for IPC as we displayed our latest heavy-duty trucks here in our office in Laguna," said IPC president Hajime Koso.
Koso added, "We are aiming to provide every business with world-class quality trucks that can endure through time."
The C and E Series trucks feature a wider gear range with 7-speed and 16-speed configurations for better handling. It is accompanied by an inhibitor shift warning alert which notifies the driver when the vehicle is keyed to the wrong gear. The haulers also come with simplified rear body mounting which adds trailer versatility; heavy-duty front and rear leaf-spring suspension that absorbs vibration and smooth ride; and a high-clearance smoke-stack with vertical silencer for better exhaust. Owners can choose different tire sizes which range from the standard 295/80R, and an optional 315/80R tubeless up to the larger 11.00R 20 tubular tires depending on their need.
The interior is spacious enough for up to three passengers. Cup holders, air conditioner, AM/FM radio with CD player, reclinable air suspension seats, center seat back tray, optional bed, easy-to-read meters, and telescopic powered steering wheel are just some of the other amenities available in the cabin.
The new trucks' safety features have also been reinforced. Backing up its highly rigid cab construction and steel door beams are features such as ABS, worry-free trailer coupling, locking fuel tank with step to prevent theft and spillage, replaceable sediment filters to remove deposits and water from oil, and a protective insect screen over the radiator grille to avoid damage caused by stone chips and insects.
The C and E series trucks will initially be available in limited quantities for indent orders. They are priced as follows:
EXR51F Tractor Head at PHP 3,700,000
EXZ51K Tractor at PHP 4,350,000
CYZ51M Cab and Short Chassis at PHP 4,250,000
CYH51T Cab and Long Chassis at PHP 5,200,000
NPS75 4×4 Cab and Chassis at PHP 1,700,000