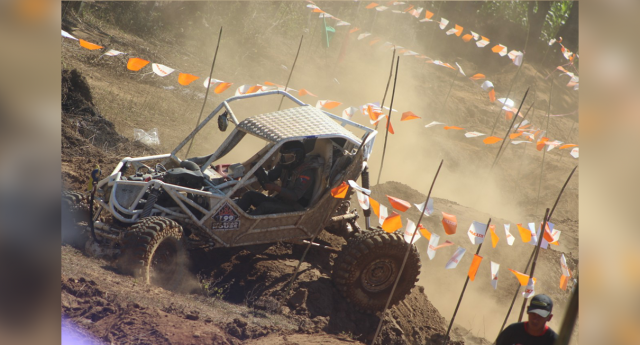 MAXXIS Tires, in partnership with the National Association of Filipino Off-Roaders (NAsFOR), continues to excite off-road fans with its annual MAXXIS 4×4 Cup Philippines, a series of 4×4 race events held in different provinces all over the country. The first four legs of the cup have recently concluded, with the toughest off-roaders hailed as winners.
The race, which runs from February to December, aims to promote off-roading as a motor sport and to bring together Philippine off-road enthusiasts. Founded in 2011, it is one of the longest and most extreme off-road races in the Philippines.
MAXXIS kicked off the 13-leg event in Baler, Aurora, where Jherico Lara from the Aurora Racing Team emerged as the winner. Meanwhile, Joseph Rodriguez from 4Wheelers Davao won the 2nd, 3rd and 4th legs, which were held in Ilocos Sur, Tboli and Davao City, respectively.
Lara also won third place during the race's 2nd leg, and Rodriguez secured the fourth place during the 1st leg.
"It's always such a thrill to watch these races. Off-road enthusiasts get to enjoy their 4WDs to the fullest through the extreme courses we prepare every year. The spirit of competition also gives them the opportunity to meet other off-roaders and boosts their morale as individuals competing in a professional sport," shares NAsFOR Events Director Ramon To-ong.
Derrick Gahite of the Manila East Offroaders came in second for the 1st and 2nd legs while Tonton Dungca from the Kapa
mpangan Racing Team secured the fifth place during the 2nd leg, fourth place during the 3rd leg and second place during the 4th leg.
The other winners of the 1st leg are Bong Callado from the Isabela Extreme Offroaders, who came in third, and Crisaldo Cervo from Binangonan Rizal Offroaders, who won fifth place. Froy Mendoza from Team Ilocos Offroaders bagged the fourth place during the 2nd leg.
Reynan Jayme from 4Wheelers Davao won second place during the 3rd leg, followed by Jodax Daquil from 4Wheelers Davao in third, and Dencio Garcia from 4Wheelers Davao in fifth place. Kent Estrella from CDO 4Wheelers snagged the third place during the 4th leg, with Altams Altamera from DAVCAT in fourth and Benjie Caminero from Digos 4Wheelers in fifth.
"We've had a good start this year, and we hope to maintain this as we complete all 13 legs. We're especially grateful to NAsFOR for the partnership we've built over the past eight years. Off-roaders can be assured that we will continue to deliver challenges that will keep them on the edge of their seats in the months to come," MAXXIS Philippines Chief Operating Officer Ronald Ang shares.
Off-road fans can look forward to more exciting races as the 2019 MAXXIS 4×4 Cup Philippines resumes in May. The 5th leg will be happening  at Pradera Verde, Lubao, Pampanga.