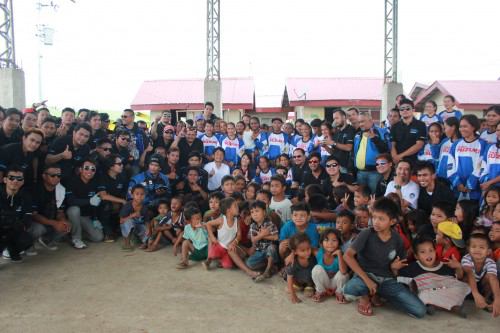 Suzuki kicked off 2015 by giving a hand to Cebuanos whose lives were turned upside-down by typhoon Yolanda. The activity, which was held in partnership with the Suzuki Owner's Club, Cebu, also served as a two-day get together for the club's members.
Over 60 members of various Suzuki Clubs from Cebu got together at the city proper to prepare for a trip north, where the rest of the activities were held. The convoy, which was headed by the brand's president, Hiroshi Suzuki himself, headed to Medellin, where the entire group enjoyed a well-deserved dinner, after which games were held.
The party left early the following morning for Bogo City for the highlight of the ride where Yolanda Village is situated. Named after the historic typhoon that hammered the Philippines particularly Visayas in 2013, Yolanda Village is the new residence of 128 families that lost their homes to the catastrophe.
The residents of Yolanda Village welcomed the riders with open arms. The Suzuki party was overjoyed to find out that with the calamity buried over a year in the past, people had recovered, and started their lives anew. The riders then distributed care packages to the families. Once everyone had received theirs, games were held, with everyone, even  Mr. Suzuki joining the fun.
The Suzuki Charity Ride in Cebu is part of the Japanese giant's advocacy efforts to reach out to the needy. This is in conjunction with the brand's SHARE (Suzuki Helps, Aids and REbuilds) Program aiming to provide the motorists affected by calamities with free service.