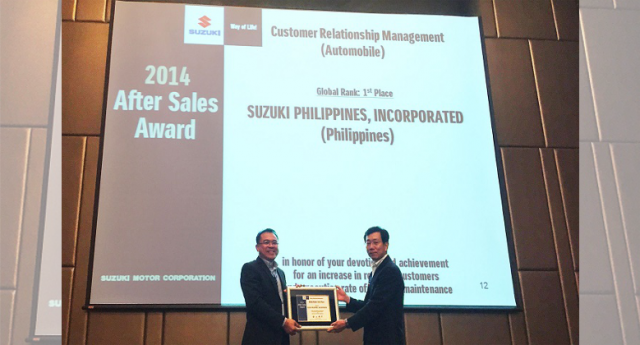 Suzuki Philippines has been recognized three times by their parent company, Suzuki Motor Corporation, during the recent 2014 Suzuki After Sales Awarding. Suzuki stake- and shareholders all over the world flocked to the Radisson Blu Plaza in Bangkok, Thailand last June 15, 2015, to witness the ceremony which rewards Suzuki's dedication to top-notch products and customer relations.
The Suzuki Philippines team was honoured with a First Place Ranking for Training, First Place Ranking for Customer Relationship Management, and Second Place Ranking for Product Quality. The local arm bested 61 other Suzuki Automobile distributors for the coveted titles.
"These awards are a testament to Suzuki's dedication to the Philippine auto market, and our commitment to deliver only the best products and services to our Filipino customers," said Suzuki Philippines president Hiroshi Suzuki. "Receiving such an honor serves as a challenge for Suzuki Philippines to continuously improve and perform even better in the future," he added.
The Customer Relationship Management award commends the performance of Suzuki companies in terms of availability of customer service offices, the record of customer feedback and complaints, the presence of a database of customer inquiries, availability of proper staff training for customer service personnel and representatives, and the prompt and professional response to customer letters lent to Suzuki Motor Corporation. The Suzuki Philippines team was the only branch which met all the awards' criteria.
Meanwhile, the First Place Ranking for Training was shared with 13 other Suzuki subsidiaries. It emphasizes the importance and execution of the company's training programs. Lastly, seven other Suzuki auxiliaries got the Second Place Ranking for Product Quality, lauding their industrious filing of well-written and accurate Field Technical Information Reports submitted to main Suzuki motor Corporation branches in Japan, Indonesia, and India.
Photo above: Takashi Iwatsuki, managing officer and executive general manager of Suzuki Motor Corporation, handing one of the awards to Norminio Mojica, managing director and treasurer of Suzuki Philippines.