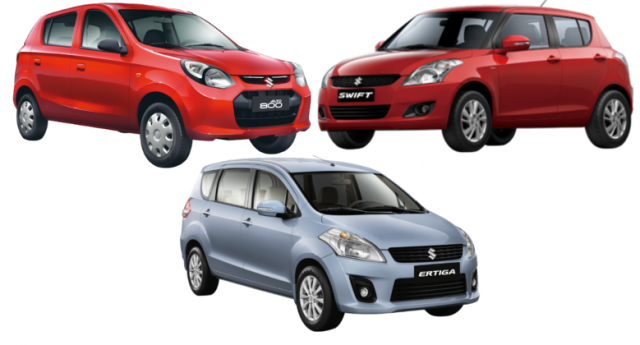 Suzuki Philippines has surpassed expectations and ended the year's first quarter in strong fashion, selling 162-percent more cars year over year. The three marquee models that drove the impressive growth are the Suzuki Ertiga, Suzuki Swift 1.2, and Suzuki Alto 800.
The seven-seater Ertiga MPV lead Suzuki's lineup, an impressive feat for the less than one-year old rookie. With three variants available locally, the Ertiga's roomy and versatile interior makes it perfect for families and large groups of people. It's also one of the brand's most cost-effective nameplates, bringing drivers the best value for their money.
The Suzuki Swift 1.2 also showed up to play during the last few months. Its stylish aesthetics and fuel efficiency makes it an ideal subcompact for first-time car owners. Meanwhile, the Alto 800 boasted a 248-percent improvement over the 2014 Q1 figures. Since its introduction last 2007, the Alto 800 remains one of the best and most powerful compact cars in the market today.
"The 2015 sales report gives us many reasons to celebrate," says Shuzo Hoshikura, Suzuki's General Manager for Automobile. "Not just our significant improvement from last year's figures, but also the fact that more and more Filipino motorists are recognizing the innovative technology, intelligent design, and passion we put into each car we offer in the market."
Aside from celebrating its excellent sales performance in the first quarter of 2015, Suzuki Philippines is now looking forward to achieving more and expanding their sales reach. "Our goal is to continue bringing in vehicles which would appeal to the local market due to its fuel-efficiency, value for money and fun driving dynamics. Expect more from the Suzuki brand in the coming months and years," shared Hoshikura.