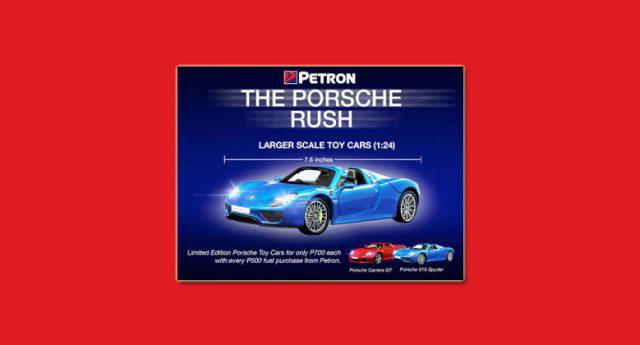 Exclusive pre-selling privileges for BPI credit cards
Now on its fourth offering, oil industry leader Petron Corporation continues to partner with premium and trusted car brand Porsche. For this year, two models are being offered as part of the Petron Collectibles Limited Edition—a Porsche Carrera GT in red, and a Porsche 918 Spyder in blue. These are larger scale 1:24 models, made from high-quality die-cast metal with detailed parts. The doors open to activate features such as alarm sounds with lights, while pressing the hood activates start-up, rev, and acceleration sounds. It is packaged in a 5-side see-thru box, perfect for collectors.
Exclusive to BPI credit card holders, you can be the first to avail of this limited edition Porsche toy car from November 1 to 14, 2015. All you have to do is gas up at a participating Petron station for a minimum fuel purchase of P500 using your BPI Credit Card. This will allow you to get your Porsche toy car for only P700, charged to your BPI credit card.
Other motorists may also avail of the promo from November 15 to December 15, 2015. For every P500 single or accumulated purchase of Petron Blaze 100, Petron XCS 95, Petron Xtra Advance 93, Petron Super Xtra 91, Petron Diesel Max, and Petron Turbo Diesel, you are entitled to purchase one Porsche toy car for P700.
Don't miss out on this chance to add to your Petron Collectibles, another exciting reward from Petron. Visit www.petron.com or the official Petron Facebook page for full details.