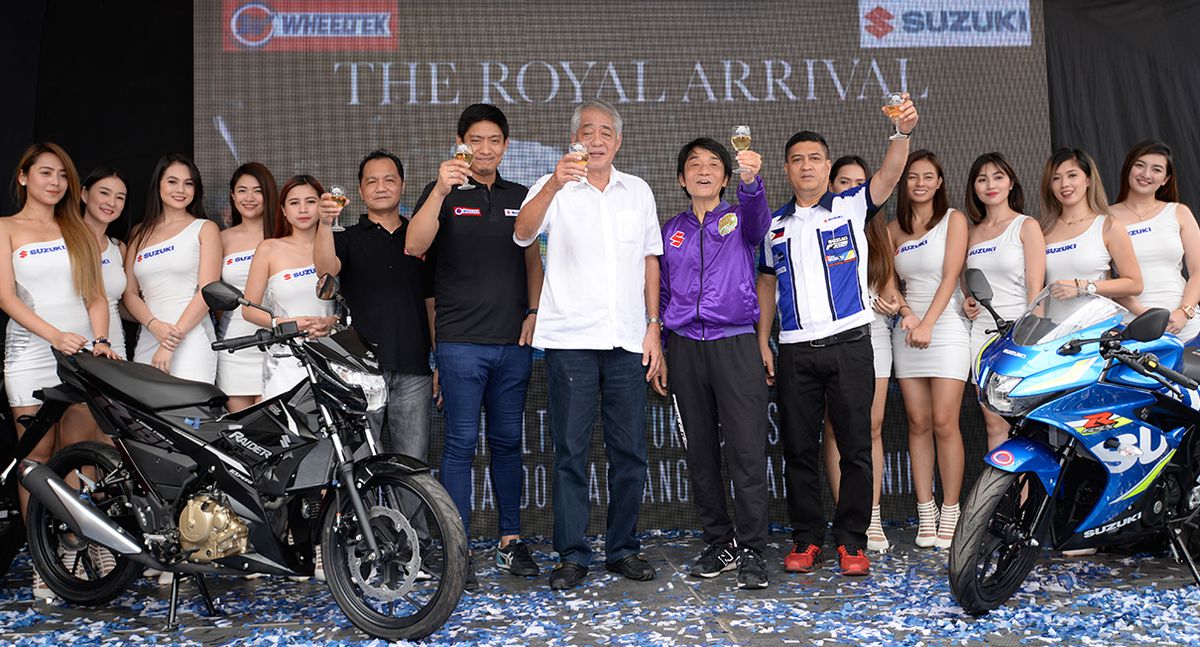 The grand opening of the Wheeltek's Suzuki 3S Shop and Suzuki Big Bikes center, and the  royal arrival of Suzuki's latest motorcycles,  was celebrated  during the festive day of October 7, 2017 in San Fernando City, Pampanga.
The  opening of Wheeltek's  3rd  Suzuki 3S branch was kicked off by a  motorcade led by hundreds of Suzuki riders, and  ended with a Buganda performance and Mr. Hiroshi's signature dance number to the tune 'Para sa Lahat ng Trip Mo jingle'.
The newly established  187sqm shop is Wheeltek's  3rd  Suzuki 3S branch, and its third in the province of Pampanga. The new shop will house Suzuki's line-up of small motorbikes  including the newly unveiled  Skydrive FI;  the much awaited Raider R150 Fi and R150 Carb; and the revolutionary GSX Series—GSX-R150 and GSX-S150.  
Also launched was Wheeltek's Suzuki Big Bikes Center which formally opened during the evening alongside the attendance of over 200 bike riders all over Luzon. With an area of 228sqm  it is currently deemed as the biggest Suzuki Big Bikes Center in the Philippines. Following the launch was the unveiling of the  ready for any adventure, full faired street sportbike Suzuki GSX-S1000F and the the V-Strom 650XT ABS, the one of a kind versatile motorbike.
Both the grand openings  were attended  by Wheeltek and Suzuki's executives; riders from all over the region; special guests; and media partners.
Present during the opening ceremonies were Wheeltek Motor Sales Corporation Executives led by its president and CEO Mr. Reynaldo Odulio Sr., VP for finance Mr. Raymond Odulio, VP for sales and marketing Mr. Roscoe Odulio, Big Bikes general manager Mr. Bobby Orbe, marketing manager Mr. Mark Chuidian and regional sales manager for North Luzon Mr. Philip Garcia.
Attendance from Suzuki was graced by  president Mr. Hiroshi Suzuki, general manager for motorcycle sales and marketing Mr. Jun Bulot and regional sales manager for North Luzon Mr. Erick Fernandez. Honourable Edwin "Edsa" Santiago, city mayor of San Fernando, Pampanga also came to celebrate the opening of the Suzuki Big Bikes Center.
The festive opening was also joined by Wheeltek-Suzuki riders Ompong 'Danger Boy" Legaspi Gabriel who won the championship title at the ASEAN Motocross Relation at Naratiwat, Thailand recently; and Micol Puno 2nd and 3rd Placer at the Canonball Endurance Ride 2017 and BOSS Ironman Challenge 2017 respectively with his GSX-S1000. The two were acknowledged for their  success during the program alongside James Dohn Oberez who finished 5th Place at the BOSS Ironman Challenge 2017 using his GSX-S1000.
The Wheeltek-Suzuki 3S Shop and Big Bikes Center in San Fernando is located at McArthur Hi-way, Brgy. San Agustin, Ramar Village. The two are part of are part of Wheeltek and Suzuki's joint effort to make motorcycles more accessible to Filipinos.