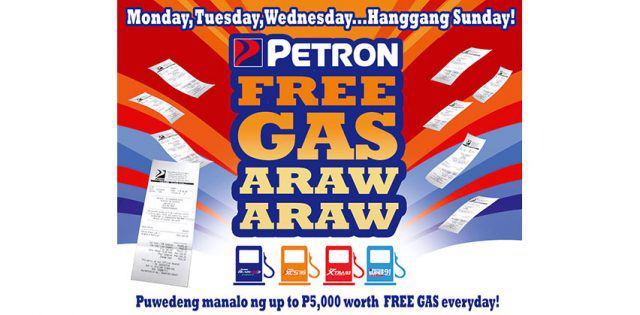 Celebrating its introduction of Euro 4-compliant gasoline products, industry leader Petron Corporation is giving Petron Card holders the chance to win up to P5,000 worth of free gas everyday, from September 15 to October 15, 2015. On the first day of the promo, there were 35,000 lucky winners!
The mechanics are simple. First, you have to be a Petron Card holder, and should be able to present either a Petron Value Card, a Super Driver Card, PMILES-Sweep Card, or a Pag-IBIG Loyalty Card. If you don't have a Petron Card yet, you can easily get one for free at any participating service station.
When you fuel up with any Petron gasoline product—Petron Blaze 100 Euro 4, Petron XCS Euro 4, Petron Xtra Advance Euro 4, and Petron Super Xtra Gasoline Euro4—all you have to do is present your Petron Card. Every P100 purchase gives you one chance of winning instant prize points worth P50, P100, P250, and P5,000.
If you are an instant prize winner, the points will be automatically loaded to your Petron Card within 48 hours. To check your Petron Card points, download the free Petron mobile app from the Apple Store or Google Play, and register your Petron Card number.
Prize points are non-expiring and may be used to pay for petroleum products at more than 1,700 participating Petron stations nationwide. All Petron Card purchases will also continue to earn regular points of P1 per P250 fuel purchase. The promo is valid for gasoline purchases of P100 up to P3,000 per day for each Petron Card. For more information, check out the promo posters and print ads.
Petron is the first company to locally produce a full line-up of gasoline variants that meet Euro-4 standards namely: Petron Blaze (RON 100), Petron XCS (RON 95), Petron Xtra Advance (RON 93), and Petron Super Xtra (RON 91). All Petron Euro-4 gasoline products are formulated with world-class additives that ensure engine cleanliness and efficient combustion for optimum engine performance and improved fuel economy.