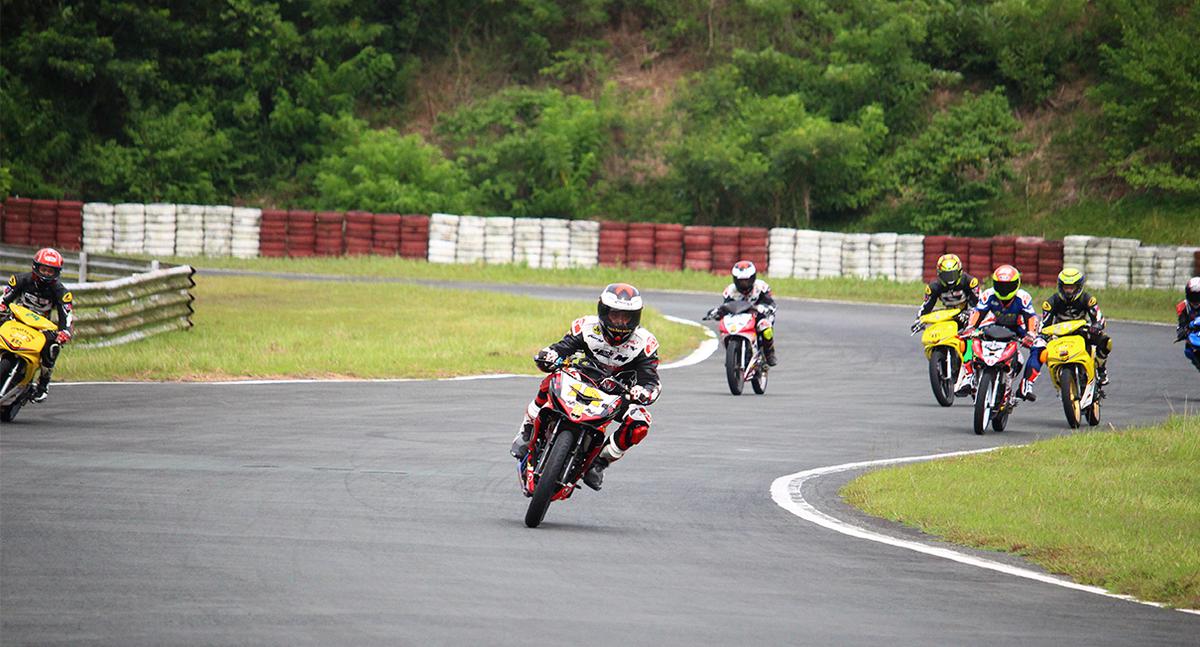 The 4S1M-Yamaha Racing Team, equipped with recently upgraded racing parts,  returned to the 3rd Eneos Philippine Motorsports Championships last July 8-9, at the Batangas Racing circuit.Coinciding with the race was the welcoming of Gupita Kresna Wardhana from the Bintang Racing Team Indonesia, as well as the introduction of new products built for more powerful motorbikes.
All was set during the  first day of the Motorsports Championships. Fresh from successful finishes during the second leg, key players Djereck Ondillo, Herbert Lopez, and Jeff Teopengco, welcomed  Gupita Kresna Wardhana to the team.  On the other end, Chief Mechanic Joji Sanvictores, together with the whole mechanic crew, ensured that the motorbikes were fit for a win; placed on the top most priority was the refreshing and re-tuning of engines.  "On this race, we focused more on the parts that are more suitable to the tune setup of their motorbikes," said Sanvictores. Although met with scorching heat, the team's collaborative efforts fruited to a powerful qualifying round.
In spite of the team exerting extra effort during preparation, hurdles in the race posed initial challenges. Team manager Ronald Uy shared that Gupita injured himself during the warm-up lap, thus preventing him to continue. Moreover, in an unfortunate and unexpected occasion, Herbert Lopez' engine exploded twice. The incident prompted the mechanic crew to perform additional adjustments and last minute tune ups. Despite the setbacks, the team maintained its dedication and drive for success. Remaining hopeful and  confident, they predict more wins in the succeeding legs.
In the Pirelli Cup Group B category, Rizaldy Canare, sponsored by 4S1M, was able to bring home 2nd place. With almost  two years of racing parts  support from Mr. Mark Tan of 4S1M, Canare expressed his deepest gratitudes. "I always had a good end whenever I compete using the racing parts provided by 4S1M," he said.
Coinciding with the leg was also the introduction of the  new Replica Pro Racing Pipes, Nissin brakes, Gazi suspension, and 4S1M center spring.  Built for powerful motorbikes, the products  boast quality performance.
4S1M Racing Team powered by BRT and Racing Force was also supported by Replica Pro, Marton Batteries, JM Mirasol, RK Racing Chain, Gazi Damper Evolution, MDS, FDR, MP (Moto Power Conversion), Racing Boy, Moto Garage PH, Nissin and Jersey Haven.For more information on the 4S1M and 4S1M Yamaha Racing Team powered by BRT and Racing Force, kindly visit the showroom located at the Racing Force, 2nd Avenue along Rizal Avenue, Caloocan City; visit http://sumracing.ph/; or like the FB page, http://www.facebook.com/forcespeed1m/.