Because optimal fuel efficiency is only achieved when man and machine work hand in hand and perform at their best, keeping our vehicles in tip-top shape is something every vehicle owner should strive for. Wouldn't it be great if the fuel we used gave us one less thing to worry about? Sharing the passion of motorists to protect their vehicles, Pilipinas Shell launched their "Stay Ahead" campaign for its premium performance fuel line, Shell V-Power Nitro+.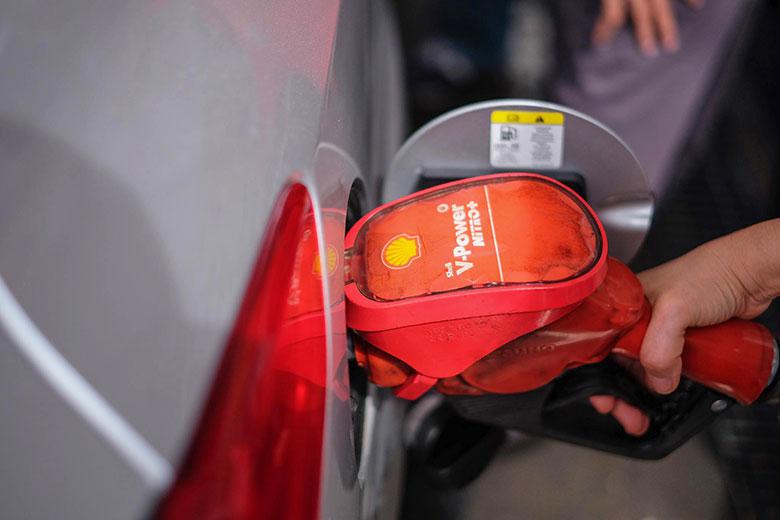 "In our thrust to continue bringing exciting drives on the road, we at Shell, believe that maintenance and performance go hand in hand. Through the Shell V-Power Nitro+ "Stay Ahead" campaign, we aim to help motorists win against the double threats of gunk and corrosion which hinder their vehicles from performing at its best," said Pilipinas Shell Vice President for retail, Anthony Lawrence Yam.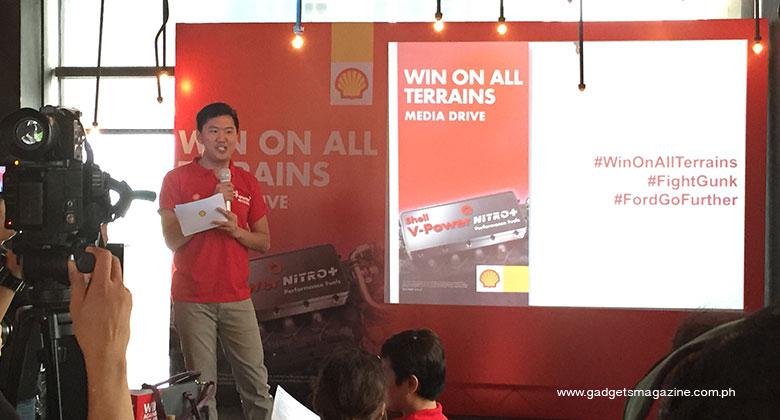 Win on all terrains
To kick-off the campaign, Shell, in partnership with Ford Philippines, held the Shell V-Power Nitro+ Win on all Terrains Media Drive to further educate the participants on how their premium line of fuels help fight gunk and corrosion. The different terrains and road conditions included in the event represented the elements that cause performance degradation, and showcased how their line of fuels help protect your engines from it.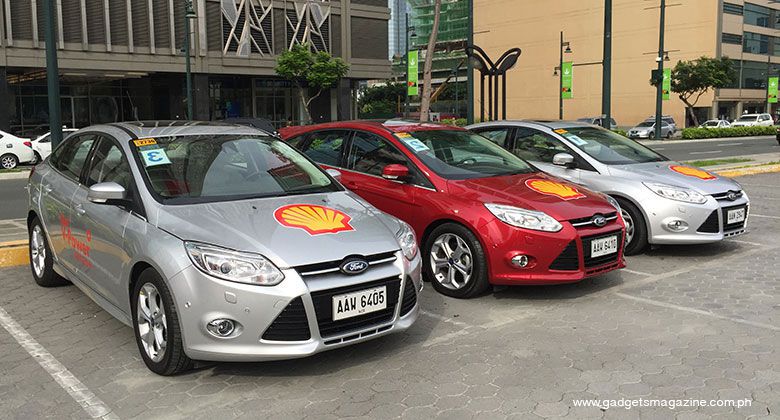 From BGC in Taguig, the teams drove northward with Ford Focus Titanium and Sport variants filled with Shell V-Power Nitro+ Gasoline. Pit stops along the way tested the participants' engine know-how, with every correct answer earning points for their teams.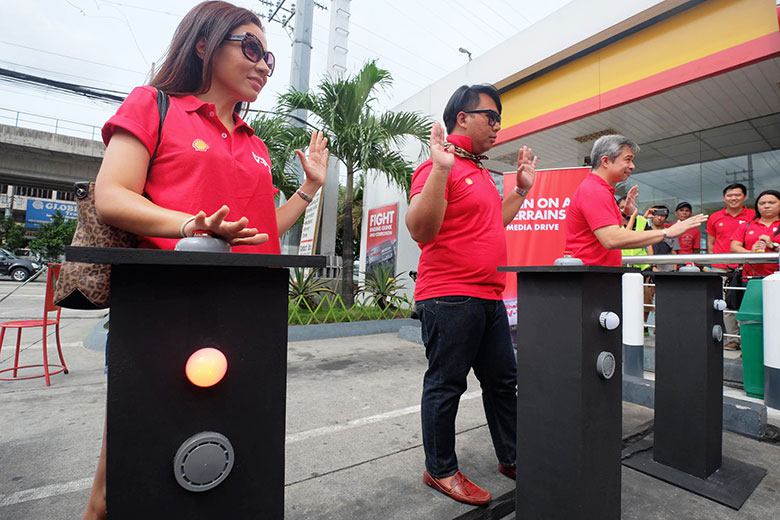 Upon reaching Clark, we moved on to the next activity that required us to do some off-roading. In torrential rain, aboard Ford Ranger 4×4 Wildtraks powered by Shell V-Power Nitro+ Diesel, we drove through the lahar-filled riverbeds of Pampanga's Sacobia River. The rough terrain (and the incidental heavy downpour) symbolized the unwanted threats that hinder engines from performing their best, while the "molecules" collected at each checkpoint denoted the detergent molecules found in the fuels that work to prevent the gunk build-up.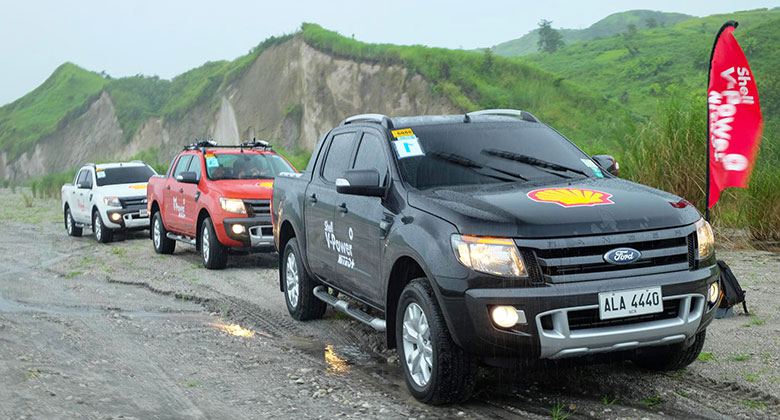 The final activity was located at the Clark International Speedway, with no less than a limited-edition 50th anniversary Ford Mustang GT Premium running on Shell V-Power Nitro+ Racing as our steed [see what I did there? Haha]. The track was modified with obstacles that singled-out elements such as moisture and air that can cause engine corrosion, and exhibited their effects on the engine's fuel systems.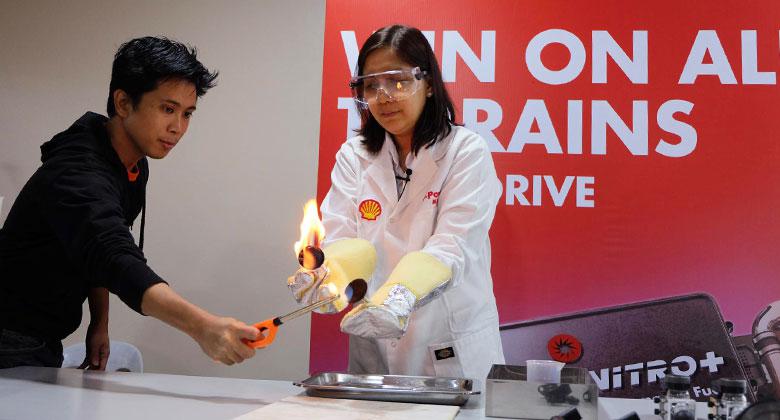 Winning against gunk and corrosion
Equipped with a borescope and magnifying glasses to inspect fuel nozzles, Shell Fuels scientist Mae Ascan demonstrated to the group how gunk and corrosion is detrimental to an engine's performance. "Gunk is sponge-like in nature and can absorb some of the fuel that has been injected in engine thereby affecting the responsiveness of your vehicle. This is why Shell V-Power Nitro+ fuels are formulated with powerful cleaning agents that prevent and remove performance-robbing engine deposits."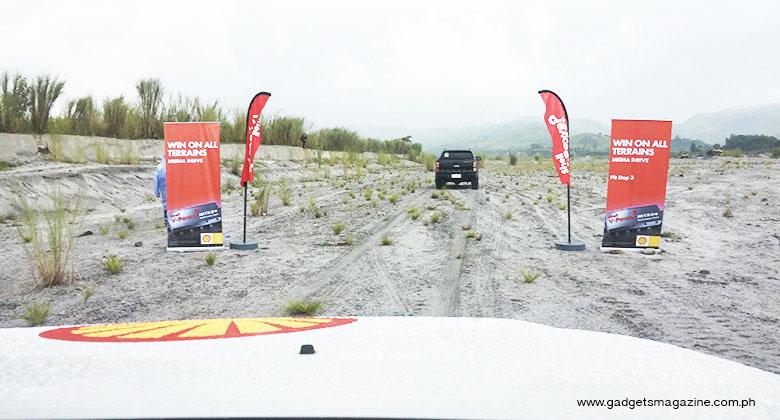 "The second threat to engine performance is corrosion. Taking various forms, engine corrosion can occur with the exposure of metal parts to moisture, air and other elements," she added. "Shell V-Power Nitro+ fuels contain anti-corrosion components designed to form a protective film on metal surfaces. This helps reduce corrosion tendency by protecting the precision fuel system components," she concluded. As per their testing, Ascan claims that results can be noticed as immediate as the first fuel tank fill up.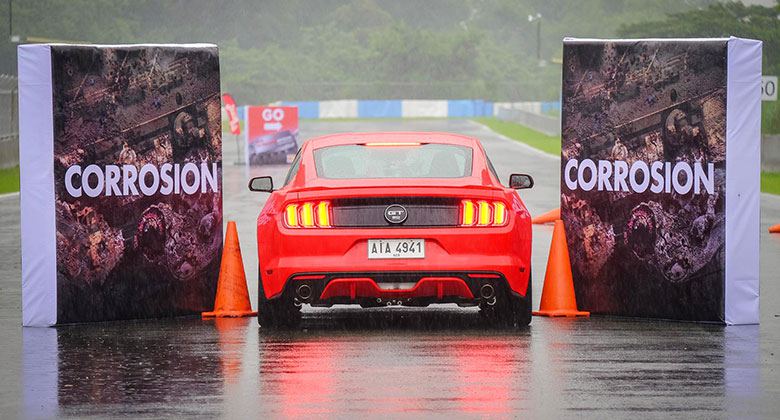 As of the moment, all three variants of Shell V-Power Nitro+ are still rated to be Euro-2 compliant, but should be ready by the government-mandated deadline of January 1,2016 for Euro-4 compliancy.
The term Euro-4 actually refers to acceptable emission levels of vehicles as set by the European Union. To comply with this, both diesel and gasoline fuels must have a maximum of 50 parts per million (ppm) of sulfur, as supposed to the 500ppm allowed for the Euro-2 rating. Lower sulfur levels in fuels lead to reduced emissions of particulate matter that is harmful when inhaled. In gasoline, the Benzene and aromatics levels have also been reduced.
For more information on Shell V-Power Nitro+ and the "Stay Ahead" campaign, log-on to www.shell.com.ph.
Originally published in Gadgets Magazine August 2015 issue.
Photos by Mika Fernandez-David & Pilipinas Shell Press