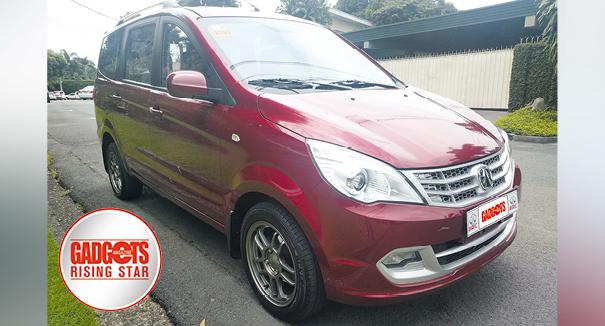 Baic, a brand that continues to surprise us with their superb value for money rides has done it again. Hot on the heels of their showroom's opening, we got to test the Baic M20 in the Luxury configuration. We've got high expectations for this vehicle, and here's what we thought.
Design: 3.5/5.0
The M20 has proportions that I can only describe as Japanese. It's slightly narrow and long at the front. This is not to say it's an unflattering face, in fact, it does cut a sharp line, though it's certainly more practical than sporty. This is partly because of the height of the roof, and how the hood drops sharply down to the nose of the MPV. The advantage of this layout though, is that it gives quite a bit of room for passengers, and the high ceiling does a lot to keep occupants from feeling cramped.
Our review model came in a fetching shade of red, with tasteful silver accents on the front, along with a honeycomb grille and the distinct BAIC logo on its red background. Body color wing mirrors and sweeping accent lines round the doors keep the M20 from looking overly plain, and 14-inch alloy rims are both tasteful and practical. Overall, it's a no-nonsense package that I appreciate for its simplicity.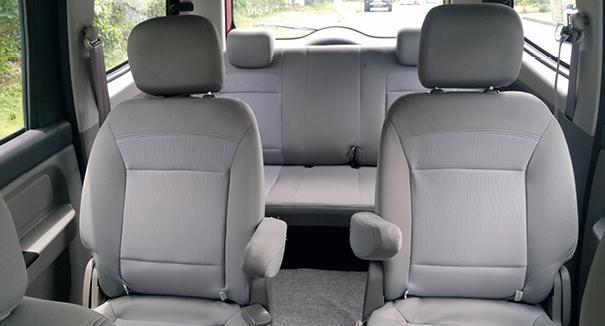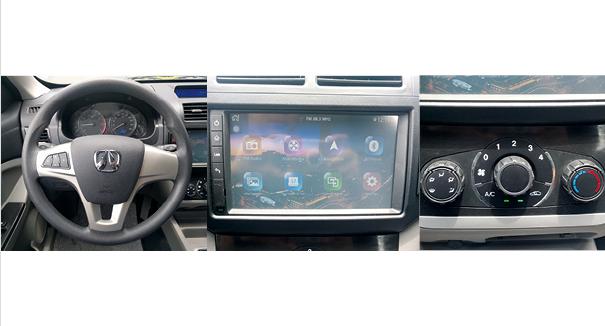 Hardware: 4.0/5.0
The M20 Luxury is powered by a naturally-aspirated 1.5L Euro 5 compliant gasoline engine that's capable of 115 HP and 150 Nm of torque, mated to a five-speed manual transmission. This Luxury model also comes equipped with ABS and electronic brakeforce distribution—a nice extra for the family-mover that it is. Front disc, and rear drum brakes provide the stopping power.
Inside, you get 2-2-3 seating with fabric-covered captain seats for the middle row, making that quite a comfortable place to seat yourself. Dual air-conditioning means everyone get a bit of cool air, and front airbags make sure the driver and front passenger have maximum protection in case of a crash.
In the dash is a generous LCD touch panel that allows you to control the entertainment features of the vehicle. From Bluetooth connectivity and music controls, to the radio, and accessing external storage, everything is a few taps away. The left side of the dash has controls for adjusting the beam on the projector headlamps, so you get great visibility for night driving.
User Experience: 3.5/5.0
The M20 Luxury is an interesting vehicle. It has quite a few features you'd expect to find on higher-end vehicles, but it doesn't really cut too many corners to achieve its price point. Keyless entry is present, though you do have to slot the key into the ignition to start the engine. The 1.5L powerplant comes to life without complaint each time, and stays on with a smooth purr—not a clink or clank to be heard. Adjusting the seat to the appropriate distance, you'll find you have a pleasantly high view of the road, with a generous windshield to look through. The view is marred slightly by wide A pillars, but it's nothing a quick glance can't overcome. Mirrors are on the small side, though are perfectly usable, and are a breeze to adjust.
Getting the M20 into gear had a slight learning curve though. I'm not sure if it was because this is a test unit with higher than usual miles on the clock, but it took a little finesse and coaxing to get the transmission to pop into first gear. Once there though, shifting through the gears was predictable, with the slightest bit of resistance every now and again. It's not rough per se, but I've certainly driven smoother.
Once it gets going, you can push this large seven-seater to a surprising clip. While it's not going to break any speed records, pleasantly zippy, usable acceleration is there, which is surprising for a vehicle of its size.
The ride was comfortable overall. I'll be honest, i expected a much bumpier experience, and while it is a little hard at times, loaded up with people, it's really quite smooth—an experience made even moreso thanks to comfortable seating for both the driver and passenger.
Even with its capacity, the M20 is quite agile, and very comfortable to drive through the metro's tangled roads. It's very easy to know the boundaries of the MPV, so getting into tight spots isn't an issue.
Other features were likewise greatly appreciated. The entertainment system in particular, while not as refined as others out there, is perfectly usable, quite intuitive, and reliable. I do appreciate being able to access and control entertainment features on the single screen, and found myself using the feature frequently throughout my time with it.
Fuel economy through traffic was pleasantly surprising at about 8 Km/L though that's more of an educated estimate rather than asking the vehicle itself, as it doesn't display its fuel consumption.
Overall, I was pleasantly surprised at the comfort, ease of driving, and roomy interior the vehicle gave, and I enjoyed the test far more than I expected to. I would have given the M20 a solid four stars, had it not been for the slight transmission woes I felt.
Value: 5.0/5.0
Here's where the M20 Luxury really shines. It has features one would expect on much higher-level vehicles, a comfortable set of seats, and lots of practicality. It should cost significantly more than the PHP 598,000 price tag asks for, and for me, that's a solid win.
What's Hot:
– Great price
– Comfortable
What's Not:
– Transmission could be smoother
Bottomline:
This vehicle should be more expensive than it is, and that's great for the buyer.
Also published in GADGETS MAGAZINE August 2017
Words and Photos by Ren Alcantara