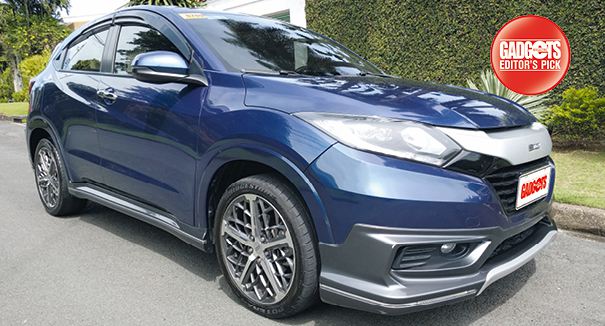 The HR-V got my attention the first time I saw it at its launch some time back. Something about a stylish crossover SUV that leaned more towards the sporty side of the spectrum has its appeal, so when I got word that I'd have the Mugen version to test, I have to admit, I got excited. Here are my thoughts after a week on the road with the car.
Design: 4.5/5.0
If you thought the HR-V was a looker, wait until you see the Mugen version. The already sleek lines are made even more so thanks to a more solid front grille and underspoiler that continues on to the sides and rear, a lower wing spoiler, and a ventilated visor. Just so people don't miss it, it's emblazoned with the Mugen badge on the rear.
The wheels also get tricked out, though the latticework details on them doesn't quite do it for me. Overall though, Honda manages to dress the HR-V up nicely, without going overboard, or making the vehicle look like a 17-year-old's toy car.
Inside, you have an appropriate level of trim to match the outside. Leather seats, leather on the steering wheel, and blue accent lighting on some surfaces all make for a very posh-feeling interior. Shiny metallic trim around the control buttons, the shifter and A/C vents all add to the visual impact.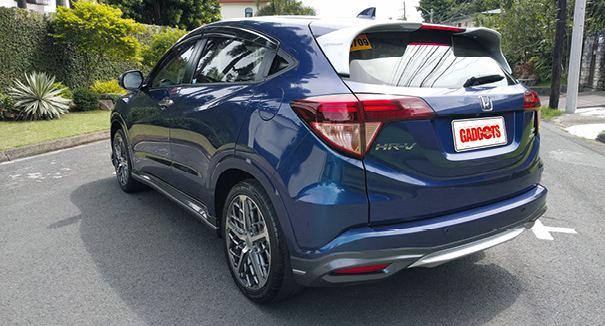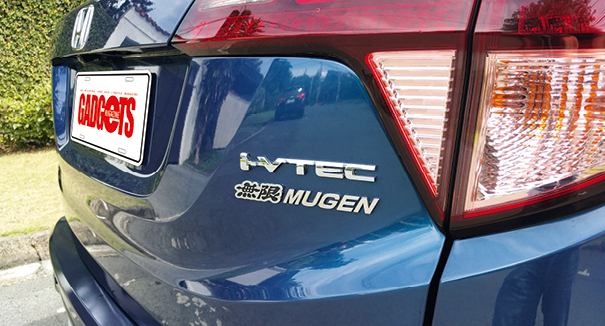 Hardware: 4.0/5.0
The Mugen version of the HR-V has the same heart as the other models. It's a 1.8-Liter 16-valve affair that's mated to a CVT with Honda's Earth Dreams Technology. The powerplant puts out 141 hp at 6500 rpm, and 172 Nm of torque at 4300 rpm. This is able to propel the crossover to 201 kph, according to the manufacturer.
Since it's a Honda, safety features abound. From front, side, and curtain airbags, and ABS, you've got everything you need to keep you and your passengers safe in case of a collision. As for driver aids and creature comforts, it comes with a convenient engine push-start button, a large 7-inch entertainment system with all the usual inputs, and rear parking camera, so you don't have to go in blind.
User Experience: 4.5/5.0
I had a full schedule the week I had the HR-V. Apart from the daily office commute, there were a number of events at BGC, and a weekend trip to Dau with friends to hunt for supplies at the military surplus store there.
The week started with city driving. The HR-V puts you quite a bit above the road. While it's not quite the height of a full-on SUV, you get a good view of everything that's going on around you. The HR-V has a bit of a nose to it, so every little bit of that view is appreciated. While it looks wide in photos, it's actually quite manageable on our narrow, traffic-riddled streets. Sure, it's no sub-compact, but it's not that far removed from the '15 Civic I normally drive. The steering is light, but not dead, again as we have come to expect from the brand. The information display, which has easy-to-reach controls, is quite intuitive, and allows you to scroll through your car's status through a dedicated screen in the gauge cluster.
Driving in traffic from the office in West Ave., to BGC was comfortable, thanks to the cushy seats and entertainment system. There's nothing like belting out a few tracks to keep your sanity in traffic. The huge touchscreen makes controlling music easy, a great boon now that you can't even touch your mobile while you're on the road.
With the work week behind us, it was off to a quick trip to Dau to do a bit of shopping, and to see how the HR-V behaved on NLEX. I'm very pleased to say it did great. Cruise control is a blessing for the long stretches, and the 1.8-L engine had enough power to overtake cleanly at speed, and the breaking didn't let us down, even under the wet conditions that met us on the way.
High-speed stability was great. The low-slung chassis, sleek shape, and rock solid steering keeps the driver confident, and suspension was softer than I expected for a vehicle of its type. I was almost sad Dau wasn't farther away.
The haul fit comfortably into the boot, and even with several boxes, cans, and a huge tarp, none of the passengers had to give up any of their own room. Swap that out with luggage, golf bags, or camping gear—it'll make no difference. There's a lot of room back there.
Fuel economy was at about 8 km/L in the city and about 12.3 on the highway, both on Economy mode. Perfectly respectable for a vehicle its size.
Value: 3.5/5.0
The Mugen Version of the HR-V is priced at PHP 1.416 million. That's PHP 57,000 more than the non-Mugen EL version, and PHP 167,000 more than the base E model. On its own, it's a superb car with great features, comfort, and a great driving experience, but whether or not the Mugen version is worth the extra money is really up to personal taste.
What's Hot:
– Looks great
– Comfortable
– Fun to drive
What's Not:
– The price difference from the base model
Bottomline:
If you really want the extra bling, go for it, but the base model should perform just as well.
Also published in GADGETS MAGAZINE September 2017
Reviewed and Photos by Ren Alcantara