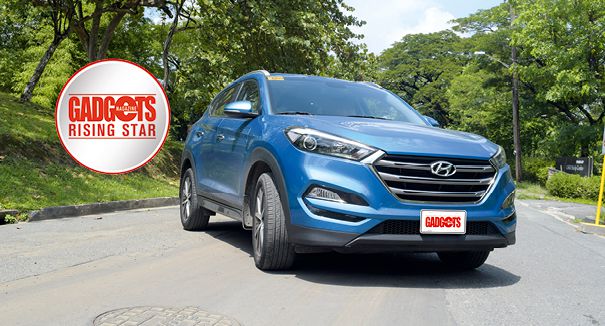 The market for handsomely built and aesthetically poised SUVs just keeps growing and growing. This month, we got to get our hands on the wheel of another Korean car contender, the Hyundai Tuscon 2.0 CRDi GlS 4×2 crossover. And we can say that it's a beauty built with utility in mind.
Design: 4.0/5.0
Let's get it out of the way. Hyundai's Tucson is handsomely build and is attractive to look at. Its overall fluid design exudes a certain kind of character and sophistication that speaks volumes when it comes to a well engineered body structure.
At first glance, immediately noticeable is the aggressive and masculine aesthetic that is anything, but cute. Ushering in a more mature and athletic design language, the Hyundai's Tucson is poised as car with personality and power. Likewise, this year's model sports Hyundai's Fluid Sculpture 2.0 design that goes beyond just aesthetics. Its chiseled edges and bold lines bring with it an aerodynamic design that enhances the driving experience while lessening overall drag for a smooth cruise.
Don't get us wrong, although the new Tucson features a revamped muscular look, it still stuck with tradition and heritage when it comes to elements that define its iconic form. Up front is the large hexagonal grille and wide projection headlights at either side. On the sides are bold lines and a waistline molding that defines a sporty look. Adding to this is a rugged look brought to us by the wheel arch molding. Also on its side are mirror repeaters that add a little of safety when turning. At its back is a rear spoiler equipped with a stop lamp, a rear washer and wiper, and a rear reflector that's elegantly placed.
Inside of the Tucson, there's not much to be surprised with. Despite having limited leather, and a lot of plastic, it still manages to to be comfy, spacious, cool, and overall, a pleasurable to be in. Simply put, its interior space translates to comfortable experience.
There are those cars which have so much going on it terms of design it gets confusing, and there are those that with a clear and fluent design language that's simlpy attractive. The Tuscon falls in the latter category, and in all honesty, is such a beautiful sight to see.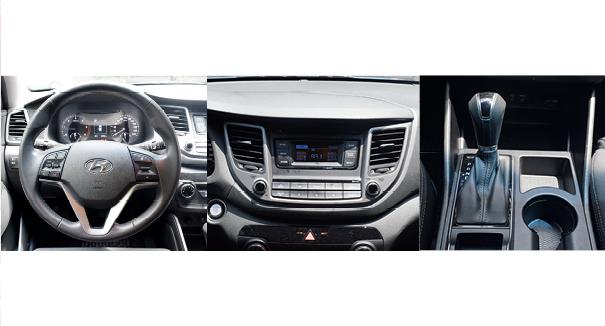 Hardware: 3.5/5.0
Powering the Tucson is a 2.0 CRDi diesel engine that delivers 185 PS at 4,000 RPM and 41.0 kg.m torque at 1,750 ~ 2,750 RPM. If you're curious about fuel consumption, then you need not be that concerned. Afterall, what's the use of having a beautiful car if you can't regularly take it out for a spin? The Tucson's 6-speed Automatic Transaxle combined with Shiftronix compact and lightweight design offers exceptional performance coupled with decent fuel economy.
Taking it out for a spin in the streets of Manila, as well as out of town in Laguna, the Tucson proved to be responsive no matter the rpm range. Apart from the Normal Driving mode, the car gives you the preference of shifting to Eco mode for better fuel consumption, and the Sport mode for a much sportier driver. As with all the cars driven in the country, the Eco mode comes practical for long drives at Manila's traffic, while the Sport mode can only truly be enjoined in open highways, or tracks with little or no traffic. Even without the the sport mode on, necessary overtakes in highways can be done with ease, so you don't have to worry about struggling to do so.
It's sad to know that unlike most of the common cars recently recently, the Tucson doesn't come with a LCD display for navigation or entertainment. The sound system, however, comes as a decent addition.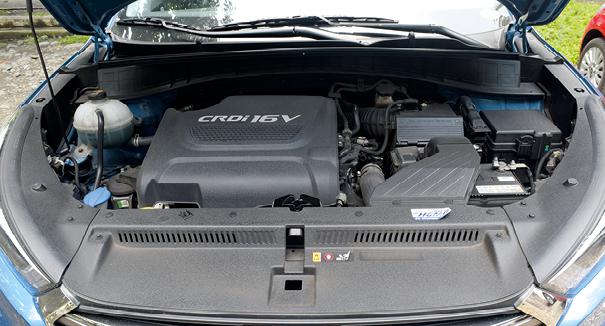 User Experience: 4.0/5.0
Although not the best compact SUV in the market, the Tucson still manages to impress. Perhaps one of the biggest factors I consider after every test drive is how efficient and how tolerable the car will be in the traffic-riddled streets of Manila. The Tucson passed passed with flying colors. Only just consuming a little over half a tank after driving it in Manila's traffic and out of town for around 6 days, the driving the Tucson was pleasurable.
In terms of comfort, being surrounded by an abundance of plastic interior and little leather made no significant difference to its look its feel. It was still a comfortable car to steer even after long hours. Adding to this is not having to struggle with controls for the wheel is packed with necessary buttons to still keep you digitally connected.
Physics takes action on sharp turns, and sometime you'd wish that the Tucson came equipped with that lcd screen for navigation, or for entertaining other passengers in the car. The car is not perfect, no, but in the end it's car that's more than capable for an everyday relaxed cruize.
Value: 3.5/5.0
At the time of writing the Tuscon retails for PHP 1,578,000. The average price point comes in a decent price range in today's market, and the car will surely come as convenience and a long term cost-effective solution when cruising the streets with or without traffic.
What's Hot:
– Striking Lines
– Attractive Grill
– Optimized design for speed and swift motion
– Spacious interior
– Cost-effective fuel consumption
What's Not:
– No LCD display
– Absence of HID lights and sensors
– Average steering capability on sharp turns
Bottomline: 
The Tucson does what it does as a compact SUV. It's bold, beautiful, and efficient. If you're looking for a handsome car and a comfortable driving experience, this may be the car for you.
Also published in GADGETS MAGAZINE August 2017
Reviewed by Gerry Gaviola and Photos by Theresa Eloriaga