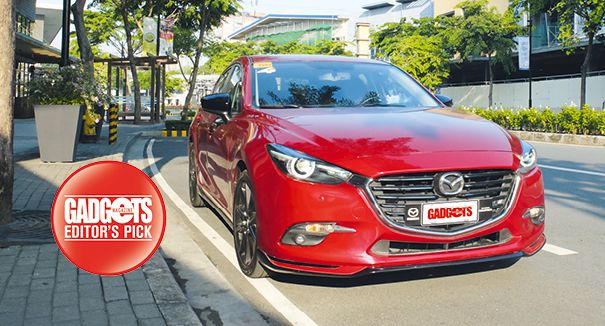 With the third generation Mazda3 now in the middle of its model life cycle, the 2017 offering has received some enhancements for a fresh look as well as additional convenience features. Here is our zoom-zoom experience with its top-of-the-line Mazda3 Speed hatchback.
Design: 4.0/5.0
Retaining the strong character lines of Mazda's Kodo – Soul of Motion design language, the refreshed Mazda3 Speed features a new grille and bezel design which are complemented by cat-like LED headlights and distinctive fog lights. The flowing yet muscular silhouette exudes a sportier look with red-painted brake calipers peeking out between the spokes of 18-inch aluminum alloy wheels. This play of red on black is echoed in the body kit, with the side skirt, front lip and rear skirt painted in brilliant black, but with the front and rear kits sporting dramatic red accents.
When you open the doors, a brushed aluminum scuff plate embossed with the Mazda3 logo adds another layer of distinction. The interior trim level is satisfyingly upscale, with black leather upholstery for the seats, door trim, steering wheel, and shift knob. Storage compartments are well-positioned to keep knick-knacks and other personal items neatly organized inside the cabin.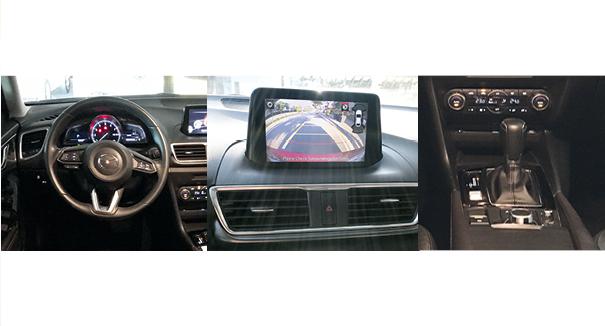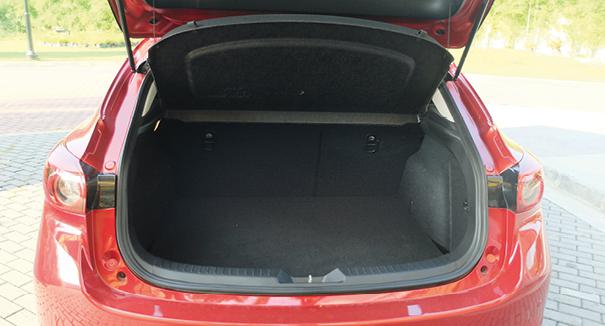 Hardware: 4.5/5.0
The secret behind Mazda's recent automotive successes is its vaunted Skyactiv technology, integrating advances in engine, transmission, body and chassis, as well as vehicle dynamics, to deliver improvements in fuel efficiency, car control, safety and overall driving pleasure.
The Mazda3 Speed is powered by a 2.0-liter DOHC engine mated to a six-speed automatic transmission that produces maximum output of 153 ps at 6,000 rpm and up to 200 Nm of torque at 4,000 rpm. The suspension system consists of front McPherson struts and rear multi-link beams, while brakes are ventilated discs for the front and solid discs for the rear.
Inside, the infotainment system is the hub for most of the convenience features, giving access to music, communication, navigation, as well as some vehicle settings. Access may be through the 7-inch LCD touch screen, or the multi-function commander control. For the tech junkie, connectivity is assured via Bluetooth, an aux-in jack, two USB ports, and a 12V power supply.
Safety equipment include the expected alphabet soup, but leveled up to inspire more confidence. For instance, in addition to the standard driver and passenger airbags, it also has curtain as well as side airbags. It also has antilock brakes with electronic brake force distribution, dynamic stability control, parking sensors, a rear view camera, blind spot detection, high mount stop lamp, keyless entry, immobilizer, and child seat-ready ISOFIX anchors.
User Experience: 4.0/5.0
I like the convenience of smart keyless entry and automatic push/start ignition as it saves me the trouble of having to dive into my purse to search for my car keys. However, I have also been known to leave the engine idling after having forgotten to switch it off. Thankfully, the Mazda3 Speed has a walk-away shut-off function to address precisely this problem.
Although not the most powerful car in its class in terms of engine output, the Mazda3 Speed is no laggard in the performance department either. Acceleration is smooth and, I swear, you can actually hear the engine purr at certain rpms.
Mazda claims improved fuel efficiency with a combination of its i-Stop idling system that turns off the engine when you brake, and its i-Eloop regenerative braking system that stores energy lost during deceleration then efficiently reuses this stored electricity when needed. Personally, though, because of the frequent and prolonged braking necessary to navigate Metro Manila's normally heavy traffic, I usually just disable the i-Stop function so that I can quickly maneuver to get ahead when I see a lane opening.
Getting caught in traffic is not such an ordeal inside the Mazda3 Speed, thanks to a six-way power adjustable driver seat with lumbar support to keep fatigue at bay, and the nine-speaker Bose audio system that gives you an immersive listening experience. Occasionally, though, I like the peace and quiet of driving with just my thoughts for company—apparently, there is no way to turn off the infotainment system, and the only work around is to mute the audio and turn off the display.
The audio controls, paddle shifters, and cruise control buttons are integrated into the steering wheel, so you literally have everything at your fingertips. I also particularly like the way the instrument panel is configured, with just the analog display tachometer in the center, and the heads-up display providing a digital speed read-out, as well as occasional blind spot warnings. The rearview camera with guidelines is a great help for maneuvering in tight spaces, as are the front and rear parking sensors.
I was eager to try out the built-in navigation system in view of the anti-distracted driving law limiting the use of mobile devices. Sadly, it didn't live up to my expectations. First, it takes a while to acquire a GPS signal. Second, while the map appears to have been localized, inputting the address is a chore as spelling out the letters using the command dial is slow, while the touchscreen is unresponsive. Both ways are frustrating and prone to error. Moreover, if you're lucky enough to have completed the process and are able to get the route directions, the system does not provide traffic information.
Value: 4.0/5.0
With the sticker price set at PHP 1,398,000 for the top-of-the-line variant plus a premium of PHP 16,800 for the soul red color, the Mazda3 Speed does not come cheap. However, you can always justify shelling out the extra bucks by enumerating all the extra features and amenities loaded in this car. Mazda's unique three-year total care package is also a great selling point. It includes free periodic maintenance service including parts, oil, and labor (or 60,000 km); warranty (or 100,000 km); as well as roadside assistance and concierge service.
What's Hot:
– Loaded with lots of comfort features and amenities
– Nine-speaker BOSE audio system
– Blind spot warning
What's Not:
– You can't turn off the infotainment system
– Navi feature isn't responsive and not very useful
Bottomline:
Good-looking on the outside, feature-rich on the inside, and fun to drive. You can easily fall in love with this car.
Also published in GADGETS MAGAZINE August 2017
Words and Photos by Maribelle Alba