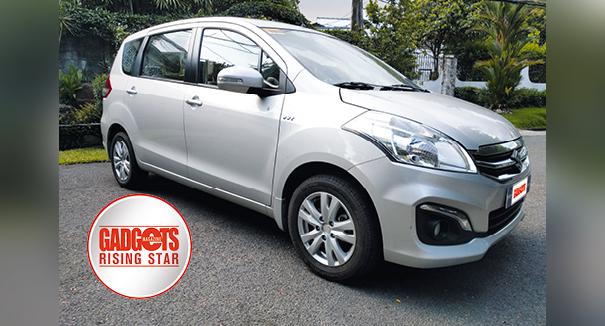 In this day and age, it pays to be practical. Sure you can have a flashy car that screams past a hundred without breaking a sweat, but good luck fitting your family, groceries, bags, and the dog in there. There's a reason the MPV has taken off in a big way here in the country, and Suzuki is not a manufacturer to leave the market's needs unaddressed. Today, we take a look at their own people mover, the Ertiga.
Design: 3.5/5.0
The Ertiga has a no-nonsense, straightforward design that might not be flashy, but is perfectly suited for its role. It might not be as sleek as other MPVs out there, it's still quite a good mash-up of a sedan and a mini-van. This is by no means a bad thing, allowing it roughly the same dimensions as a large sedan, while giving you enough room for the whole family and then some. There isn't a sharp line on the Ertiga. It's all rounded edges, smooth corners, and gentle lines. It doesn't try to look anything other than a reliable family car, and it's all the better for it. That's not to say it looks like a beached whale. It has enough sedan in it to keep it from appearing boring. Angular, upswept headlights, a low-slung front, and windows that taper nicely at the rear make the Ertiga a car you wouldn't mind being seen driving.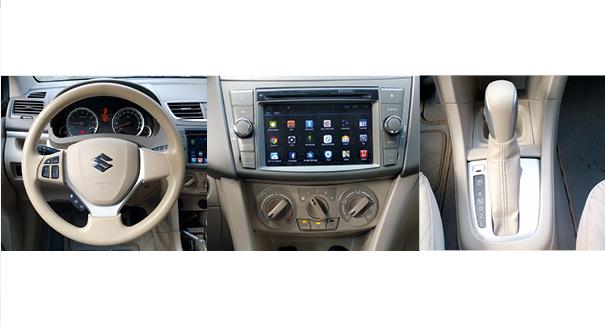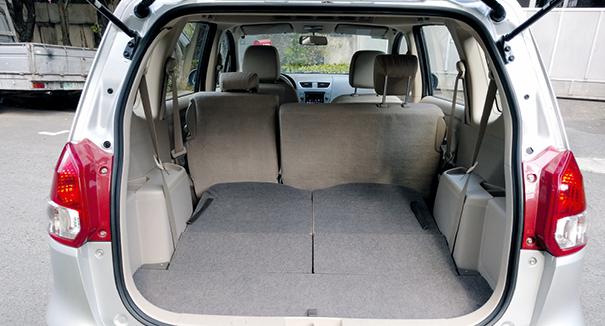 Hardware: 4.5/5.0
The Ertiga is moved along by a 1.4 L gasoline engine with VVT, and produces 95 HP at 6000 RPM, and 130 nM of torque at 4000 RPM. This might not seem like a whole lot for a vehicle this size, but we'll get back to that later. Stopping is handled by front disc, and rear drum brakes. The vehicle has a four-speed automatic transmission, which is plenty for city driving, and even a bit of highway action.
Inside, it's everything you'd want a comfy family car to be. Safety is of primary concern here, so you get seatbelts for all occupants, airbags up front, ABS with electronic brakeforce distribution, and side impact beams. It's also got its fair share of creature comforts. Keyless entry, keyless push start, power mirrors, doors, and mirrors, and my personal favorite feature, a large, Android-powered, touch screen entertainment system right within reach. It even accepts a SIM card, so you won't have to tether it to your mobile phone each time.
Space is not an issue for the Ertiga. You can fold all the rear seats for a whopping 736 liters of storage if you have to, or keep the middle row for passengers, and enjoy 482 liters of space. Should you need the seats, you still have a generous 135 liters to keep your things. This is its strength, and what a strength indeed. Short of a full-on van, or perhaps a truck, you're not easily going to find more space than this.
User Experience: 4.0/5.0
I came into this car review expecting a plain little people-mover, and I left it surprised. As far as vehicles go, this segment might be the one least appropriate to a single male, with no family, and very few requirements when it comes to vehicle space, yet I was surprised as to how well we actually meshed.
The first thing I appreciated was how convenient it was. I normally drive either a sedan or motorcycle around, so having so much space was a strange experience to me. Something as simple as carrying a week's worth of groceries from the supermarket to home is so much simpler with all the room the Ertiga affords. Even with passengers, there was enough room to keep people, bags, and groceries, with a lot of room to spare.Try this in a compact car, and it's off to the trunk for the groceries, which is far from ideal, unless you prefer your groceries hot.
The next thing I appreciated about the Ertiga was just how easy it was to drive. I was expecting a driving experience such as one would have with a minivan. I was very happy to be proven wrong. The Ertiga, despite being a fair bit taller and larger overall, felt almost like a sedan. I wouldn't say it weaves through traffic, but it's certainly not a chore to maneuver. The view from the driver's seat is wide, high, and inspires confidence, but low enough to not feel like you're in a truck. The engine has some zip to it too. On a trip from Q.C. to Nuvali, the Ertiga was more than capable of keeping pace with the flow of vehicles on SLEX. Sure, you have to push a bit, but I didn't have to push it to the point of having to be concerned about the machine.
Then there's the entertainment system, specifically the Android-powered head unit. It's familiar, versatile, and quite powerful, allowing you all the services and features you're used to having on your phone. Navigation? Sure, use Waze or Google Maps. Music? Fire up Spotify. Heck, your passenger could even launch Twitter or Facebook if they were so inclined. It's a simple solution to the problem of bad head unit interfaces, and one that I embrace fully. One concern I do have is the ear-splitting alert you get when a paired mobile phone receives a phone call. It's a little excessive.
Fuel economy is actually not bad. Through heavy traffic, we averaged about 8.3 km/L, with the figure improving to upwards of 10 km/L in city driving. We didn't get a very good measure of the numbers at highway speed, but by our scientific guesstimate, we got around 15 km/l, with a light load.
Value: 4.0/5.0
With a price tag of PHP 928,000 for the model we tested, it offers great value for money. Seven seats, oodles of space, and a capable engine, with a few extras thrown in make this vehicle a prime candidate for those who need to move a small group, or lots of luggage on a regular basis.
What's Hot:
– Roomy
– Drives almost like a sedan
What's Not:
– Not the biggest fan of the styling.
– Engine might not be enough for some.
Bottomline:
Got a large family? or plenty of gear? This might be the vehicle for you!
Also published in GADGETS MAGAZINE July 2017
Words and Photos by Ren Alcantara