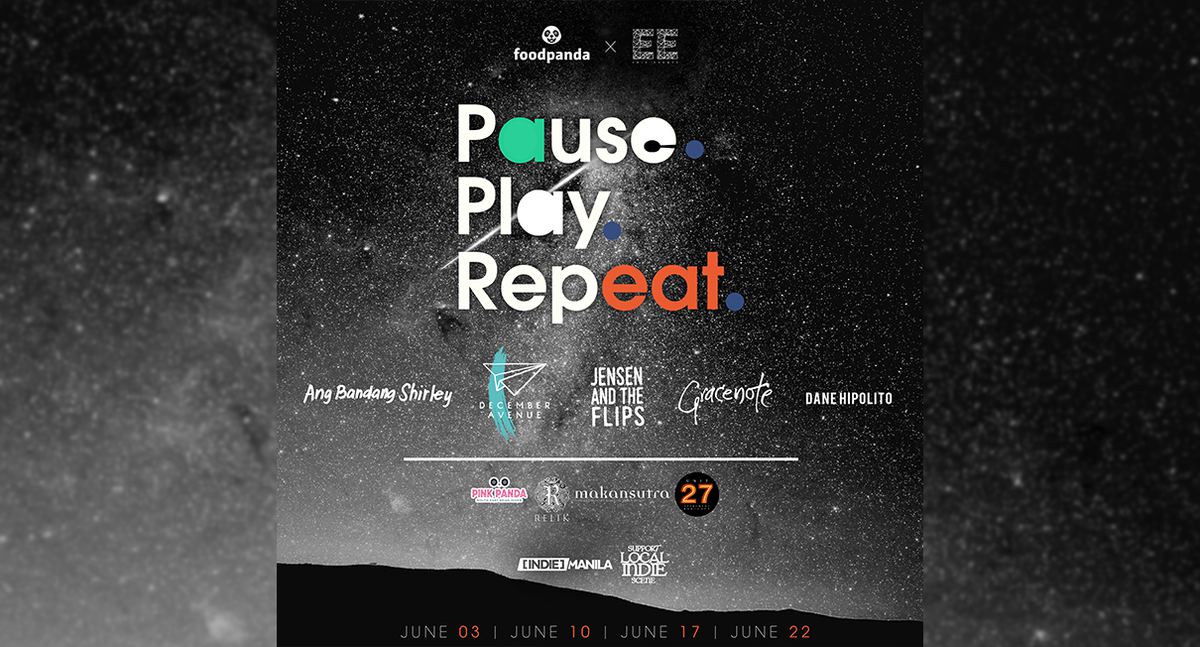 This June, foodpanda's Play. Repeat: The Bar Tour will showcase the country's favourite local indie bands and will feature four of the best restaurant-bars in the city under foodpanda's list.
Music plays a big role in the lives of every Filipino that it has become an immutable part of our everyday routines. We would usually wake up to our favorite song that hypes us up serving as our alarm. We blast music through our speakers while preparing for the whole day ahead. To counter the stress caused by traffic and waiting, we listen to our favorite playlist. We listen to music during our breaks, while we eat, or before we sleep. Music is in our DNA.
If there is one more thing that every Filipino loves, it would be food. We love to eat. In fact, every region in the country has their own signature local dishes. We love food so much that we even travel just to eat. We would do everything to satisfy our cravings.
foodpanda, an online food delivery platform, wants to integrate these two things that we love the most. In the advent of digital music service that enables us to listen to music anytime and anywhere, foodpanda now also aims to do the same with our favorite food, incorporating online food delivery into our lives just like how music is. Music is an effective quick fix to our moods as food provides the quick fix to our hunger.
This integration is the inspiration behind the event; Pause. Play. Repeat: The Bar Tour. The event also promises a night full of good music and great food.
We'll be serenaded by the country's most promising indie bands of today. First on the list is Jensen and the Flips, a seven-man band specializing in soul and R&B music. They are known for their hit singles, "Lovechild" and "Borrowed". Second would be Gracenote, a Filipino Synco-pop/alternative rock band popular for their songs "Amnesia" and "Pwede Ako". This band is also known for their rendition of Stevie B's classic hit "When I Dream About You." The third band is December Avenue, an independent Filipino band playing alternative rock music with melodic and slow core arrangements. They are known for their songs "Sleep Tonight" and "Breathe Again". The fourth band is Ang Bandang Shirley, a Filipino post-pop rock band which started in 2003. Their hits include "Umaapaw" and "Nakauwi Na". We will also be joined by a solo artist, Dane Hipolito, a singer-songwriter. His works include "Hiwaga" and "Plastic Bag".
The tour highlights the impeccable cooking and ambience at four different restaurant bars. Our first stop is in Pink Panda located at Poblacion, Makati City on June 3rd. Having a cozy atmosphere, Pink Panda offers a good and refreshing break from the busy streets of Makati apart from, of course, its one-of-a-kind Asian menu. We are set to visit the original Singaporean street food of  Makansutra on June 10th at SM Megamall, Building A, Pasig City. Our third stop is in the comfort of Relik Bar & Restaurant's rustic and vintage themed interiors. You're
definitely going to have a good time listening to bands playing with the resto's famous comfort food. On June 22nd which is also the last stop of the tour,  Unit 27 Bar & Restaurant's three-storey "apartment" gives a day-night experience you would never forget.
"This event aims to relate food to music and make online food delivery a habit of every Filipino just like how they listen to their favorite songs every day. People can expect each and every night to be a fusion of good music and great food," says foodpanda PH CEO, Iacopo Rovere.
To know more about the event, please visit foodpanda's FB page: http://bit.ly/2r61i16
Join us as we look forward to sharing these nights with you.