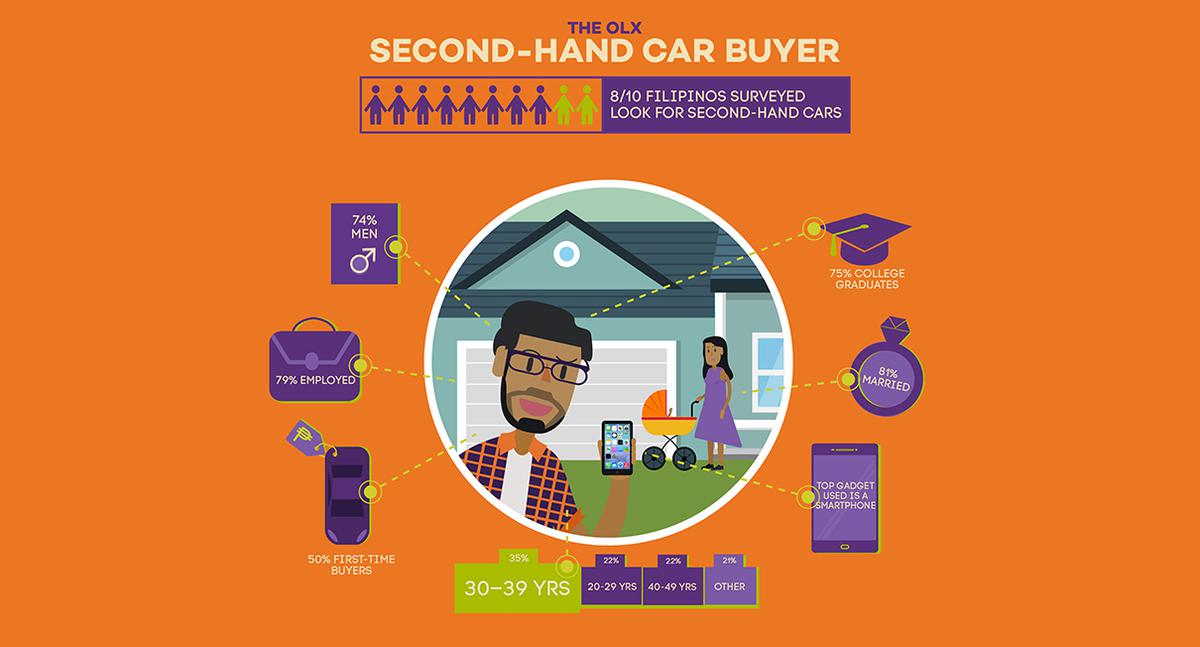 Despite the irresistible offers from local dealers on brand-new, off the showroom floor vehicles, statistics from online classifieds site OLX found that the second-hand car market remains robust with many buyers opting for a pre-loved set of wheels. Used vehicles are often enticing propositions for most buyers who just wish to own an affordable ride that will get them from point A to B.
In 2016, more than 630,000 second-hand vehicles were listed as for sale on the online classifieds platform—12 percent more than in 2015. Who exactly are in the market for second-hand vehicles? Turns out, it's the young fathers segment.
Of the 74 percent of male buyers on OLX, 81 percent of them are married and belong to the 30 to 39 age demographic. Most of them are employed working at private companies, government agencies, or are entrepreneurs.
As for what they're looking for, numbers from the OLX Data Hub revealed that Japanese cars remain a top choice as no non-Japanese brands or models were in the Top 5 users searched for. This suggests that car buyers trust Japanese rides and view them as reliable.
Other statistics from the OLX Data Hub on used cars also show that the demand isn't going down soon.
The OLX Second-hand Car Buyer:
8 out of 10 Filipinos are looking for second-hand car
74 % –

Percentage of Male Car buyers on OLX

26 %

Percentage of Female Car Buyers on OLX

50%

of the market are first time car buyers.
Top 3 age range of second-hand car buyers:
30 to 39-years old – 35 %

22 to 29-years old – 22 %

40 to 49 years old – 22 %
Top 3 Occupations:
Private employee

Business Owner

Government Employee
Average price buyers are willing to spend on a car listed on OLX: P330,000
Top 5 Searched Brands
Toyota

Mitsubishi

Honda

Isuzu

Nissan
Top 5 Make and Models Searched
Honda Civic

Toyota Vios

Toyota Fortuner

Toyota Innova

Mitsubishi Montero Sport
*Source OLX Data Hub
Three out of the Top 5 searched vehicles belong to the utility vehicle category which shows that young fathers, who make up most of the market for used-cars, are practical. They hunt for people mover, multi-purpose type of steeds—capable of being a daily driver while hauling the entire family for road trips on weekends.
From top 5 searched vehicle manufacturers, Nissan and Isuzu did not have specific models buyers are looking for.  Among Japanese brands, Toyota is top of mind. Just as they are popular brand new, the Vios, Innova, and Fortuner are also sought after by those looking to buy second-hand. Supremacy of most searched make model however, belongs to the Honda Civic—suggesting young dads still aspire for a daily driver with a sporty vibe.
Online classifieds platforms also prove to be an effective way to sell pre-loved vehicles. Those looking to buy a new car, especially those who are starting a family, would benefit from selling their current rides instead of trading it in as buyers who find what they want online are also firm in purchasing.
According to the OLX Data Hub, cars posted on OLX will immediately get at least 3 inquiries on the week it is listed. If the vehicle is among the Top 5 searched, it's highly likely that it'll get an inquiry or even be sold within 1 to 2 hours after listing.
While there is a market, buying a used-ride is still tricky. OLX has security measures in place to ensure those listing have legitimate identities. But buyers still have to have to practice due diligence by checking if there are any red flags on the car by getting its plate number double checked through the LTO.
Also, once meeting up with a seller, ask for maintenance records of the car. You are driving it on a lot to trips with your family after all. A seller peddling a well maintained vehicle should be able to share details of latest maintenance checks, replaced parts, and will keep records. If they don't, that should alert you already.
Whether you're buying or selling a car, OLX has got you covered. Download the app today to either find your next dream ride or post your car to get an upgrade today!