The wireless router is the unsung hero of any home network. While it's not as flashy as the latest smartphone, or as powerful as a desktop PC, it's on, literally 24/7, quietly, happily streaming data to all of our devices. It really deserves more love, and that's what we're here for today. We'll be looking at the D-Link AC1900
Dual-Band Gigabit Router.
Design: 4.5/5.0
I never thought I would say this, but this is a nice-looking wireless router. A shiny, piano-black on one side, and a matte, patterned finish on the other give it a look that's a bit different from what you might be used to seeing. The back of the router is home to the power button, LAN ports, power, a USB port, and the WAN port. Off to one side is another USB port, this time with USB 3.0 support, for connecting external storage. There are three antennas, each of them slightly bladed, which really works for the overall look of the device. There's little else going on with the device, since all the magic is on the inside.
Hardware: 4.0/5.0
TheAC1900 is an 802.11 a/b/g/n/ac router that works on both the 2.4 and 5GHz bands. Should you have a mix of both older and cutting-edge devices, this isn't a bad way to go. It has external antennas, giving it both range, and great signal fidelity, and allows users access both locally, via the usual router configuration page, and a cloud option that lets you access the router from anywhere, as long as you are logged in to an access account. Apart from wireless connectivity, you also get the standard four LAN ports for wired access.
User Experience: 4.0/5.0
Being such important devices, it is usually in your best interest to get a router than can do just that little bit more. The AC1900 is of that disposition. Firstly, setup couldn't be simpler. As long as you get power into the device, and a way to connect it to your modem, you're all set. I had our demo unit running literally five minutes after I opened the box. Shortly after it started broadcasting, we were able to connect, and even now, as I write these words, I am happily streaming some HD video via YouTube. While it can be hard for the average user to determine whether the bottleneck in a home network is due to poor service, or a spotty router, I can say right now that compared to others still on the old office router, my connection does seem more stable, with no drops in service, even from across the office, where there's often a dead spot. This router does offer 802.11ac connectivity, which, using my compatible smartphone, I am happy to report works as advertised, if a little close to average speeds for the standard.
Configuring the router is wonderful. D-Link has updated the UI on the router, so you've got a config page that's actually nice to look at, navigate, and most importantly, use. All the settings are logically lumped together, so you aren't really going to have to spend a lot of time poking around to find one thing or another. It's nice to see someone has actually spent time making a router's settings page just a little easier on the eyes. From that menu, services can be switched on and off with simple toggles, and the status of your router is plain to see just from the landing page. It's more like a website than a control panel. Everything you need, from parental controls, wireless settings, QoS, and security is right there.
As for value added services, the AC1900 comes with a USB port. As far as routers go, that actually had me a little excited. I plugged in an external drive full of movies and TV shows, enabled UPnP on the router, and got a client on my smartphone, and in less than ten minutes, I was streaming full HD content to my smartphone, right from the hard drive plugged into my wireless router. You can also use the connected drive as shared storage to transfer files from one device to another, as long as both are connected to the router. It's all very smooth and painless, just as a proper router should be.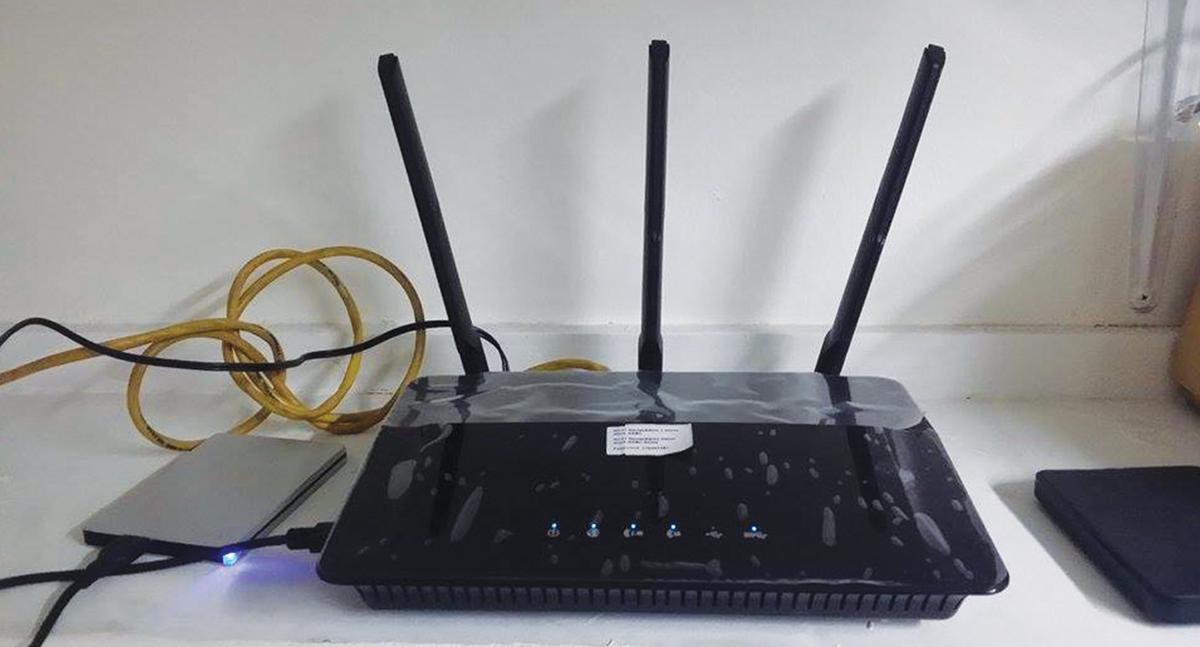 Value: 4.0/5.0
At about PHP 8,000 converted, this device is not a bad deal. You get a router that is easy to use, stable, fast, and full of extra features that allow you to do so much more with your home network, even if you aren't a hardcore user. If the time to replace your router has come, this one is worth a look.
Bottomline:
I hope they forget to take this router back.
Also published in GADGETS MAGAZINE April 2015 Issue.
Reviewed by Ren Alcantara