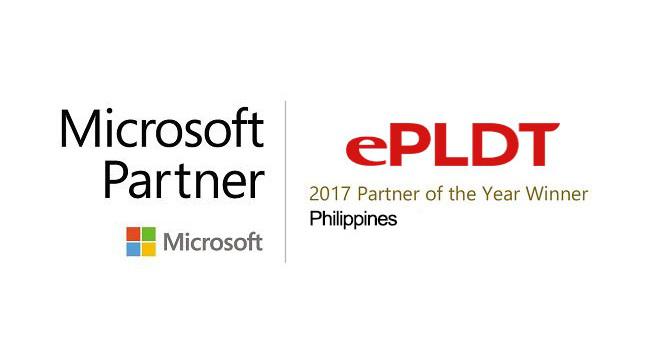 ePLDT, Inc., an industry-leading enabler of digital business solutions in the Philippines, has just won the 2017 Microsoft Country Partner of the Year Award for the Philippines.
The company was awarded as one of the world's top Microsoft partners for demonstrating excellence in innovation and implementation of customer solutions based on Microsoft technology.
"This award reflects our unwavering commitment to our customers, and our drive to provide global-class expertise for ICT solutions in the Philippine market," said Nerisse Ramos, ePLDT group chief operations officer. "This accolade underlines the importance of productivity in the workplace, which we are truly proud to deliver with excellence to companies that are on their digital transformation journey."
Jovy Hernandez, PLDT / SMART SVP & head of enterprise, meanwhile added, "We in PLDT Enterprise always put our customers at the forefront of our business.  We value their trust and as such ensure to provide only the highest standards of service and experience for them.  This award is a manifestation of this mindset, and we will continue to be partners in enabling their digital transformation."
Awards were presented in several categories, with winners chosen from more than 2,800 participants from 115 countries worldwide. ePLDT was recognized for providing outstanding solutions and services, as well as representing excellent subsidiary engagement in the Philippines.
The Microsoft Partner of the Year Awards recognizes Microsoft partners that have developed and delivered exceptional Microsoft-based solutions over the past year. This award recognizes ePLDT as succeeding in effective engagement with its local Microsoft office while showcasing innovation and business impact, driving customer satisfaction, and winning new customers.