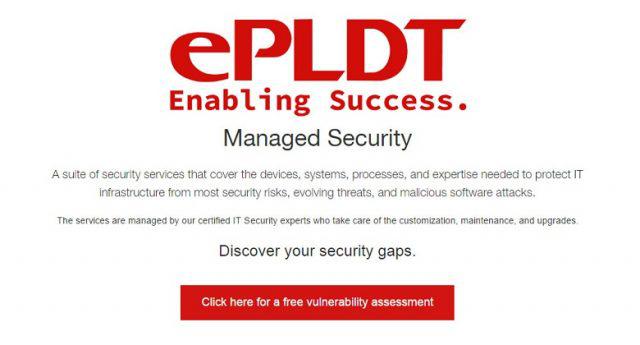 Furthering its aim of helping Philippine businesses implement reliable cybersecurity measures, ePLDT recently introduced the ePLDT Managed Security Solutions in its product roster.
ePLDT Managed Security Solutions is a suite of security services that cover the devices, systems, processes, and expertise needed to protect vital IT infrastructure from most security risks, evolving threats, and malicious software attacks.
"Many businesses find security overly complicated and thereby put it off to deal with later when a breach has occurred. Our goal is to simplify it for them, giving more incentives to make security a priority to minimize the cost of these breaches. Having protective measures is not enough— enterprises need to check for vulnerabilities and respond accordingly," said Bernice Pineda, Business Development Manager for PLDT Disruptive Business Group.
Following the launch, ePLDT is offering free vulnerability assessment for a limited time, providing critical insight into specific details of a company's IT system such as bandwidth usage, infected computers, and  possible security gaps within the network. A part of the free assessment will be the installation of a tool which can automatically analyze network traffic. This assessment is open for enterprises within Metro Manila and will be free for those who apply until August 31, 2016.
"The vulnerability assessment, which we are currently offering free of charge, will help enterprises understand cybersecurity in greater depth. We will help them test their current security and recommend the appropriate adjustments tailored for their needs," said Francis Arjonillo, Head of PLDT Business Development for Enterprise Cloud and Managed Security. "In matters of security, being proactive is a must. One shouldn't sit around and wait for a breach before taking action."
Those who are interested in the free vulnerability assessment and the ePLDT Managed Security solutions may visit www.epldt.com/solutions/managed-security to sign up or view more details.