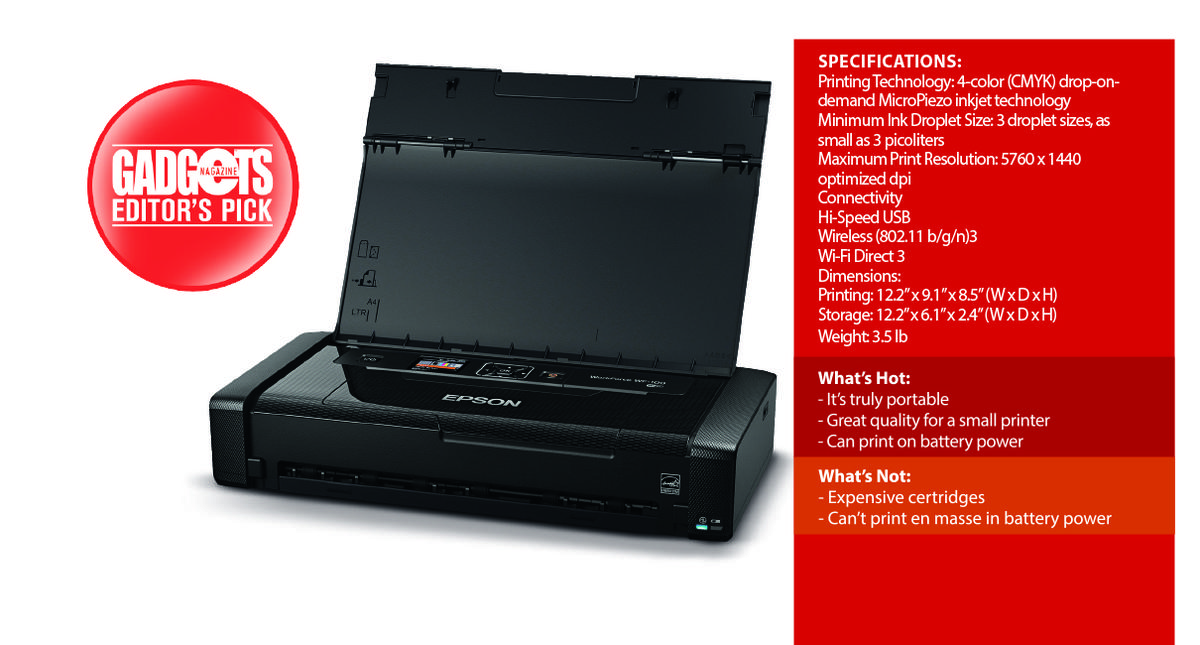 Printers might just be the least sexy device we have in our arsenal, but there's no denying that a business just won't be able to function without a good, running, feature-rich printer. Add to that the constant printing requirements of students, and there you have the reason printers, as seemingly plain as they are, will always be one of the staples of any home, cubicle, and office. We need our printouts, and we need devices that can deliver them in a reliable, cost-effective manner.
The thing is, we're not always at home, at our desks, or even anywhere near the office. Technology has moved far enough that we're more than able to work in environments that aren't the cut-and-dried ideas of offices. Coffeeshops, bus stops, and even park benches are now all fair game for getting some work done, as long as you have a laptop, tablet, or mobile phone. The question stands though: How do you get your work out into the real, tangible world? Epson has the answer in the WF-100 portable printer.
DESIGN 4.0/ 5.0
The Epson WF-100 is sleek and compact. Composed almost entirely of plastic, it does have a glossy patterned finish that makes it look a little fancier than your average desktop printer. It folds up to a tiny 12.2 x 6.1 x 2.4 inches—you could probably fit two of these in a shoebox. It weighs under two pounds, and to be honest, if you have a bag large enough to hold a device this size, you're not likely the kind of person who will mind a little extra weight. Preparing it for use is a simple matter of unfolding the top cover, which also serves as the feed tray, and pressing the power button. There are menu and navigation buttons on the top panel, and a large-easy-to-read display to let you know what's going on. The only ports are an AC connector, and micro USB for charging and data. It's a simple piece of kit, and as far as printers go, it's something of a head-turner.
HARDWARE 4.0 / 5.0
With an internal battery, colored and black cartridges, and Wi-Fi connectivity aside from wired printing via USB, this is a printer that's ready to go without the need for a single wire. Internally, the Epson WF-100 has the kind of hardware you would expect from the brand. Their four-color MicroPiezo inkjet technology gives you droplets as small as three picoliters, and the feed tray handle sheets as large as 8.5 x 14 inches. It has a capacity of up to 20 sheets of plain paper or 5 sheets of photopaper, and supports Wi-Fi, wired, and Wi-Fi Direct printing. It's a very impressive feature set for such a tiny, portable device.
USER EXPERIENCE 4.5 / 5.0
The WF-100 is easy to set up and get going. Unpack, plug in, load up the cartridges, and you're set. Connecting your devices is just as simple. As with all the other printers that connect via Wi-Fi, it's a simple matter of connecting to the router and having your computer find the device. The process is made easy thanks to the WF-100's screen and dead simple controls. The D-Pad and central OK button make selecting the right function simple, and the screen itself is large, bright, and easy to read. All told, I was able to connect to the router and printing in just five minutes.
The WF-100 is a portable printer, so we were expecting slower print speeds than we had on our desk printers, but on AC power, we actually managed a respectable rate, at about 6 pages per minute for black and white. Colored prints come out at a decent 4ppm while plugged into the AC adapter. Running on the battery slows speeds down significantly, and you get about half the print speeds when you're just on the battery pack. These aren't actually bad, and it's more than made up for by its portability.
Print quality is surprisingly sharp for what is essentially a "pocket" device. The edges are ever so slightly fuzzy, but carry enough detail to separate fine lines and colors even in photographs. Color reproduction is excellent though, even against desktop solutions. Epson has been at this for a long time, and we really expected no less from the market leader. As you print, the WF-100 is nice enough to give you real-time ink levels so you know when you need to swap cartridges.
Doing so is dead simple. Open the service door, and the ink tray moves into position. YOu then pop out the old cartridge, pop in the new one, and you're set. It's exactly as you would do on a larger printer, just scaled down nice and tiny. There's really nothing new to learn here—it behaves just like your desktop printer would, without any additional complications.
Cartridges last about 200 pages for both the black and color cartridges, so you won't have to worry about running out in the middle of printing, though at those levels, you might want to always have a spare or two handy, particularly if you intend to use it on the move. They're very small, and don't take up a lot of space
at all.
This printer does have an additional maintenance cartridge in the pack, which you need to load into the bottom of the unit, so there's an extra consumable to be aware of. It's not a real problem really, but it bears mentioning.
VALUE 4.0 / 5.0
While this is definitely not for everyone, those people who really do need a printer on the go very badly need a device such as the WF-100. Students, road warriors, and maybe even those who live in places where space is very limited. It's a full-powered printer in a pint-sized package that strikes only the slightest of compromises. That's a winner in our book.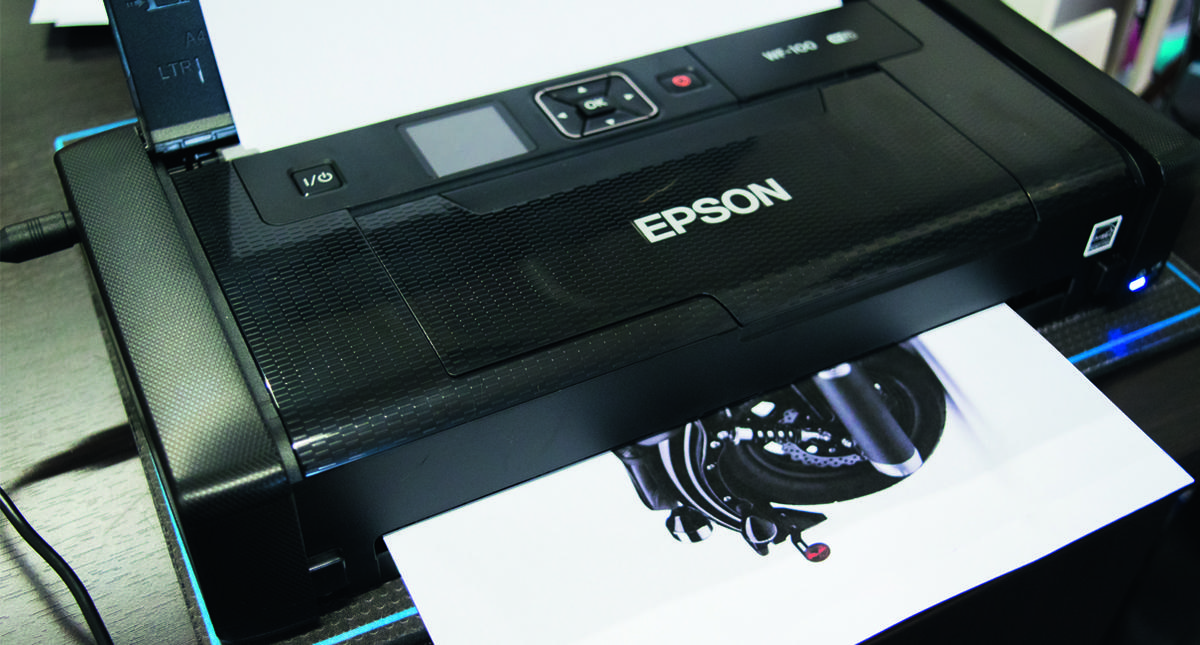 Bottomline
I'm keeping this.
Also published in September Issue 2016
Words by Ren Alcantara