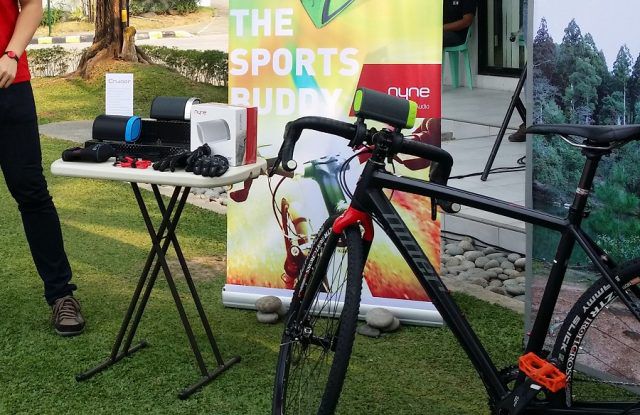 Specifications:
Connectivity: Bluetooth 4.0 and NFC
Battery Capacity: 2200mAh
Functionality: Hands-free calling, One Touch Personal Phone Assistance Activation
Sound: 2.0 Stereo Channel Output + Passive Radiator
What's Hot:
Convenient travel options
Loud output
What's Not:
A tad chunky for everyday transport
Today, many speakers are made for people who are always on-the-go. But do people actually have time to take the speaker out and listen to music while they move about? Probably not. The reality is, it is left in the bag, more often than not, unutilized. Nyne is looking to change the game with the Cruiser.
Design: 3.5/5
Convenience  and travelling options aren't usually of primary concern when looking to purchase a new speaker. For many, as long as it delivers in the audio department, little else matters. But, throw in several portability options and you'd get a deal that's truly got bang for the buck. That's what Nyne aims to accomplish with its speaker lineup that's meant for the outdoors. The unit sent over to us was the compact Cruiser.
The Cruiser came in a nice, if large package. Inside, there are the speakers, and another box that contains accessories including a bag with carabiner, cables, and set of clips to hold the speaker in place on the handlebars of a bike or a stroller.
While the Cruiser is compact, it is quite chunky for something that presents itself as a portable speaker. However, it is appealing and small enough to carry around with ease. The eye-shaped speaker unit we got came in a black base, broken up with splashes of solid blue. Wrapped on its surfaces is a rubberized matte coating that is nice to touch and an aluminum grill.On the bottom are dents for the clips and four rubber stoppers that will keep the device from slipping when placed on  smooth surfaces.
Hardware: 4/5
Unlike other Bluetooth speakers that offer minimal to no physical buttons, the Cruiser presents something a little bit different to what we may be used to. There are buttons aplenty on this speaker, making it fairly easy to manipulate.The control buttons sit nicely, in a vertical manner, on the right side of the Cruiser's face. There you have a play/pause, volume, call, track-backward and –forward buttons at your disposal. On its back are the charging port, LED indicator, off/on toggle button, a 3.5 mm auxiliary input, and a 5V, 1A USB port. It comes with a 2200mAh battery that promises eight to 10 hours of use, which you can utilize to charge other devices. In case you forget to turn it off, it will conveniently shut itself off after 30 minutes of inactivity to preserve battery life.
Inside, the unit features 10 watts of power through a pair of drivers. It also makes use of a passive radiator to better give you a deeper bass sound. Apart from its capable sound acoustics, it offers Bluetooth and NFC pairing options.
User Experience: 3.5/5
The Cruiser's portability options arewelcome for such a great speaker. Using it on the move is quite easy. You can slip it in its neoprene case, clip the carabiner onto your bag, and play music on the go. The case, which comes free in the package, has tiny perforations and dents with silver print to indicate its control scheme for music listening while you move about. The case isn't all that perfect, though, as I had a hard time slipping the speaker in; it was very snug. If you don't intend to keep removing and returning it, then there should be no problem.
The clamping system for attaching the speaker to handlebars or other cylindrical objects came in the form of two universal clips that easily snap into the bottom of the Cruiser. The opening on the clips can then be clamped firmly onto any cylindrical surface. In use, its clamping system worked wonders. Since I am no biker, I tested clamping it on the wobbly guard on the side of my bed and shook it violently. It came as no surprise that the speaker didn't budge thanks to its tight grip system. It seems like it would be able to handle duty on two wheels just fine.
If you know how to connect and pair Bluetooth 4.0 and NFC capable devices, you are well on your way. To help you, blue and purple indicator lights inside the aluminum grill will keep you notified of the Cruiser's connection status. Keep in mind to not stay 30 feet away from the device connected to the speaker as music or whatever you are using it for will get cut.
Moving on to performance, the Cruiser without a doubt is a mighty speaker. It offers a great range of sound that remains rich and crisp regardless of the volume. If you favor bass in your music, know that the Cruiser does the same. High notes are sharp as it should be and mids are clean. In a nutshell, the overall sound is loud enough for outdoor listening, but also isn't too overpowering for indoor use.
Value: 4/5
The Nyne Cruiser, which comes in four different color combinations with basic colors in black, white, and gray, is a compact speaker that gives you great sound. Its portability options are pleasing addition to its sound quality. Take that away and you still have a capable, portable speaker to work with whenever you just feel like jamming to good music.
Bottomline:
What makes the Cruiser special? Small form factor, pleasing sounds, mounting options, need we say more?