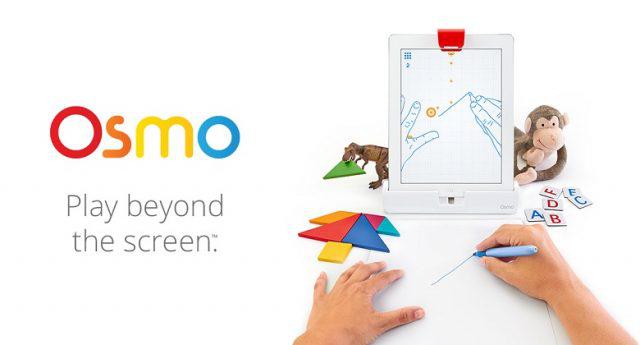 Kids nowadays have shorter attention span than what we used to have back in the day because of the influence of display technologies. As children are naturally drawn to all things colorful, they are unsurprisingly attracted toward things that flash vivid images, such as phones and tablets, leading to early onset of gadget addiction. Osmo, through its game system, aims to make use of gadgets to encourage learning and creativity.
Design: (3.5/5)
The Osmo Kit Game System takes the form of visual aids you usually see in classrooms. However, the components of this game system aren't what they appear to be. Read on to find out more.
The packaging is quite neat and impressive. Each of the components come in single boxes sealed magnetically so pieces inside wouldn't fall out even when handled roughly. These boxes also stack together through magnets within each container for better organization.
Hardware: (4/5)
Each kit is composed of a plastic base which serves as a stand for your iPad (2,3,4, Mini, Mini 2, Air, Air 2), a reflector which you can attach to the front camera and creates a "playing field" on the surface it's on, and two tangible toys: Tangram and Words.
User Experience: (4/5)
Now this is where everything turns into an "awww" fest. To start using the game kit, you are to download the supplementary apps that support the physical toys—Tangram and Words–included in the kit. These apps are available for free on the App Store. You'll be needing a pen/marker and whiteboard or pieces of paper for games like Newton and Masterpiece.
If the child is below the age of comprehension, it's ideal for the parent or guardian to guide him/her through the gameplay as there are several steps to complete before you can actually start playing. After download completion, open the app, upon startup you'll be redirected to my.playosmo.com. The screen will flash three options—kid, parent, educator–to complete the statement "I am." If you choose Kid, you'll be required to go ask help from your parent or teacher. If you're a parent or teacher, you'll be asked to create an account using your email address. Once that's been sorted out, the grown up must follow the instructions sent to his/her mail to activate the account. After, you'll be asked to create a profile which saves any progress you or your kid made in the game. This account will also conveniently sync across all Osmo apps installed on the iPad, to save time and effort.
I attempted to involve my 4-year-old niece in the review; though her initial reaction to the games was good, she eventually grew tired of it as she can't seem to figure out how the iPad and all the components work in unison. I guess she's too young for it so I carried on with the review, I don't mind playing a game or two anyway.
The first game I tried is Tangram, which is basically pieces of colorful shape blocks you rearrange to form a figure. There's an introduction clip to help start you off and there are easy, medium, hard, and hardest modes to try. Once you've chosen a mode to play, the app will flash a figure to replicate using the physical Tangram pieces laid on the "playing field." It's really amazing how it works. Once you get a piece in the right position, the outlined shape guide in the display turns solid color, indicating you're a few pieces away from completing the puzzle. Hints are also available when the going gets tough, hints add up each time you complete a figure.
Now onto Words. This game is similar to 4 Pics 1 Word, only there's just one picture you need to guess. This is a game you can play against a friend. In versus mode, you'll take turns in guessing what the photo is; player 1 can use the red alphabet tiles while player 2 gets the blue tiles. The playing field is quite sensitive though. If a letter randomly falls onto the play area, it'll instantly be marked as a mistake. If id senses a letter in the playing area during round intervals, the app will ask you to clear the area. If you take too long to answer, a letter will pop up to serve as clue. There are also Easy to Impossible modes for those who want a bit more challenge in their game. Embarrassingly, I was unable to figure out what the words are in Impossible mode so I just gave up. For learning tots, there's the Junior mode with really easy brainteasers and speech toggle so they learn while they play.
As with Newton and Masterpiece, all you need is a piece (or lots of it) and a marker to play. These two games scans your playing hand positioned within the playing area so that it can recognize your strokes during gameplay. I would love to tell you more about these games but I'm already out of paper.
Value: (3/5)
The Osmo Starter Game System retails for around PHP 6K. It's a toy that offers interactive activities to not only capture attention but also to foster imagination and brain development. I'd say it's quite expensive for an iPad accessory, but with what it offers, plus its expansion potentials, it's worth the cost of admission.
Bottomline:
Real world elements combined with digital technologies equals to lots of fun and learning.
Specifications:
Osmo Base
Reflector
Tangram Game Pieces
Words Game Pieces
What's Hot:
Kid (and adult) friendly
Fun and educational
Expansion kits
What's Not:
Expensive
Exclusive to iPad