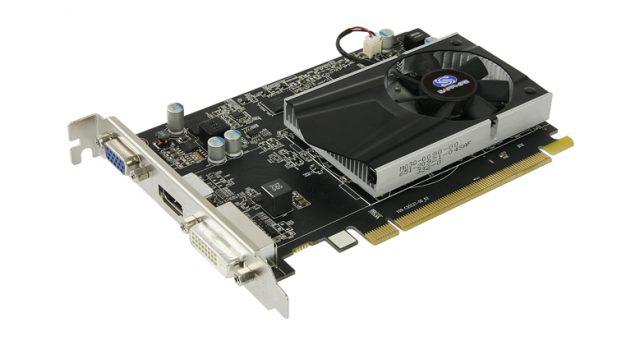 While the Titans and Furys slug it out in the high-end, enthusiast-grade battlefield, budget graphics cards like the AMD Radeon R7 240 have been sitting in the background, twiddling their proverbial thumbs and hoping that they'll get the spotlight someday. After a loooong time waiting on the bench, the R7 240 wearing the Sapphire uniform is being called up to the GadgetsLab plate. Let's see if this sub-PHP 3,000 card has enough punch to keep up in the big leagues.
Specifications:
Stream Processors: 320
Core Speed: 730MHz
Boost Clock: 780MHz
VRAM: 1GB GDDR5
Memory Speed: 1150MHz
Memory Bus: 128-bit
Memory Bandwidth: 73.6GB/s
Power Requirement: 30W, no PCIe power connector required
Output: VGA, dual link DVI-D, HDMI
Dimensions: 150 x 97 x 15mm (L x W x H)
Design: 3/5
The Sapphire Radeon R7 240 looks cute, but not in the good way. It's small, petite, and generally likable, but for something that's supposed to push pixels, you'd generally want a burly, mean-looking exterior.
The PCB is a dust-prone matte black with video memory, circuits, and caps all out in the open. The GPU heat sink also sticks out awkwardly against the backdrop because it's just so tiny. Its 20 aluminum fins are a dull gray, while its stylized black top plate is partnered with a black seven-bladed fan.
On the bottom is the PCIE 3.0 x16 finger; on the left hand side are the video outputs for VGA, dual link DVI-D, and HDMI; and…that's it. You really do get what you pay for with this 150 x 97 x 15mm barebones package.
Hardware: 3/5
The size of the Sapphire R7 240's PCB, heat sink, and fan, as well as its seemingly simple aesthetics should pretty much tell you just how punchy this card is (spoiler: it will tap out against modern AAA titles).
It is based on the Oland PRO graphics processor, with 320 stream processors on board humming along at a base clock of 730MHz, rocketing to 780MHz in more intensive tasks.
Scouring the market, I found two VRAM variants for the R7 240: one with GDDR3 memory (in 1, 2, and 4GB buffers) and another with 1GB GDDR5. If you're after this card, get the GDDR5 trim as its memory bandwidth is faster than last gen's GDDR3 even if they have more GBs. There's also a 128-bit memory bus for the 73.6GB of data the card has to process each second.
The Sapphire Radeon R7 240 is a single slot graphics card so it will be right at home in small-form factor and home theatre PC builds.
User Experience: 4/5
"Low expectations, high happiness" is what I always say and yet again, it stood true with the R7 240.
Instead of wasting my time throwing titles such as Shadow of Mordor and GTA V at the poor fella, I used years-old games to benchmark the card's performance. I popped it in my home system with an Intel Core i5-4460 clocked at 3.2GHz, 8GB RAM, Windows 8, DirectX 11 API, and 900p monitor, and got down to work.
In games as old as Batman: Arkham Asylum and The Witcher (the first one) the Sapphire R7 240 managed an impressive 58 and 98fps respectively on max settings with anti-aliasing disabled. The lowest fps dips for the two games even in the most action- packed sequences were at 48 and 73fps so playability wasn't a problem.
Moving on to more epic games such as Batman: Arkham City and The Witcher 2: Assassins of Kings, the card quickly revealed its faults. It averaged 36 and 13fps respectively with most of the graphics settings (except AA) tuned all the way up. The numbers further suffer at the lowest point as they sunk to 19 and 5fps making the games unplayable for all but the most patient user. However, lowering The Witcher 2's graphics setting to medium rendered a better—but not that impressive—average of 36fps.
Meanwhile, benching it on Unigine Valley's extreme preset netted it a score of 431 and an average frame rate of 10.3. Easing the load with the basic preset, it got a slightly better 967 with frames evening out at 23.1.
While you may be quick to snub the R7 240, it would honestly perform better on an AMD APU-based system on Dual Graphics mode. In that optimized config, you'll be able to squeeze more frames out of the card. If you're thinking of getting a prebuilt PC with a Kaveri APU, shell out just a bit more and pair it with an R7 240. It would make your gaming life much better.
Value: 4/5
Yes, the Sapphire Radeon R7 240 can barely play today's very demanding games, but it's still a low- cost solution for those looking to play MOBAs and titles of years past. If, like me, you've missed many hits and certified all-time greats within the 2000s to the turn of the decade, you can get the Sapphire R7 240 for as low as PHP 2,700 and get yourself back up to speed.
What's Hot:
Super affordable
Small form factor
AMD Dual Graphics compatible
What's Not:
Very dated hardware
Certainly won't win a beauty pageant
Bottomline:
The master race ivory tower doesn't need to be expensive.
Final Score: 14/20