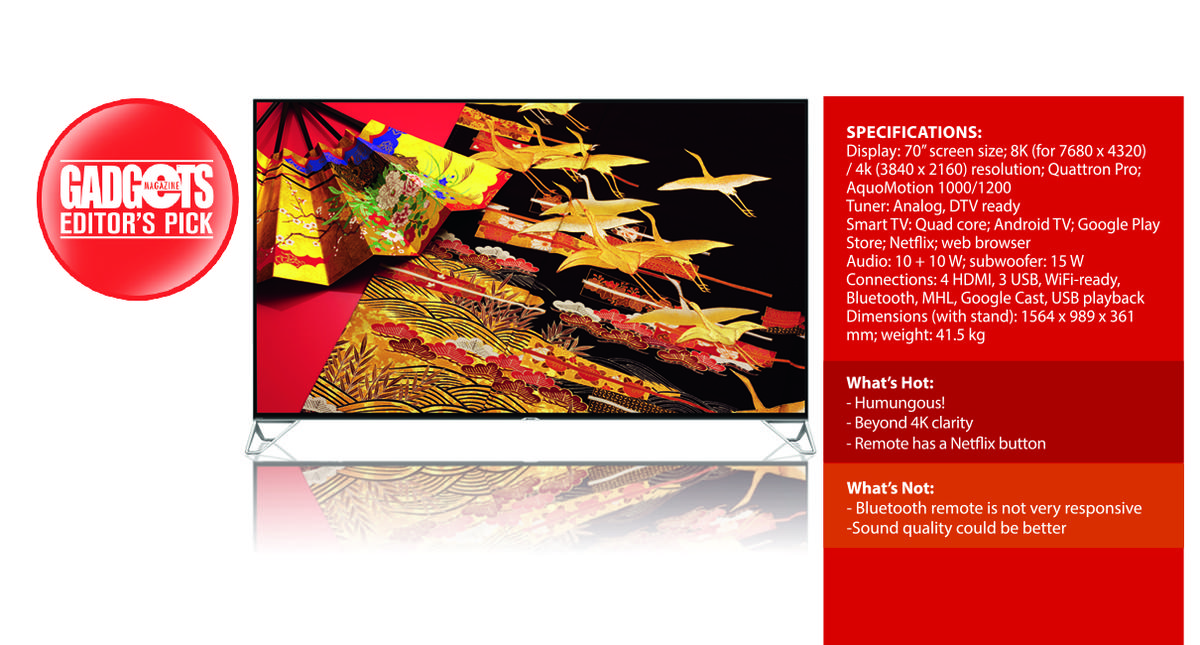 Claiming to be the world's first 4K TV with 8K resolution, the Sharp Aquos LC-70XU830X stopped by at my place for some weeks. Check out if it lives up to the promise.
DESIGN 4.0 / 5.0
The ultra-thin 70-inch screen of the Aquos LC-70XU830X is encased in an aluminum frame mounted on a loop stand to create that stylishly chic impression. With the stand, it takes up an area 1564 x 989 x 361 mm, and weighs 41.5 kg. By itself, its dimensions are 1564 x 910 x 91 mm, and 39.5 kg.
For connectivity, there are three USB and four HDMI ports, as well as an MHL link, all conveniently accessible.
Two remotes come with the package. The standard TV remote has the usual plethora of buttons with just one standout, a dedicated Netflix button right smack in the middle. The second is a Bluetooth-enabled remote with a touch pad and voice control. I found the latter a little buggy and unresponsive, so after some waving and pointing and not getting the desired menu response, I often found it more convenient to just use the standard remote.
HARDWARE 4.0 / 5.0
Sharp earned recognition as one of the 2015 CES Innovation Award honorees for its Aquos 4K UHD TV with pixel-splitting technology, which allows the Aquos LC-70XU830X to display 7680 x 4320 (or 66-million) pixels, four times more than 4K resolution. Sharp's proprietary X8 Master Engine Pro, an upscaling circuit, analyzes 2K or 4K images and then optimizes them for up to 8K resolution. Colors are enhanced through Sharp's Quattron Pro that adds a Y (yellow) subpixel to the standard RGB (Red-Green-Blue) of most TV displays, while ultra-realistic contrast is achieved with direct backlight system and control area dimming technology.
The Smart features are powered by a quad-core processor running on the Android TV platform, while built-in Wi-Fi allows access to the Google Play Store, Google Voice Search, Google Cast, Gaming, YouTube, and Netflix.
USER EXPERIENCE 4.0 / 5.0
The Aquos LC-70XU830X dominated my
bedroom, taking up practically the width of one wall. Even viewing from up-close, the sub-pixels are so fine you hardly see the "weave" of the pixel pattern that's usually discernible when you put your nose to the screen even in UHD TVs. Color hues are subtler but more distinct, reproducing more lifelike images. Even in a "Dynamic" setting, you don't get the rich, oversaturated, vividly high contrast images you'd normally expect. Instead, images are very clear, contrasts are delicate yet well-defined, and color gradations are pronounced. All these make for a pleasurable and immersive viewing experience—you can spend the entire day in front of this TV without suffering eyestrain.
As soon as it is switched on, the TV quickly detects the attached sources—the cable box on the component input, Playstation on HDMI-1, and Chromecast on HDMI-2. With its built-in smart features, particularly Google Cast, I actually did not need Chromecast as I could just stream my iFlix videos from my phone directly to the Aquos LC-70XU830X. Even better, with Netflix pre-installed, all I needed to do was log-in to the service with my credentials to continue watching my favorite series.
If there is one area that needs improvement, I would suggest upgrades to the audio system, which currently consists of two 10-W speakers and a 15-W subwoofer. Despite its Dolby Audio claim, the sound quality does not do justice to the outstanding video quality.
VALUE 4.0 / 5.0
As 8K resolution does not come cheap, possibly only the top 1 percent of the population will be able to afford the Aquos LC-70XU830X for their home viewing pleasure. However, corporates that have capex funds earmarked for a boardroom centerpiece, or perhaps a lobby display, will find the PHP 349,000 price tag quite reasonable.
Sharp takes pride in its Japan Quality 7 Shields that protect its products against vibration, drops, lightning surges, voltage fluctuations, high temperature and humidity. The wall-mount is shielded against heavy weight loads, while strong structural stability protects the product from accidentally toppling over. These may be intangibles but it's the attention to these little details that ensure you're getting the best quality product that will keep its value over time.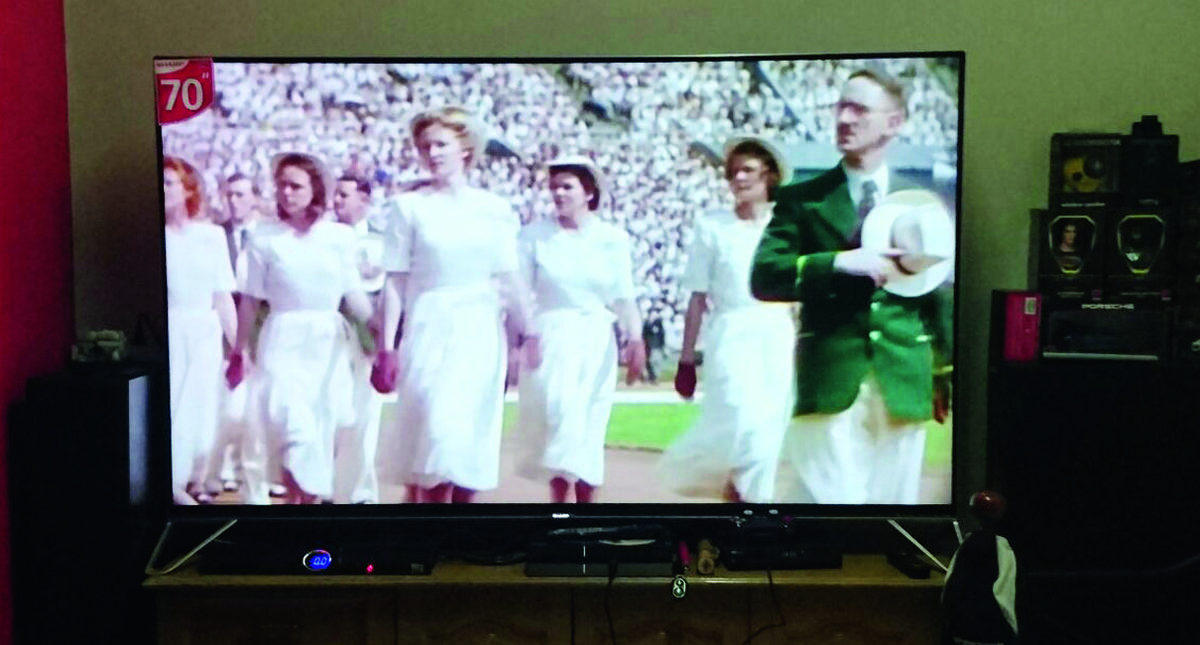 Bottomline
With the Aquos LC-70XU830X, you don't need to pay for cinema tickets ever again.
Also published in September Issue 2016
Words by Maribelle Alba