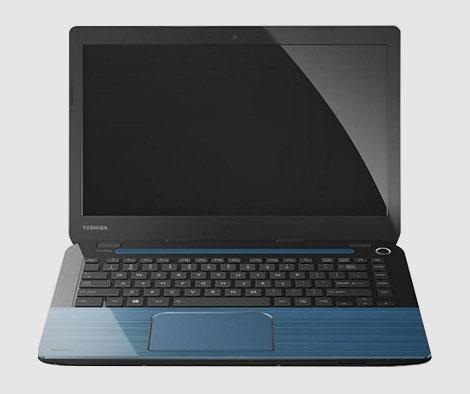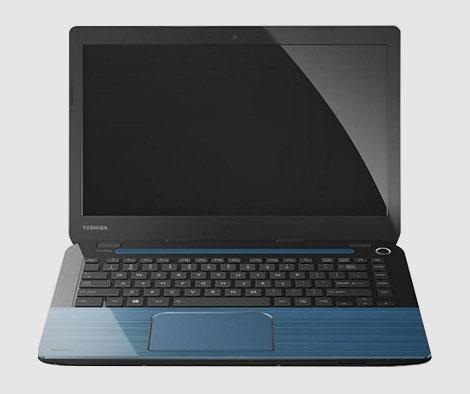 SPECIFICATIONS:
Dimensions: 340×234 x24. 1/24.4 mm
CPU: Intel ULV Core i5-3337U 1.8GHz Processor
Operating System: Windows 8 Single Language
Memory: 4GB DDR3 SDRAM
Hard Disk Drive: 750GB (SATA) with shock absorbers
Display Size: 14″ WXGA HD Clear SuperView LED Backlight 1FT display (1 6:9)
Resolution: 1,366×768
Graphics Card: NVIDIA GeForce GT740M with Optimus technology
Interface: USB 3.0 (Sleep & Charge), USB 2.0, RGB, HDMI, Multi-Card Reader
Battery: Lithium Ion Prismatic 43Wh; 4 hours standby
WHAT'S HOT:
Stylish design
Good build quality
Comfortable keyboard
WHAT'S NOT:
Heavy
No keyboard backlight
BOTTOMLINE:
The Toshiba Satellite L40-A is perfect for those who require the basics, with a few interesting features loaded. With Windows 8 installed,  office apps, Wi-R access, DVD and music playback are no sweat for this laptop.
I have a penchant for things gold and shiny, but only those that spell classy and not tacky. When I caught sight of the Satellite L40-A—in gold—it immediately attracted me. "Smooth," "posh" and "sophisticated" were the first thoughts that entered my mind.
As I mentioned, the Toshiba Satellite L40-A looks impressive from the outside. The Satellite L40-A's shell very nicely shows the characteristics of the laptop. Its build quality is solid and it has a nice and glossy finish with the Toshiba logo on the lid.
To the right of the Satellite L40-A are the speaker and mic ports, two USB 3.0 ports, and an HDMI port for projectors, TV, and monitors. Found on the left are a USB 2.0 port, Ethernet/LAN cable port for wired Internet, and an Optical/DVD Drive. In front is the SO/Memory Card reader.
Opening the laptop reveals a flat, 14-inch WXGA HD Clear SuperView LED BacklightTFT display (16:9), with a resolution of 1,366 x 768. It's a bit far from the desirable 1920 x 1080 resolution, but still, images appear crisp and vivid, thanks to Toshiba Resolution+, which quickly upscales videos or DVDs to near HD quality out of the box.
As for sound performance, I found the L40-A's very favorable. Sound comes from chambered speakers powered by DTS Sound Technology that project sound a cut above conventional laptop speakers. I watched Across the Universe on this laptop to test the sound—also because it's one of my favorite movies and I love The Beatles—and I must say, I was really impressed.
What I particularly liked about the Satellite L40-A is its ergonomic tile keyboard and large trackpad. The keys are conveniently spaced and have a nice depth when pressed. Dual-use function keys with other shortcuts can be found at the top, while small arrow keys, and shortcut keys, such as Home, Page Up, Page Down, can be found on the right. I found typing on the L40-A's keyboard really enjoyable, though having no keyboard backlight was a bit of a downer. The trackpad, on the other hand, is roomy and strategically placed off-center. There's no dedicated left- and right-click buttons, but clicks are easily registered during use.
One quibble I have with the Satellite L40-A is that it's quite heavy, weighing almost 2-kilograms. I own a 15-inch MacBook Pro that's 2.45-kilograms heavy, so I know the burden of carrying around a weighty laptop. It shouldn't come as a big deal for some, but for those who carry around their own laptops all the time, it could be a great inconvenience.
The Toshiba Satellite L40-A comes with Windows 8 Operating System built in. The Windows 8 OS has been optimized for touch-friendly modern tile-based navigation, but because the L40-A doesn't have a touchscreen display, the mouse and trackpad are key for navigation, as well as gestures and swipes.
The Satellite L40-A I received comes with a 1.8GHz Ultra Low Voltage (ULV) Intel Core iS Processor with 4GB of RAM. It also has few pre-installed apps like Norton Antivirus, a trial Microsoft Office, Internet Explorer 10, SugarSync Cloud Storage, and some Toshiba assisted functions.
Features of the Satellite L40-A include a Toshiba HOD Accelerator that gives 60 percent faster performance and response time, Performance NVIDIA GeForce 700 series graphics processor with 5x better performance than onboard graphics, and a USB 3.0 technology that offers USB Sleep-and-Charge for powering smartphones or tablets even when the laptop is turned off.
The Satellite L40-A comes with a non-removable Lithium lon Prismatic 43Wh battery, which lasted me about four hours of continued use. It's definitely not the best in the market today, but it's pretty acceptable considering you can enjoy 2-hour long movies twice.
Everything considered, the Toshiba Satellite L40-A is perfect for those who require the basics with a few interesting features on-board. If you're looking for a laptop that balances work and play, the Satellite L40-A handles it well without burning a hole in your pocket.
First published in Gadgets Magazine, October 2013
Words by Janelle M. Bustilla