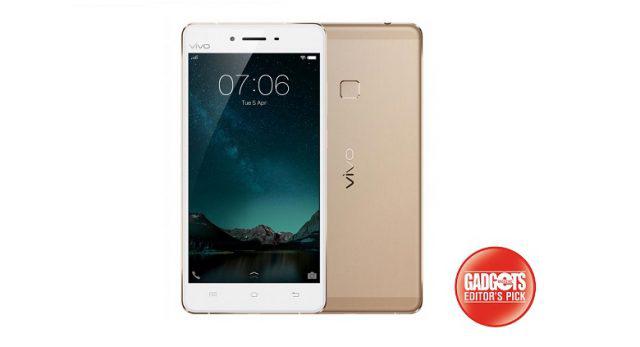 As someone who has been in the field of tech for quite some time now, fresh innovations still never cease to amaze me. While the majority of smartphones might look the same on the outside, there's still a distinction in the performance each can offer. In this review, we'll look into what makes the Vivo V3Max a cut above the rest.
Design: (4/5)
The Vivo V3Max's design has a familiar feel to it: a beautiful metallic body, curved edges, 5.5-inch screen, all of which are reminiscent of the flagship phone from Cupertino and most Android smartphones in its class. However, it sports a Vivo logo on the upper front of the device, letting you distinguish it at first glance. Along with that are its slightly thick bezels, 8 MP front shooter and sensor on the upper part of the screen, and three capacitive navigation keys on the bottom part.
On the device's back are an aptly placed fingerprint sensor and another Vivo emblem occupying the center, as well as its 13 MP camera along with the flash on the upper left region. The sides of the device carries the usuals such as the hybrid SIM card tray, volume rocker, power/lock button, audio jack, micro-USB port, and speaker grilles. The phone's design is very minimalistic and that contributes to its appeal.
Hardware: (4.5/5)
Apart from being solid in the hand, the V3Max also comes with impressive hardware that makes it a mid-range powerhouse. The device is run by a Snapdragon 652 octa-core processor that clocks in at 1.8GHz and is paired with 4 GBs of RAM, delivering on its promise of "faster than faster" performance. Meanwhile, doing mundane tasks on the phone's HD screen was a pleasant experience, with great viewing angles even when the display's tilted to face various directions.
The shooters built in the device produce admirable output, images come out crisp and detailed, but color reproduction could be better. The rear cam is a bit of a let-down, but its accompanying app offers various editing and beautification options, which shutterbugs would greatly appreciate.
As for storage capacity, the Vivo V3Max ships with 32 GBs of internal memory which is expandable via micro-SD. This should give users enough storage space for games, photos, and other apps without slowing the device down. Its 3000 mAh battery, when fully topped up, can last for a whole day even with data on.
User Experience: (4/5)
The V3Max runs Android Lollipop and is overlaid with Vivo's very own Funtouch OS. Like its form factor, the V3Max's UI offers a design and experience quite similar to iOS devices: lack of app drawer, notification bar slides down from the top of the screen, and settings bar that comes up with a slide of a finger on the bottom part of the display. There aren't much distinctive qualities to it but it's fairly easy to navigate and runs smoothly, so no qualms there.
What I liked the most about this device is its very accurate and fast fingerprint scanner. Registering my index finger only took seconds and it recognizes it in a jiffy. Your data is secured and you no longer have to deal with passwords or security patterns every time you need to wake the screen.
One of the main selling points of this smartphone is its built-in Hi-Fi capabilities. This translates to audio reproduction that is close to hearing the real thing. This gives a phone that offers superb audio quality whether you play music using its built-in speakers or through a pair of cans.
Value: (4.5/5)
For around PHP 16,000, you get a phone that gives you a bang for your hard-earned buck. The V3Max is a mid-ranger that could very well pass off as a top-tier smartphone with its octa-core processor, 4 GB RAM, very capable cameras, all-metal body, and fingerprint sensor.
Bottomline:
Take it from Captain America, this smartphone is definitely bang for the buck.
Specifications:
Dimensions: 153.9 x 77.1 x 7.6 mm
Weight: 168 g
SIM: Dual
Display: 5.5 inches, IPS LCD capacitive, 1080 x 1920 resolution
OS: Android 5.1 Lollipop
Processor: 1.8GHz Snapdragon 652, octa-core
RAM: 4 GB
Internal memory: 32 GB expandable up to 256 GB via micro SD
Cameras: 13 MP rear, 8 MP front-facing
Battery: 3000 mAh Li-Ion, non-removable
What's Hot:
8 MP front cam delivers superb output
Very responsive fingerprint sensor
Powerful processor and generous RAM combo
Great audio output
What's Not:
Common design
Rear-cam's output could use more color
 Published in Gadgets Magazine July Issue.