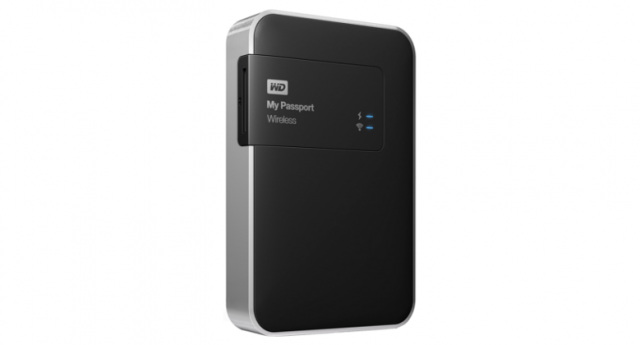 Backing up files can be a huge hassle when you're on the go. It's tough enough dealing with all those doodads when in the office; but when you're in the field, having many devices out in the open is far from ideal. The battery-powered Wi-Fi and SD card-ready WD My Passport Wireless promises to make the whole process easier for a more seamless workflow. See below whether there are no strings attached.
Specifications:
Available Capacities: 500GB, 1 TB, and 2 TB at 5400 rpm
Interfaces: Wi-Fi 802.11n with MIMO, SD Card, and USB 3.0
Battery life: Rated for 20 hours standby and six hours streaming
Features: Automatic SD card backup and delete; WD My Cloud compatible; Wi-Fi Hotspot capable up to eight devices; DLNA/UPnP media streaming
Dimensions: 5 x 3.39 x 1.17 inches (L x W x D); 0.35 kg
Design: 4.5/5
As with its cousins from other WD product lines, the My Passport Wireless looks sleek and professional with its industrial color scheme, clean aesthetics, and curved edges. Its face is a black slate with the product marque and LEDs for power, Wi-Fi status, and hard drive activity. Meanwhile, the chassis edge is a silver affair, and the silver plastic back is raised off the floor with four small rubber nubs.
You have the USB 3.0 connector hub at the top sandwiched by the power and multifunction buttons. The latter controls various things such as WPS authentication, battery level monitoring, and manual SD card backup. Speaking of which, the SD card slot is located at the right side for easy access.
Hardware: 4/5
Though the My Passport Wireless' build isn't fully metal, it's very solid without any creaks throughout. Still, you shouldn't be too rough on it because it's a 2.5 inch platter in there and not an SSD. Our review unit was the biggest 2 TB one, though 500 GB and 1 TB variants are also available.
What's exciting about this portable device is its Wi-Fi 802.11n with MIMO and SD card slot. The first allows up to eight users to simultaneously hit the drive via wireless connection, while the second allows you to backup SD cards without needing a computer or an external card reader—two important things I'm sure professionals would deeply appreciate.
User Experience: 4/5
We used the WD My Passport Wireless during our Road Trip issue last month and it was a real life saver. Even though we constantly went from place to place, we were able to easily backup photos with nothing more than this device, our SD cards, and a smartphone with the My Cloud app. There is a slight learning curve to the app, but you should get the hang of it in just a few minutes. The only things you really have to immediately set is the device's Wi-Fi password as well as SD card import policy (automatic or manual; delete or keep after backup).
Next, let's look at transfer speeds. Over a USB 3.0 connection, Crystal Disk Mark showed a sequential read and write speed of 103 MB/s. Over Wi-Fi, the speed hovers just over the 3 MB/s mark. In real world use however, the performance is slower but still decent. You can actually scrub through a video's timeline with just a one second preview delay.
Now the meat of the matter: SD card transfer speeds. It was able to copy and delete a Class 10 SD card with 500 MB of various photos and videos in under 90 seconds, or around 6 MB/s. As for the battery, it lasted almost as long as it was advertised at five hours of continuous use.
I'll have to take a point off because the My Cloud app is not that well optimized. Specifically, it was slow to show newly written files even though I could already see them on my computer.
Value: 4/5
The 2 TB version of the My Passport Wireless costs PHP 11,990, while the 500 GB and 1 TB variants are tagged at PHP 7,950 and PHP 9,590, respectively. While the price-per-GB ratio is not the best by a long shot, WD's portable storage solution makes backing up files a painless experience. I'm less afraid of seeing SD cards now.
What's Hot:
Automatic backups with built-in SD card slot
All-around performer
Simple to use once it's set up
What's Not:
My Cloud app could be better
Bottomline:
Wireless storage is the way to go.
Final Score: 16/20