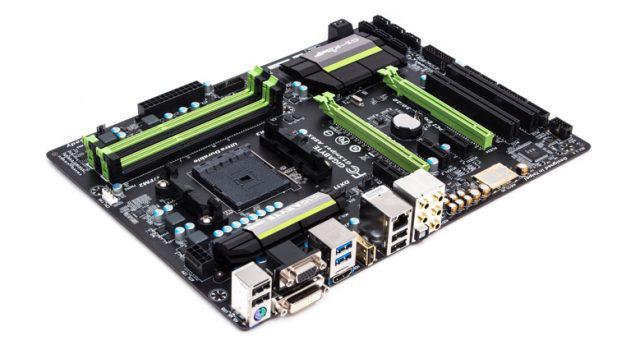 When it comes right down to it, AMD's Accelerated Processing Units (APUs) are the bangiest processors you can get for your buck. Slap it on some cheapo motherboard, install some RAM, plug everything into a decent PSU, and you're good to go. The Gigabyte G1 Sniper A88X is curiously expensive for such a chip that screams budget. Given that mobos don't affect processor and graphics card performance in any meaningful way, are the G1 Sniper's on board features enough to warrant its ticket price? We find out below.
Specifications:
Socket: FM2+/FM2
Chipset: AMD A88X
Memory: 4x DDR3 up to 2133MHz; AMP and XMP support; up to 64GB
Expansion Slots: PCIe 3.0 x16; PCIe 2.0 x4; 3x PCIe x1; 2x PCI slots;
External I/O Ports: PS/2; VGA, dual link DVI-D, HDMI; 2x USB 3.0; 5x USB 2.0; 5x audio ports; 1x optical S/PDIF Out
Internal Connectors: 4x system fan headers; front panel headers; Clear CMOS jumper; 2x USB 3.0; 4x USB 2.0
Storage Devices: 8x SATA 6Gb/s; support for RAID 0, RAID 1, RAID 5, RAID 10, and JBOD
Onboard Audio: Realtek ALC898; 7.1 channel
Onboard LAN: Realtek 10/100/1000Mbps
Features: Gigabyte UEFI Dual Bios; Ultra Durable 4 Plus components; Amp-Up Audio; Audio Noise Guard with LED path lighting; 2-way AMD CrossFire; AMD Dual Graphics
Form Factor: ATX
Dimensions: 12- x 8.9-inches
Design: 4/5
Judging solely on design, the Gigabyte G1 Sniper A88X takes the proverbial cake. The PCB is a clean-looking matte black conservatively splashed with neon green accents on the second and fourth RAM slots, the two main PCIe slots, the chipset heatsink, as well as the VRM sink—all characteristic marks of the brand's G1 series boards.
It has a pretty standard ATX layout, wherein the 8-pin supplementary CPU power rests at the top left while the 24-pin connector sits along the upper right edge next to the USB 3.0 header. The six SATA ports are laid out in two columns on the bottom right corner, while the front panel connectors, audio, and USB 2.0 headers are along the bottom edge. For system cooling, four fan headers are present around the fringes of the APU socket. Lastly, the rear I/O offerings are pretty standard, save for the gold-plated USB 2.0 port and audio jacks.
Lest I forget, this board lights up! LEDs running along some portions of the PCB will give your rig an awesome green glow.
Hardware: 4/5
The FM2+ socket takes in AMD's newest Kaveri APUs as well as the older FM2 APUs, with the input voltage cleaned by a pretty modest VRM setup. Meanwhile, the four DIMM slots are able to support a total of 64GB, with each individual RAM stick humming up to 2133MHz thanks to AMP and XMP support. Since the performance of an APU's GPU cores are highly dependent on allocated RAM amount and memory clock speeds, this RAM robustness is more than welcome.
The G1 Sniper is also CrossFire (but not SLI) compatible on the PCIe 3.0 and 2.0 slots, and if you're looking to stock up on expansion cards, you can simultaneously install two dual-slot graphics cards, two PCIe 1x devices, and one PCI card. Between the two high-speed lanes are Gigabyte's physical Dual BIOS chips.
One of the things that makes this motherboard special is its Amp-Up Audio driver with the Realtek ALC898 codec, a beast that performs almost just as well as most consumer DACs. To help maintain clean audio outputs, the driver is gold shielded and is sitting on top of an isolated PCB section to keep it away from electrical interference.
User Experience: 4/5
The life and soul of a good APU system is in the MHz, and I was pleased that overclocking on Gigabyte's UEFI BIOS was straightforward. For those afraid of tinkering with the lowest firmware level, there is the bundled EasyTune 6 utility which simplifies the process into button presses and sliders. Bumping the APU base frequency up to 4.4GHz rendered stable benchmarks. I didn't go any higher since it was only being air-cooled, but rest assured you could bump the frequency some more with adequate cooling.
Value: 4/5
With tons of features you'd usually find on more expensive motherboards, the G1 Sniper A88X offers tons of headroom to grow your system in. It sells for as low as PHP 5,370.
What's Hot:
Feature-rich
Smexy color scheme
Impressive audio driver
What's Not:
Only four SATA cables included in the box
Limited number of fan headers
Bottomline:
Final Score: 16/20