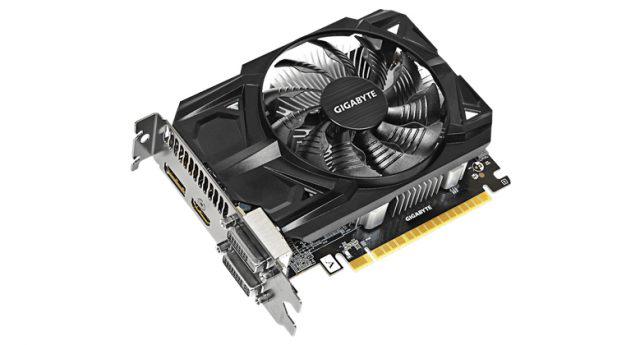 AMD refreshed the entire lineup of Radeon cards earlier this year in the hopes of gaining the PC Master Race's nod of approval. We reviewed the middling R7 370 last month saying that it was a true value-for-money contender. This time, we took the Gigabyte R7 360 OC Edition out for a spin to see if AMD managed to achieve the same with their entry-level graphics processor.
Specifications:
Stream Processors: 768
Core Speed: 1200MHz
VRAM: 2GB GDDR5 VRAM
Memory Speed: 1625MHz
Memory Bus: 128-bit
Memory Bandwidth: 104GB/s
Power Requirement: 100W, 6-pin PCIe power connector required
Output: Dual link DVI-I; dual link DVI-D; HDMI; Display Port
Dimensions: Dual slot, 159 x 127 x 42mm (L x W x H)
Design: 3/5
Though it's targeted as a low tier card, the Gigabyte R7 360 tries to offer gamers a cooler "I'm not a cheapo" look with its edgy black shroud and 90mm 11-bladed fan. The blades have triangular edges and feature five 3D stripe curves each to increase air flow by as much as 23-percent.
Further helping this particular R7 360 dissipate heat is a circular aluminum heatsink with fins radiating out from the GPU direct contact point. As with all open-air solutions, the card's shroud is open at the top, bottom, and side for greater cooling capability.
Save for the fancy shroud, the card is pretty barebones. Sure there's the PCIe 3.0 finger along the bottom edge and the display outputs as well as the exhaust grille on the left, but besides those, you'd only see caps, MOSFETs, and chokes dotted all around the naked PCB.
Hardware: 4/5
The heart of the AMD Radeon R7 360 is the 28nm Tobago Pro graphics core with 768 stream processors originally running at the 1050MHz configuration, but since the review unit is Gigabyte factory overclocked, it runs at a swifter 1200MHz out of the box. It's paired with 2GB of GDDR5 VRAM with an effective clock of 6500MHz. It's able to process a total 104GB/s with its 128-bit wide memory bus.
If those specs give you déjà vu, that's because those are almost exactly the same figures found on this card's predecessor, the R7 260. The only difference between the two is the newer and slightly faster GPU aboard the R7 360.
User Experience: 4/5
And now onto the most exciting (or least exciting, depending on how you feel about numbers) part of every PC hardware review ever: the benchmarks. The tests were done on a rig where the card was paired with an Intel Core i5-4460 clocked at 3.2GHz boosting up to 3.4GHz; 8GB of DDR3 memory humming along at 1333MHz; and with a display resolution of 900p.
Unsurprisingly, it performed just a notch below the higher-tiered AMD R7 370 we reviewed last month. It scored 1133 in Unigine Valley's extreme preset with everything at ultra and with x8 antialiasing. It hit a peak 48fps and a low 16fps while averaging around 27fps in the benchmarking utility.
The Gigabyte R7 360 also performed well in games like NBA 2K15 and Counter Strike: Global Offensive averaging 61fps in the former and 180fps in the latter, both at maximum settings. Rest assured that as long as you're playing a title that's quite tame in the graphics department, this card will run it smoothly.
Meanwhile, going for the more demanding Middle Earth: Shadow of Mordor had the card quickly gasping for air. While it settled in at around 44fps—hitting a low 30fps and high 62fps—using max settings, FXAA, depth of field, and tessellation, the R7 360 struggled with a bit of input lag. The action also got quite choppy during heated battles. Going from a relatively okay framerate then dropping down to peasantly figures is not fun, especially when you're trying to accomplish some mission objectives.
Value: 4/5
Gigabyte's take on the R7 360 sells for as low as PHP 5,580, putting it smack in the middle of the budget entry-level graphics card category. While it performs well in most situations, giving credence to the old cliché "you get what you pay for," would I recommend it? If you're operating on a really tight budget where you just can't shell out more cash, then this card's an alright choice. However, if you can hold your purchase off for another month or so, you can save up and get something much better.
What's Hot:
Small form factor
Decent clock out of the box
What's Not:
Try-hard shroud
Won't properly drive higher resolution monitors
Bottomline:
The AMD card of choice for really tight budget builds.
Final Score: 15/20