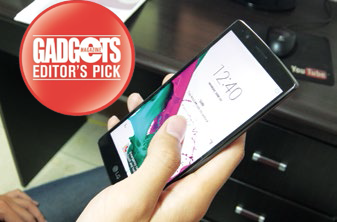 I have to confess that I was so taken with the LG G2, it was the one phone that persuaded me to give Android a try. I skipped the LG G3, but couldn't resist "investing" in my very own red leather-backed LG G4.
DESIGN – 4.5 / 5.0
Retaining its signature back button placement, the LG G4 has, in my opinion, evolved into a distinctive accessory with the new leather back option. At a time when smartphones are starting to look like clones of each other, the G4 stands out in a quietly classy way. The attractive leather back is definitely not something you'd want to hide under a cover and, since it's removable, swapping it out with a replacement should take care of stains or eventual wear and tear.
The G4's 5.5-inch display is exactly the same size as that of the iPhone 6 Plus, but LG has managed to make the G4 body some millimeters shorter and narrower. And while it is actually a wee bit thicker than the latter, its clever slim arc design gives the G4 a svelte look with thin edges curving up in the convex back. This curve, as well as the leather material, makes the G4 fit nicely in the hand and easier to handle.
HARDWARE – 4.0 / 5.0
For this flagship device, LG settled on a Qualcomm Snapdragon 808 chipset which to some seems a bit of a let-down as there is a newer 810 processor available. From a user perspective, though, the 808 is premium enough, supporting LTE data speeds, 3D gaming graphics, 4K video streaming, and power efficient battery usage.
The two things that stand out for me are the G4's IPS quantum display screen and its laser auto-focus camera. LG claims that the IPS quantum display is the first of its kind, with a resolution of 2560×1440-pixels, 538ppi, for brighter images with higher contrast ratio and more life-like colors. Paired with In-Cell Touch Display technology, the screen is also more responsive. Assured of Corning Gorilla Glass 3 protection, I bravely decided to remove the screen protector the unit shipped with, to better enjoy the display's smooth feel and vibrant graphics.
Building on one of the strengths of its predecessor, the G4 packs major improvements in its 16MP main camera with f/1.8 lens and 1/2.6-inch image sensor for almost DLSR-quality photos. Beside the rear camera are the LED flash, the color spectrum sensor, and the laser auto-focus. The infrared sensitive color spectrum analyzer measures all visible light in a scene to ensure natural and vibrant colors even in low-light conditions.
The Philippine version apparently has dual micro-SIM slots (I bought my G4 in Singapore, so my unit takes a single micro-SIM). For those who need more than the stock 32GB phone memory, there is an expansion micro-SD slot that can take up to 128GB. LG has also thrown in 100GB of cloud storage on Google Drive, free for two years. The removable battery is a 3000mAh lithium ion power pack.
USER EXPERIENCE – 4.0 / 5.0
If anything, LG seems to have taken the "less is more" axiom to heart, and I find the LG skin atop Android 5.1 Lollipop to be a pleasant addition, not at all useless bloatware. LG has thoughtfully put together its apps in Smart Bulletin, a dedicated home screen page containing widgets for the health fitness tracker, calendar events pocket, music player, smart settings, IR remote, and smart tips.
I opted to do a fresh install instead of restoring from a backup—this posed absolutely no problems as I was able to download and install my apps in a matter of minutes. Data connectivity, whether via 4G/LTE or Wi-Fi, was speedy and seamless.
Driving to/from the office, I would have Waze running simultaneously with Spotify playing my music (in offline mode), and the G4 gamely handled the multi-tasking without a hitch. I noticed, though, that the phone would get quite warm during the drives, with the battery draining down rapidly. I did a factory reset and this seems to have solved the problem.
Again, the camera deserves special mention. In addition to awesome hardware specs, it is easy to take great photos with the camera which has optical image stabilization. Manual mode gives you control over settings such as white balance, exposure bracketing, ISO, shutter speed, and aperture, among others. For post-processing, you can save your images in both RAW and JPG.
VALUE – 4.0 / 5.0
Price-wise, the LG G4 is, as expected, at the high end of the smartphone range alongside similar flagship devices. For this segment, the leatherback is a definite selling proposition, giving the G4 a classic look that will make this a lasting investment.
If you consider that you get almost-DSLR camera features in the G4, you can also justify the expense as you don't have to shell out additional cash on a separate camera purchase.
WHAT'S HOT
Feature rich camera—both hardware and software
Vibrant screen
Classy, elegant leather back
Large 5.5-inch screen in a svelte body
WHAT'S NOT
Premium-priced
Some overheating and battery drain issues especially when using navigation
THE BOTTOMLINE
The LG G4 is both a great looker and a great performer. If you want an Android smartphone that stands out, this is the one for you.
SPECIFICATIONS
Processor: Qualcomm MSM8992 Snapdragon 808; dual-core 1.8GHz Cortez A-57 and quad-core 1.44GHz Cortex A-53; Adreno 418
Operating System: Android 5.1 Lollipop
Frequency: 2G/3G/LTE (4G)
Display: 5.5-inch IPS LCD capacitive touchscreen; 1440×2560; Corning Gorilla Glass 3
Memory: 3GB RAM, 32GB storage + microSD slot
Connectivity: Dual-SIM (Philippine variant); Bluetooth 4.1; USB 2.0; Wi-Fi 802.11 a/b/g/n/ac
Cameras: Primary – 16MP F1.8 LDAF +OIS 2.0; 8MP F2.0 selfie camera
Dimensions: 148.9 x 76.1 x 9.5mm
Weight: 155g
Battery: 3000mAh Li-ion removable