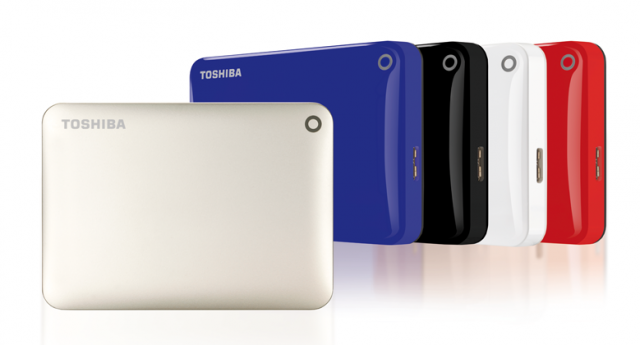 Given the unpredictable nature of Philippine internet, you can't always depend on the cloud for easy access to data. Sometimes, you have to take matters into your own hands and bring your data with you anywhere you go, whether that means packing a truckload of flash drives in your bag—something I'm guilty of—or carrying a portable external drive—the much more efficient approach. The Toshiba Canvio Connect II falls under the latter method, but is it any good? Let's find out.
Specifications:
Available Capacities: 500 GB, 1 TB, 2 TB, 2.5 TB, and 3 TB at 5400 rpm
Cache Buffer Size: 8 MB
Interfaces: microUSB 3.0 to USB 3.0/2.0
Maximum Data Transfer Rate: 625 MB/s
Included Software: NTI Backup Now EZ, Pogoplug PC
Dimensions: 109 x 78 x 14 mm (L x W x D); 165 g
Colors: Satin gold, white, black, blue, and red
Design: 4/5
The Toshiba Canvio Connect II is one professional looking portable drive, with a smooth, clean exterior that reflects its no nonsense capabilities. Its face is mostly a blank slate, disturbed only by the Toshiba marque on the upper left and the hard drive activity LED on the upper right. The light is blue when connected via USB 3.0 and white when using a USB 2.0 connection.
The bottom has four anti-vibration rubber feet on each corner, and the device's right edge houses the microUSB 3.0 port. Our review unit came in a sleek satin gold finish, though white, black, blue, and red color options are also available.
Hardware: 4/5
There's not much to say about the Toshiba Canvio Connect II's innards. Like most other portable hard drives, it is available in various capacities ranging from a low 500 GB to a sizeable 3 TB, all using a 5400 rpm 2.5 inch platter drive. It also has a fairly normal 8 MB data cache buffer. It's rated for transfer speeds of up to 625 MB/s, though that's the optimal USB 3.0 transfer rate. Real world read and write speeds will be much, much lower. Though again, the same can be said for most other portable storage solutions out there.
User Experience: 4/5
The Toshiba Canvio Connect II performs quite well for its price, and as long as you're connecting to a USB 3.0 port, you'll be able to enjoy fast transfer speeds with little to no significant drop-offs.
Using CrystalDiskMark to test the drive's synthetic performance, it was able to finish five passes of a 1 GB test file with a sequential read and write speed of 116 MB/s. To test its real world capability, I transferred over three things: first is the 6 GB game folder of Overwatch; my office folder filled with 8 GB of various sized documents, images, and whatnots; and a 1 GB .RAR file. Across all three, I hit transfer speeds that ranged from a low 5 MB/s for the fragmented small files all the way to 100 MB/s for the larger bulk. All in all, I got an average 80 MB/s read and write performance from the Canvio Connect II—perfectly fine for the everyday user.
The bundled software were also very welcome, allowing for easy data backups through NTI Backup Now EZ; and cloud capability for your personal computer through Pogoplug PC. Taking advantage of the latter will net users 10 GB of free in-the-air storage.
Value: 4/5
With a competitive price, the Toshiba Canvio Connect II is more affordable than some of its competitors while delivering essentially the same dependable everyday performance. The bundled software, while not as elaborate as other solutions, is a welcome sight for a device at this price point and are easy enough to setup for everyone that knows how to click things with a mouse.
What's Hot:
Clean look
Priced competitively
Remains cool to the touch
What's Not:
Bundled cable isn't pretty
Bottomline:
It's a simple, portable, and affordable solution for your data storage needs.
Overall: 16/20