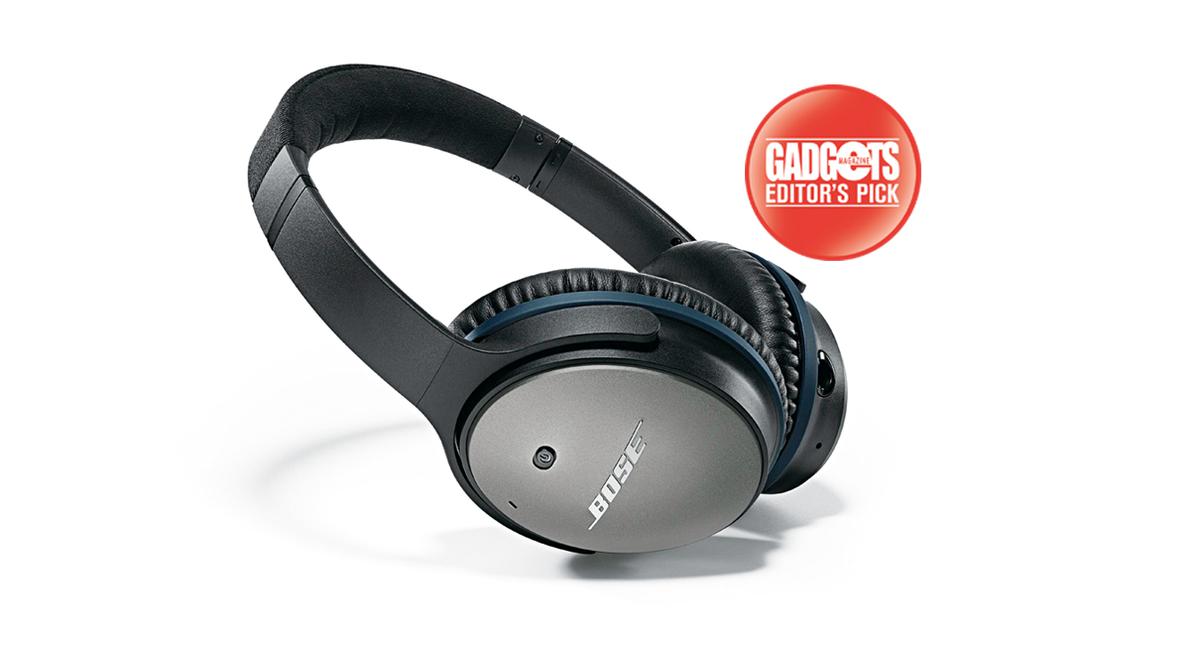 Noise. It's a terrible distraction. Whether it's on a long-haul flight, an empty stretch of road, or at the office, it's hard to get any thinking done with a racket going on in the background. Bose, one of the most trusted names in audio hardware, knows this, and they want to take all that noise away with the Quiet Comfort 25.
Design: 4/5
The Quiet Comfort 25 is a nice-looking set of cans. The black and granite blue of our test unit is very pleasantly subdued, and not particularly attention-grabbing. It's right at home at the office or on a flight, and even on the street, it should serve just fine. Bose has always created very comfortable cans, and these are no exception, with plenty of soft padding around the earcups for lots of comfort. The rest of the device is really quite simple: the removable 3.5mm cord plugs into the left earcup, while the right has a switch to activate noise cancelling on the headphones. It also comes with in-line controls for your device, for ultimate convenience. The right cup is also home to the battery bay, which holds a single AAA battery to provide power for noise-cancelling.
Hardware: 4/5
The Quiet Comfort 25 is a AAA-powered, noise-cancelling pair of over-ear headphones. It achieves this thanks to two microphones—one in each ear. The cans have the standard 3.5mm headphone jack, with in-line controls for your phone, which makes for a very simple affair, with no frills, bells, or whistles, just the way I like it. Gold-plated connectors ensure a clear signal comes through, and low weight and bulk lets you toss the cans in a case, pop that in your bag and go.
User Experience: 4/5
These cans are some of the most comfortable ones I've tried. Light, and with earfoams that are wonderfully soft, I have worn them for up to eight hours in one go, with a break in the middle for lunch, and no complaints at all. Great-sounding cans are great, but if you can't bear to keep them on for more than a few minutes at a time, you're not going to be using them very much. This has comfort for hours.
Sound quality on these is typical of the brand at this price segment. It's full, with decent clarity, though a little skewed towards the lower end of the register. It muddles up the mids just a little, but is worth it if you're a fan of heavy bass. Clarity is much better on it with noise cancelling on, than off.
Speaking of noise cancelling, it's quite startling. Switch it on, and it's a little too quiet, you might be concerned at first. The drone of the office AC was completely eliminated, and even voices were lost once music started playing. It's easy to get completely absorbed by it, so maybe don't switch it on while walking the streets. The microphones are quite directional, and tend to let just a little noise in when you turn your head away from the source. Sitting still makes it all just blend in, so it is ignored in short order. Battery life on the cans is rated at 35 hours, and given that I haven't actually swapped out the batteries since I got them, I'm more than inclined to agree. Just make sure you don't leave it on by mistake, though they will work as regular headphones unpowered.
Using it to listen to music is very enjoyable, and what little noise gets past both passive and active isolation is easily swallowed up by the track. I do wish it let vocals sparkle a little bit more.
Value: 3.5/5
At about PHP15,000 converted, it's quite a pricy set of cans. However, with easy-to-find AAA batteries powering it, superb noise cancellation, comfort like a good pillow, and Bose sound quality, it's a pair I can really get behind.
What's Hot:
Great isolation
Superb comfort
Bose sound quality
What's Not:
Noise isolation mics can be a bit directional
Could use a bit of a bump in the mids
Bottomline:
I'll miss these guys once I have to give them back. If you do a lot of travelling, it's a great pair to have.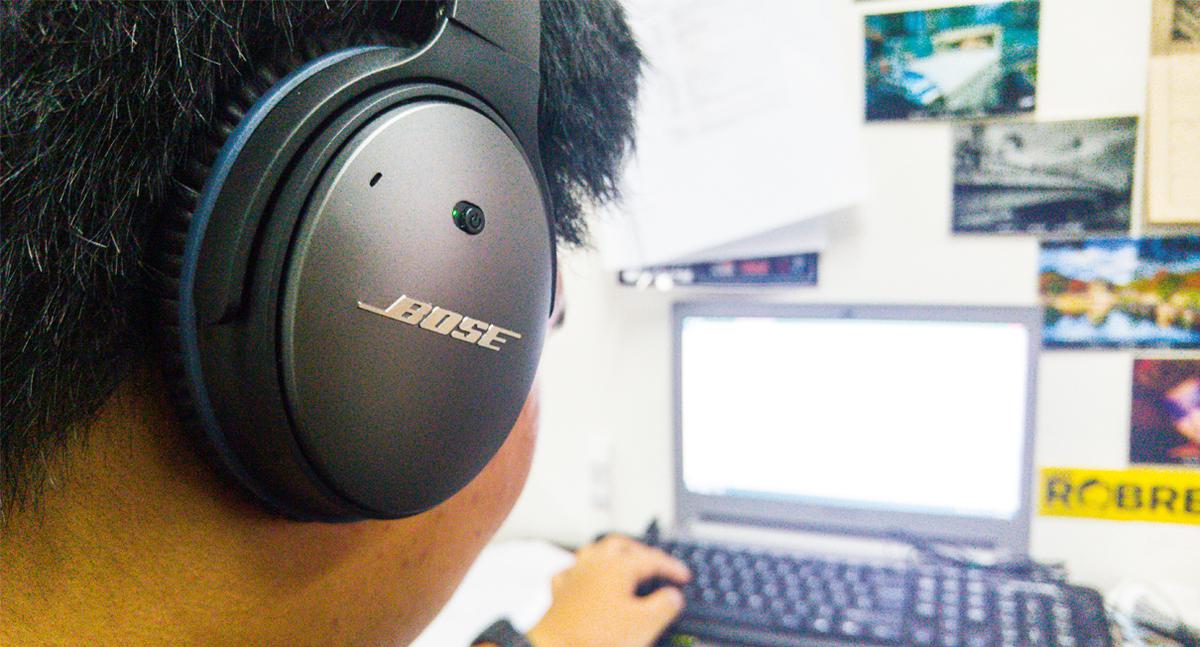 Specifications:
Type: Over-ear
Noise cancellation: Active
Plug: 3.5mm, removable, with in-line controls
Power: 1xAAA
Weight: 195g
Cable length: 1.4m
Also published in GADGETS MAGAZINE April 2016 Issue.
Words by Ren Alcantara