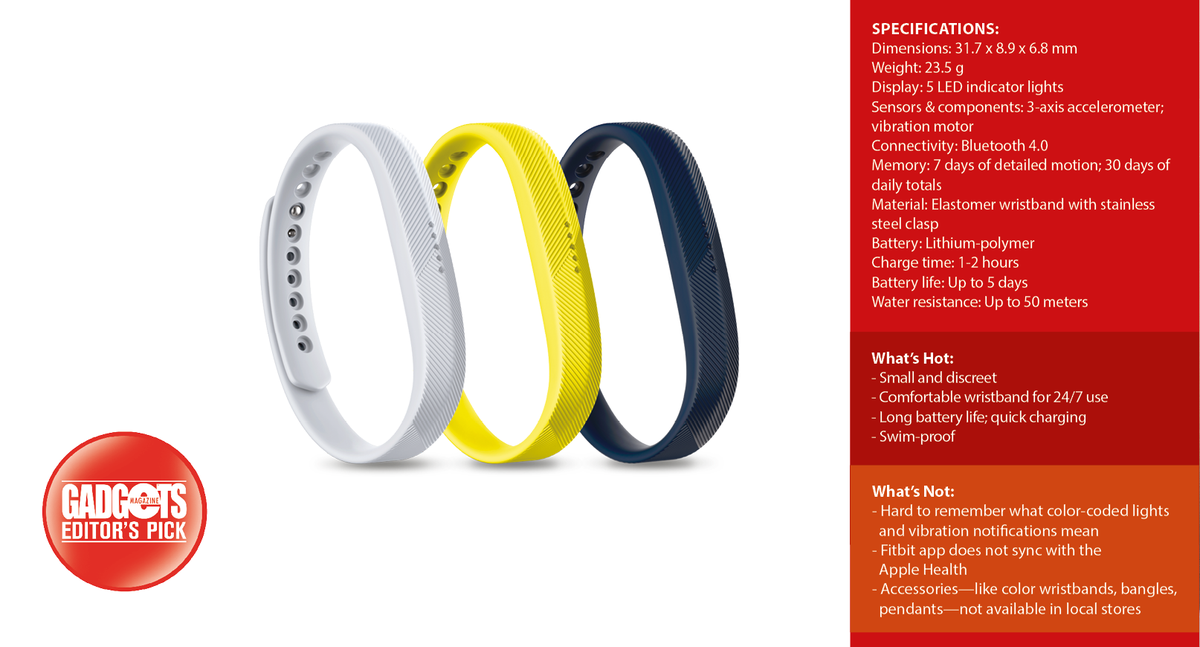 Fitbit, the leading wearables company, has reinvented its iconic tracker into a versatile, swim-proof fitness wristband, the Fitbit Flex 2.
Design 4.5 / 5.0
The Fitbit Flex 2 is 30 percent smaller than its predecessor, with the tracker itself measuring only 31.7 x 8.9 x 6.8 mm and weighing 23.4 g. The black plastic tracker has five LED notification lights in front and three charging pins at the back. The removable tracker is inserted into a slim classic band made of a flexible, durable elastomer material with a modern herringbone design. The bands come in a variety of colors—black, lavender, magenta, and navy—to suit individual tastes.
With its minimalist design and slim classic band, the Flex 2 can be worn alone, or along with other jewelry, or next to a watch. Unless you choose a bright-colored band, it is discreet and unobtrusive, suitable for almost all occasions. When the classic 3-pack fitness accessory bands become available in the market, you can choose to expand your color options with the Sport Pack which includes navy, gray, and yellow bands, or the Pink Pack with magenta, lavender, and blush pink colors.
For the more fashion-conscious, the Flex 2 can be accessorized with a stainless steel bangle in silver, gold or rose gold, or a pendant that's available in silver or gold. Fitbit has also announced that designer collections from Tory Burch and PUBLIC SCHOOL will be available in 2017.
Hardware 3.5 / 5.0
The Fitbit Flex 2 was redesigned with custom components to fit its slim, narrow, symmetrical design, but the hardware itself is quite basic. Housed inside the tiny black plastic casing are the 3-axis accelerometer, vibration motor, Bluetooth antenna, motherboard and memory chip, lithium-polymer battery, charging pins, and LED lights.
The accelerometer tracks movement, the vibration motor and LED lights provide notifications, and the Bluetooth 4.0 antenna syncs to the Fitbit app. The on-board memory records 7-days of detailed minute-by-minute motion data and saves daily totals for the past 30-days. Depending on use, the battery can last up to five days for each full charge.
The Flex 2 is also water-resistant up to 50 meters, and can be worn in the shower, pool, or ocean (but is not recommended for use in a hot tub or sauna).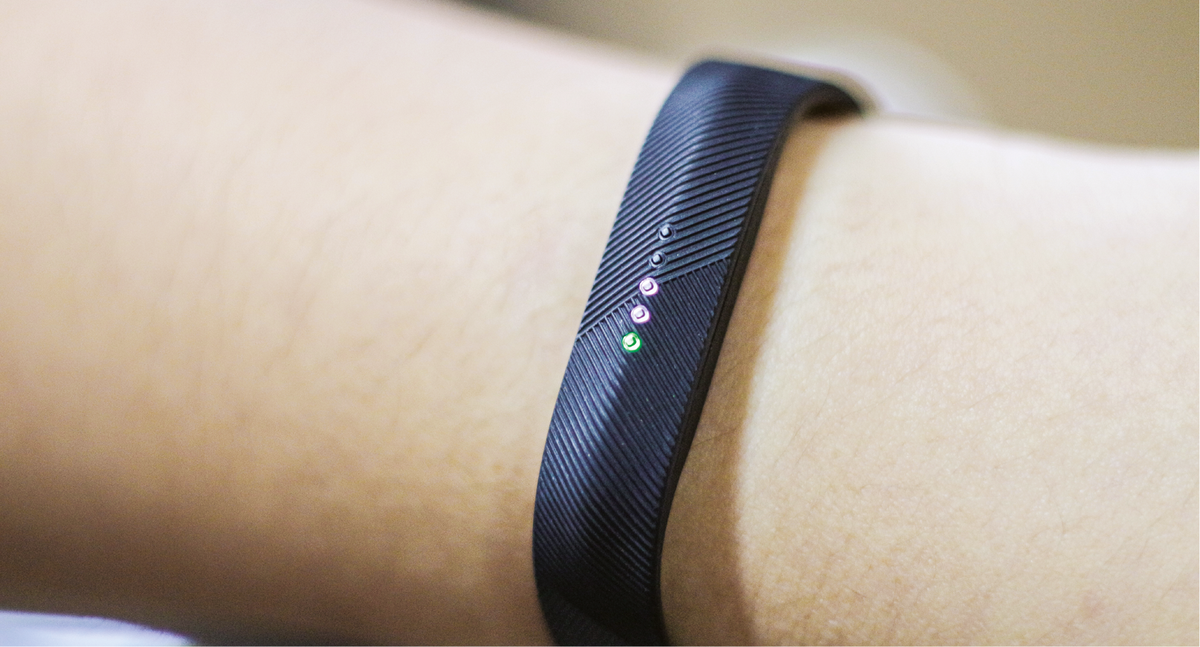 User Experience 4.0 / 5.0
The functionality of the Flex 2 is tied up to the Fitbit app that tracks your essential health and fitness data. Out of the box, the first thing you're asked to do is to set up your Fitbit account and sync the Flex 2 to your smartphone via Bluetooth. On the app, you configure your preferences such as which wrist you'll be wearing the tracker, as well as preferences for silent alarms, notifications, reminders to move, your main goal (whether steps, distance, calories burned, or active minutes), and syncing. Your also asked about your goals for activity, exercise, nutrition & body, and sleep.
Once that's done, you start wearing the Flex 2, and it automatically starts tracking your activities. You see your progress on the app dashboard, which shows steps taken, distance, active minutes, and floors climbed.
The device can automatically recognize and track selected exercises such as walking, running, rides, aerobic workouts, and swims. It reminds you to move every hour so you don't forget to get up and take a break from sitting at your desk for too long. Set up a sleep schedule and it reminds you when it's time for bed and also wakes you up with vibrating notifications on your wrist. The app tracks how well you slept by showing when you were in deep sleep, and how many times you were restless or awake. If you've set up notifications, it lets you know when you get a call or text message on your phone (provided it is within Bluetooth range).
The notifications are color-coded with a magenta LED light for move reminders, a yellow light for the wake-up alarm, and blue for calls/texts, but I can never remember what the colors and vibrations mean, so I end up not exactly ignoring but not really responding to the notifications.
Back to the Fitbit app, compulsive types will also appreciate being able to record weight, as well as food and water intake.
My one biggest issue with Fitbit is that it refuses to sync automatically with the Apple Health app, an annoying inconvenience that many other Fitbit users complain about.
Value 4.0 / 5.0
With a suggested retail price of PHP 5,499, the Flex 2 is not the cheapest tracker in the market. However, if you're looking for a proven brand with the assurance of continued market presence and update support both on firmware and software, then you can't go wrong with the market leader.
Bottomline:
No bells and whistles, but so indispensable the only time I take it off is when I need to charge it.
Also published in GADGETS MAGAZINE February 2016 Issue
Words by Maribelle Alba