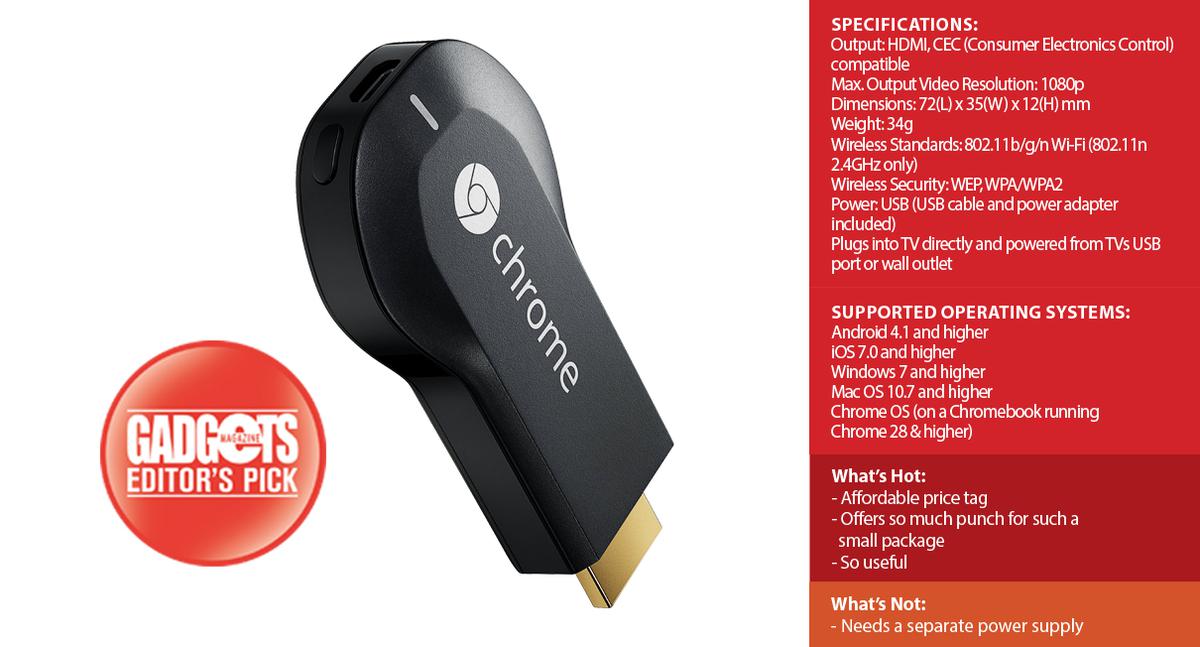 First brought to market in 2013, Google's popular media streaming device is finally available locally. How does it stack up? Read on. (Hint: We love it!)
Design: 4.0/5.0
The Chromecast currently available in the country is the tech giant's first-gen device. Unlike the more colorful second-gen iteration, it is only available in black, and looks like a large-sized thumb drive, except that it comes with an HDMI plug instead of a USB. Weighing a mere 35 grams, the tiny device bridges the gap between Smart TVs and regular (HMDI-ready) ones by streaming content straight from the web.
Because it doesn't come with a dedicated controller, a mobile device is needed to serve as the remote. After your device links the source to the Chromecast, the material- or materials in case of a playlist- is played on the TV without even using the processing power of your mobile device. This, however, isn't the case when you use it to mirror what's on your screen to a (presumably) bigger screen, which it can also do.
Hardware: 5.0/5.0
The Chromecast media streaming dongle runs on a deeply simplified version of Chrome OS. Because the HDMI standard does not carry the required juice to power the device, it ships with a few accessories, namely: a wall charger; a microUSB to USB cable: and an HDMI extender, just in case your current setup can't accommodate the shape or size of the device because of the orientation of the ports. In our case, we opted to plug the device directly into a wall socket since we had a spare one. The cleaner setup option would have been to connect the device to the one of the TVs USB ports, but since we have a number of external drives and gizmos using those ports, we didn't have any available.
Chromecast is currently compatible with Android phones and tablets, iOS mobile devices, as well as Chrome for Windows and Mac laptops, and certain Chromebooks.
There is actually a good number of apps compatible with Chromecast, but this number is bound to rise, most especially since Google made their software development kit (SDK) available to all app developers so that more developers can incorporate it in their apps and therefore populate the compatible app inventory.
User Experience: 5.0/5.0
Setting up the device with our home TV and network took less than five minutes. After downloading the Chromecast app on my phone, everything else was a breeze because of the Plug and play functionality. It's also very convenient that you use your Google log-in so it's one less password to remember.
One thing you need to remember, though, is the nature of the beast: your experience will only be as good as the speed of your internet connection. We have a 5MBPS connection at home and we had minimal problems with clarity and buffering, thanks to adaptive streaming. I am currently trying out the three major streaming services available namely HOOQ, iFlix, and most recently Netflix, but honestly, I haven't decided which service I like the best since they each have their strengths.
Aside from video, Chromecast it can also stream audio, make playlists, as well as games like Just Dance Now and other titles. At a party, guests can contribute to the playlist as long as they're on the same network. Theoretically there isn't a limit to the number of devices that can contribute to the playlist, however, it is actually limited to the number of devices that can connect to the network/router. There is also a guest mode that can be activated, which only requires a passcode to be able to contribute to the list.
Another thing Chromecast can do is display Google's wide selection of beautiful images that can brighten any room. However, an even better us this is ability is to display your own photos. Remember those iPad mini-sized digital frames that used to be in vogue? Well now you can display your vacation pictures and selfies on a bigger screen for more people to see.
Multitasking isn't a problem since once the program works in the background, you can use your mobile device as you normally would, while still enjoying the material being played. Once you cast the media to the TV, you can even leave the room, and the show will play until the end of the show, or until someone else connects to the networks and controls what is playing.
Value: 5.0/5.0
Google Chromecast is perfect for those who don't have and/or can't afford smart TVs, more expensive streaming devices, or gaming consoles that can do the same. While the functionality seems limited to some, it certainly serves its purpose, and the value proposition is hard to deny.
Google Chromecast is exclusively available at Globe stores for the outright purchase of Php 1,995 per dongle. It comes free with new Globe Tattoo broadband subscriptions that start at P1,299 per month, and for recontracting existing (Yes! Existing!) subscribers.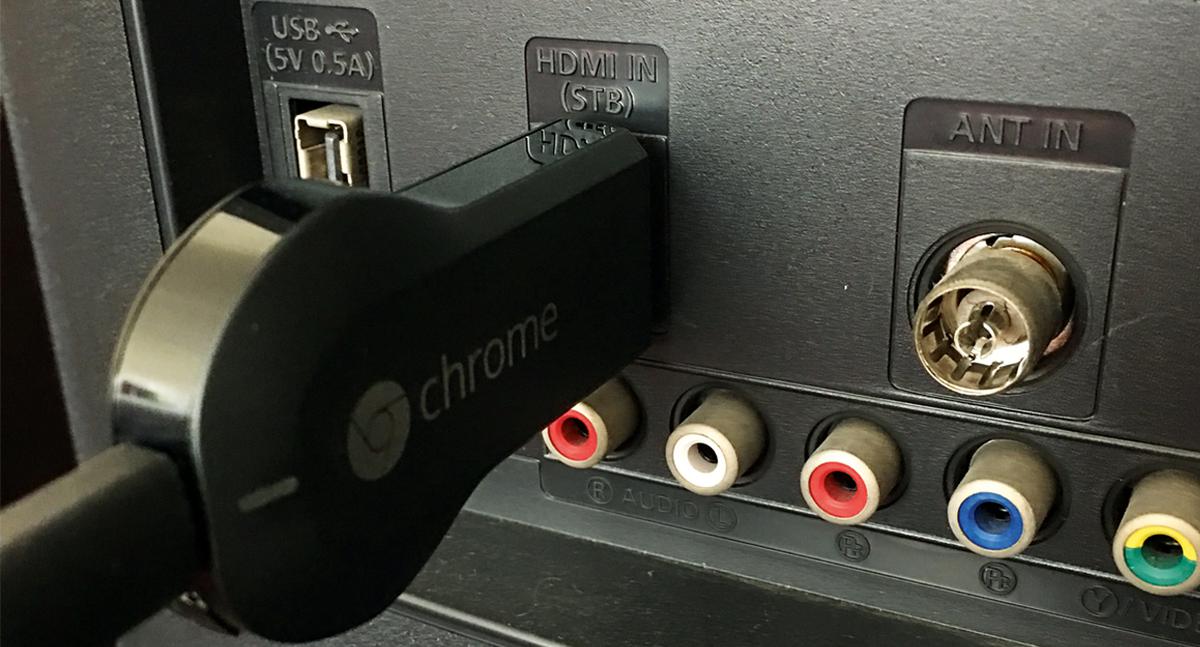 Bottomline:
Smart TVs are no longer on my wish list. Instead, I want a Chromecast for all our TVs in the house.
Also published in February Issue 2016
Words by Mika Fernandez-David