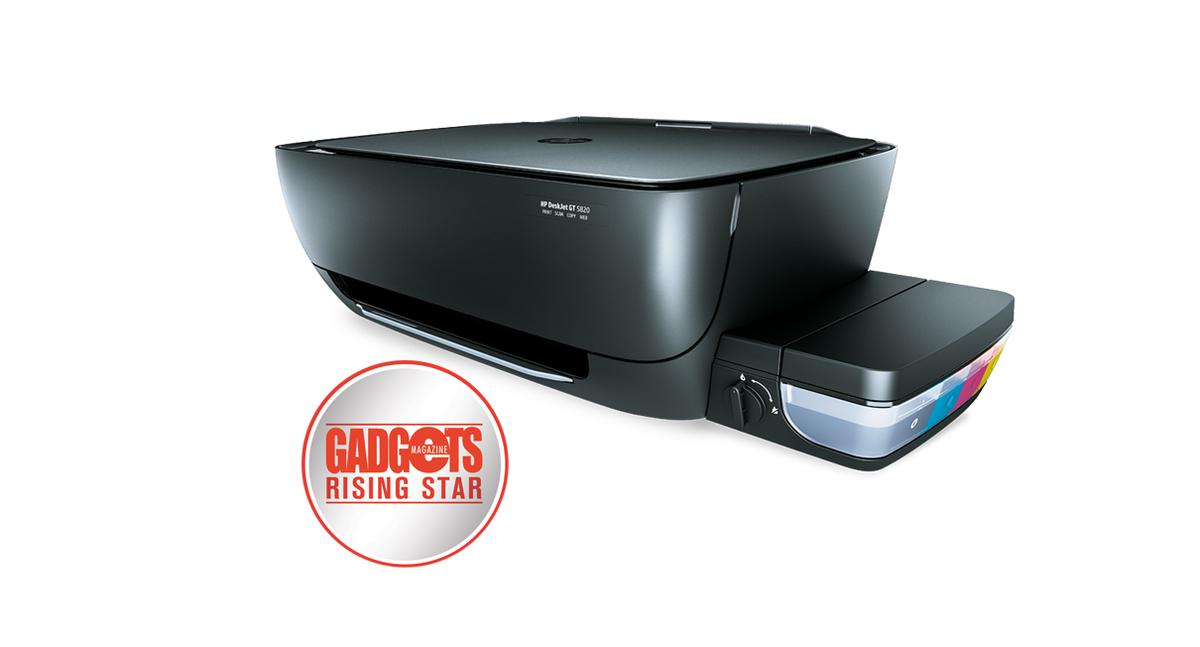 Raise your hand if you've had a continuous ink refill system installed on your inkjet printer because you wanted to save some bucks. Now you don't have to put up with the inconvenience of a retrofitted after-market installation which could void your warranty, because the new HP Deskjet GT 5820 was designed as an ink tank printer out of the box.
Design: 3/5
Form follows function, so the Deskjet GT 5820 is the usual all-black plastic body, but with the four chamber ink tank system protruding from the right-hand side. On top is a flatbed scanner that can take up to A4-sized paper. Next to the scanner, on the top left surface is the LCD display with the various control buttons lined up. You will find the power connection and a USB port at the back.
Paper input is via a slot at the back of the unit. You slide up the input tray, adjust the paper guide to the appropriate width, and insert your paper stack vertically with the short edge down and the print side up. The input tray can take up to 60 sheets of standard paper.
The output tray is actually a plastic arm with an extender that you slide out of the unit's front bottom. It can accommodate printouts of up to 25-sheets.
Hardware: 3.5/5
The drop-on-demand theremal inkjet print mechanism on the GT 5820 utilizes two printheads—one for black and one for tricolor ink. Once these printheads are latched into the printer carriage and primed, ink from the external reservoir flows through supply tubes into the printheads as needed.
The flatbed scanner is capable of resolutions up to 1200 dpi, while copy resolution is up to 600 x 300 dpi.
Wireless connectivity is a big plus, allowing for mobile printing directly from smartphones and tablets.
User Experience: 3.5/5
The Deskjet GT 5820's unique selling proposition is its ink tank system which is definitely superior to after-market retrofits. For instance, it touts a spill-proof refill system that uses ink bottles designed to plug into the ink tank nozzles and flow without squeezing, so you don't get the messy leaks often associated with replacement systems. The ink tank is transparent, so you can quickly check if a particular color needs to be refilled. An ink valve at the front of the exterior tank lets you control ink flow. Locking the valve prevents ink leakage if you need to move or transport the printer.
With HP original ink, printer output from the Deskjet GT 5820 is of good quality, with consistent color saturation. However, printer speed is a bit disappointing, and the time it takes to process a complex page could take several minutes.
On the other hand, being able to print wirelessly even when the Deskjet GT 5820 is not connected to a router is a major convenience. With Wi-Fi Direct turned on, you can send your print jobs directly from your Wi-Fi enabled mobile device—e.g., you can print a photo taken on your smartphone directly on the Deskjet GT 5820.
Value: 4/5
The Deskjet GT 5820 retails for PHP 8,790. Each ink tank bottle costs about PHP 310. Color bottles can print up to 8,000 pages, translating to about 12-centavos per page. The black ink bottle can print up to 5,000 pages, for a per-page cost of about 6-centavos. These are hard-to-beat numbers if cost is a primary consideration.
Students needing a multi-function device that lets them print school projects at very low cost, as well as copy/scan reference materials when needed, will definitely appreciate the Deskjet GT 5820. It is also ideal for small offices with printing cycles of about 1,000-pages a month.
What's Hot: 
Wireless printing
Very low per page cost
Spill-free ink tank system
What's Not:
Slow first page out
Slow print speed
Bottomline:
Need to eke out every last drop of ink from your printer? Let the HP Deskjet GT 5820 help you save on printing costs.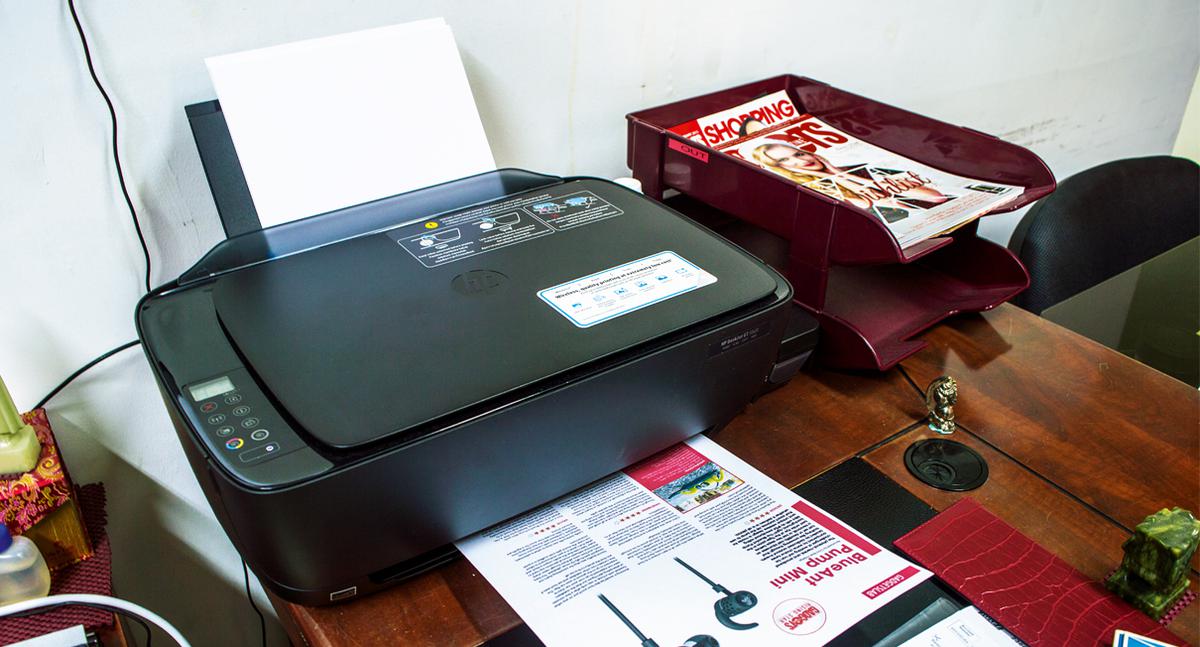 Specifications:
Printer Type: Inkjet
Functions: Print, copy, scan
Print Speed: Up to 8 ppm (black) / 5 ppm (color)
First Page Out: As fast as 13 sec (black) / 17 sec (color)
Duty Cycle (monthly): Up to 1,000 pages
Scanner: Flatbed (216 x 297 mm), up to 1200 dpi resolution
Control Panel: 7 segment + icon LCD
Connectivity: USB, Ethernet, Wi-Fi
Paper Tray: 60-sheet input tray; 25-sheet output tray
Ink Cartridges: 1 black bottle, 3 color bottles
Dimensions: 525 x 310 x 158 mm (minimum)
Weight: 4.67 kg
Also published in GADGETS MAGAZINE June 2016 Issue.
Words by Belle Alba