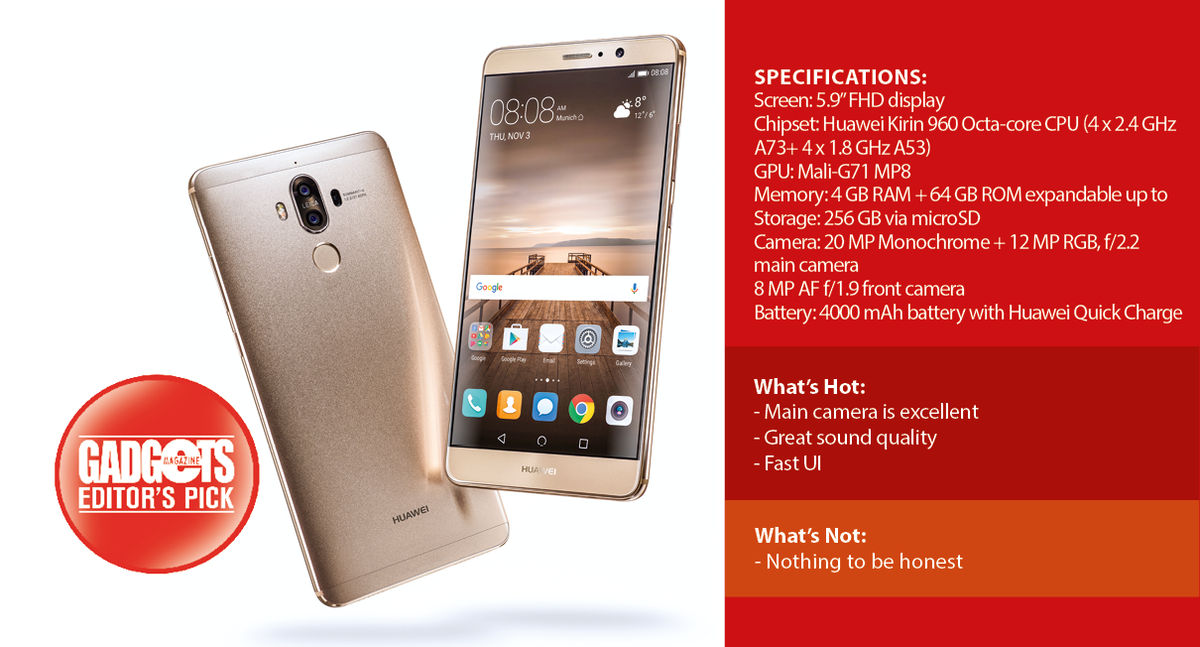 Over the past couple of years, Huawei has set out to change the smartphone game as one of the brands responsible for removing the stigma from Chinese brands in the past decade. The Mate 9, released only a couple of months ago, is the brand's newest note-category smartphone and is followed only by the flagship P10. I got the chance to bring it on the road trip for an extended field test to find out if all the fanfare is warranted.
DESIGN 4.5 / 5.0
Upon holding the Mate 9 for the first maybe two seconds, I immediately knew that this was a premium phone: the texture of brushed metal against its glossier bevels, the accents on every perfectly placed button and other exterior elements.
While other people would argue that it looks and feels same-y, I personally like its minimalist, no-frills design—and in this case "no-frills" is so far from flimsy. It's a solid device, built with the utmost care to last for some time; at least it feels that way. The Mate 9 is available in seven colors from space gray to mocha brown, and whatever color it's in, it looks pretty darn sweet.
HARDWARE 5.0 / 5.0
The Mate 9 is built on the inside in the same way as that of its outside: strong. It boasts of an octa-core Kirin 960 processor with four cores clocking in at 2.4 GHz and the remaining four cores clocking in at 1.8 GHz. Couple that with 4 GB of RAM and a Mali-G71 MP8 graphics chip and you get a very powerful device capable of running anything from your staple social media to resource-hungry mobile games.
Famous for its partnership with premium camera manufacturer Leica, the Mate 9 possesses a dual, 20-megapixel monochrome plus 12-megapixel RGB lens setup for its main camera with f/2.2 aperture, 2x zoom, phase detection and laser autofocus. This allows the camera to shoot high-resolution photos with excellent contrast and videos with a resolution of 2160p at 30 fps.
Other hardware specs include a 4000 mAh battery with Huawei's fast charge feature, a rear-mounted fingerprint sensor, 64 GB of on-board storage expandable up to 256 GB via a microSD slot, and a 5.9-inch screen with full 1080p resolution. While others would diss the Mate 9 for not having a 4K resolution screen, but on a smartphone, you don't really need that pixel density.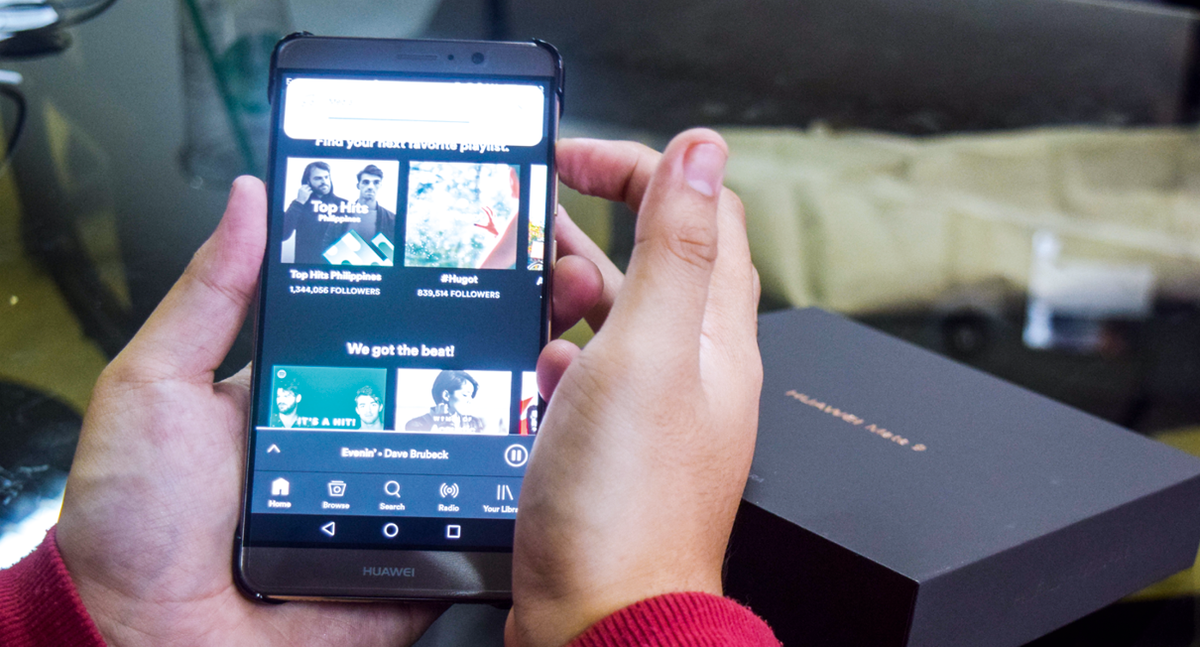 USER EXPERIENCE 5.0 / 5.0
So let's get this out of the way of the rest of the review: the Leica optics camera takes very beautiful photos; and I mean beautiful. Taking photos of passing scenery on the fly while on the camera was a challenge for the relative clunk of DSLR and mirrorless cameras, but rarely did I find myself missing them when I had the Mate 9 with me. The phone had a variety of adjustable settings like ISO and exposure time for the manual mode, while color, flash and environment settings were adjustable on just about every photo mode there was. But the magic of the camera was with the point-and-tap. Even users who are not well-versed in the ways of manual photography can take gorgeous photos anywhere, anytime. Colors came out beautiful, and the amount of detail from the monochrome lens was superb.
In terms of the UI and using it for day to day, there is very little to say other than how simple and fast it is. Huawei's own UI based on the Android Nougat manages phone resources well and does not have bloatware that tends to slow down other custom UIs. Even with several applications open, the phone hardly flinched and could probably take on more punishment, but by then you'd probably run out of stuff to open up.
As advertised, the phone's charging is excellent with a full charge obtained after about 40 minutes of charging that would last roughly ten days on standby or two days of regular use. A great surprise for me, however, was its built-in stereo speakers which was so loud and clear that it sort of eliminated the need to use tiny Bluetooth speakers.
VALUE 5.0 / 5.0
Priced at PHP 31,990, you get a lot of phone for your money considering its competition and their prices that go only north of here. This is one of the rarities in the market that the price is somewhat justified. And to sweeten the deal even more, the phone comes with a pair of headphones and a hard shell case in the box.
Bottomline:
If you want a nice, classic-looking camera that doubles as a phone, you cannot go wrong with a Mate 9. I know I'd buy it.
Also published in GADGETS MAGAZINE April 2017 issue
Reviewed by Robby Vaflor