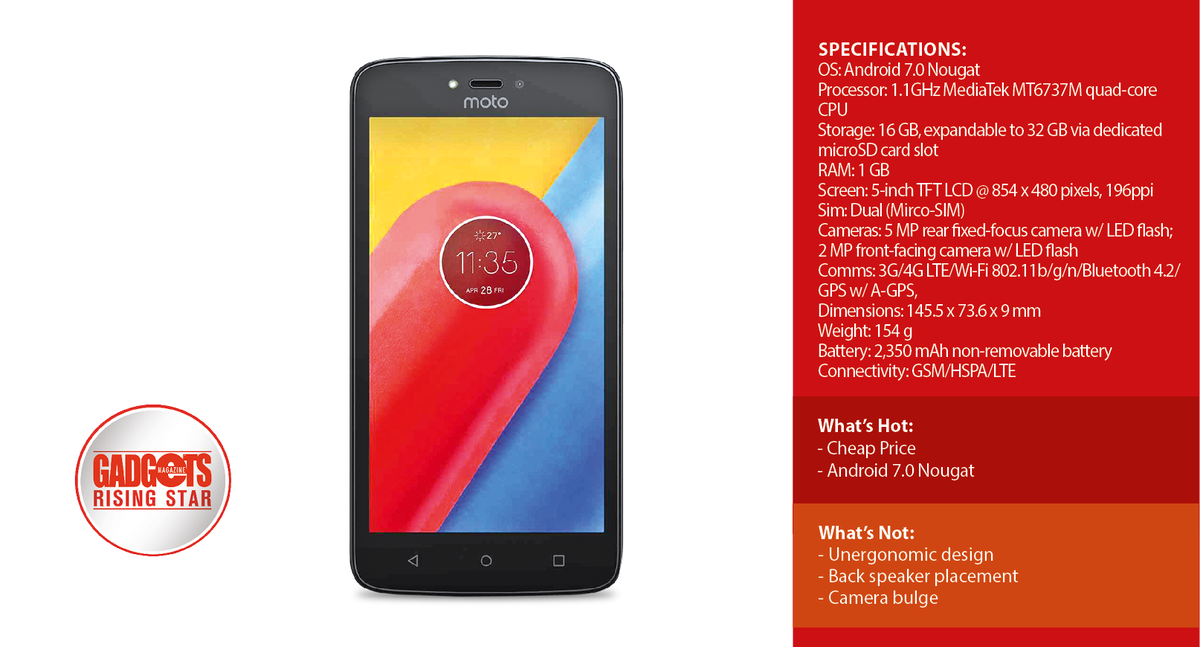 It's 2017 and you'd wonder why phones like the Moto C still come out as new releases. With mediocre specs, an average design, yet an attractive price point, you'd remember why there's a market for these kinds of entry-level phones; they're cheap, and are engineered with just the right amount of power to get the average phone user through the day. For frugal people out there, read ahead to see how practical it is to own an entry-level phone like the Motorola C.
DESIGN 3.0 / 5.0
There's nothing impressive about the Moto C's design, and the saying that "you get what you pay for" is true especially with this model. The Moto C features a plastic design which passes as average, at best.
Up front we have the TFT LCD display with 196 ppi, which is expected of phones within this price point. Despite its low resolution, the phone makes up for it in size with its 5-inch display. With the screen switched off, the black bezels that surround the phone are highly distinguishable from the screen that comes of as distinctly grey. Immediately, this translates to two things: a bad viewing experience when the sun strikes, and an inconsistent design that strays away from a supposedly unified and attractive one. On a positive note, the reflective grey screen comes in handy as a mirror. Also at the front, at either side of the earpiece speaker, is the 2 MP front facing camera and an LED flash.
The phone's edges are curved and provide good enough gripping surface which is a plus for the phone. The Moto C comes with a more than subtle camera bulge. About an inch in diameter, the circular piece where the camera and the flash are embedded is elevated, which makes it quite disturbing. The Moto C's main speakers are also located at the back, so you'd have to flip it over during song changes or else suffer an even more muffled speaker.
HARDWARE 3.0 / 5.0
Again, you get what you pay for. The Moto C comes with basic specifications that perform average; a fair outcome for a significantly low priced phone. The Moto C features a 1.1 GHz MediaTek MT6737M quad-core CPU. Undeniably, there is a stigma out there when MediaTek processors are mentioned. With the Moto C being equipped with such, performance is limited to an average level.
Though the phone only comes with 1 GB of RAM multitasking is still possible, yet is limited in background refreshing. Not at all a surprise, most applications run on the background will become inactive and will require a reload.
Right out of the box, the Moto C features 16 GB of internal storage which is upgradable up to 32 GB via a mircroSD Slot. Adding to this is the neat dualSIM feature for communication convenience.
Cameras come with average specifications, a 5 MP at the back, and a 2 MP up front. The Moto C, however, makes up for the low megapixel count by adding an LED flash beside the front and back cameras.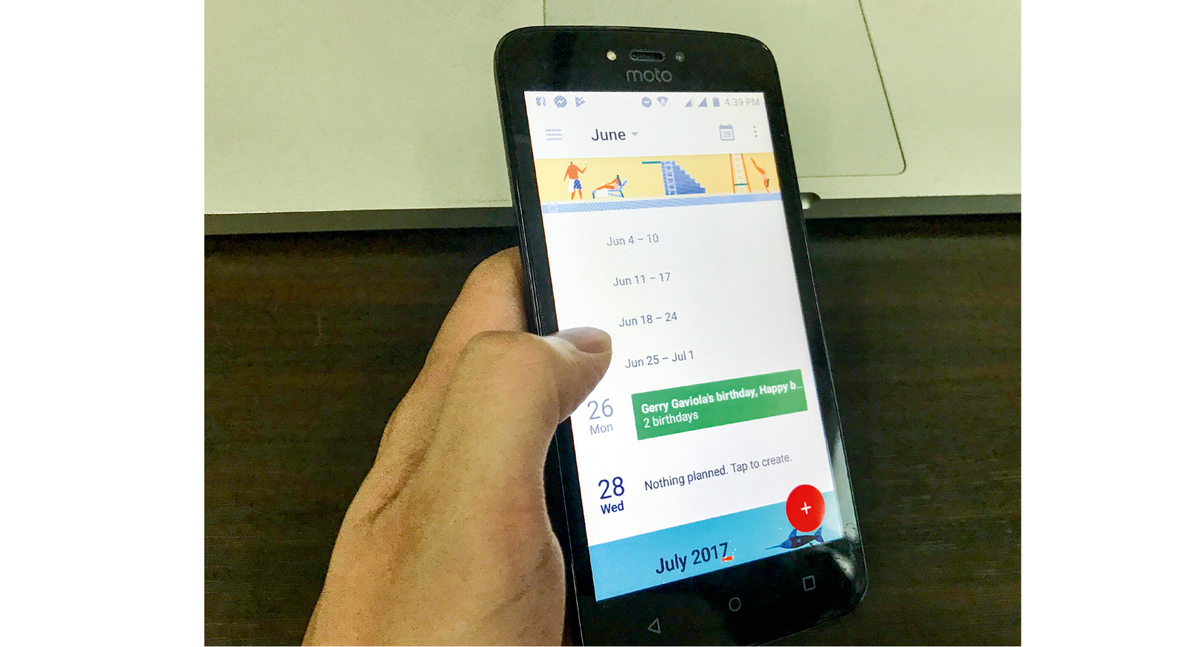 USER EXPERIENCE 3.0 / 5.0
We all heard of the terrors that MediaTek processors are infamous for: the lagging, the crashing, and what not. If you're going to use the phone only for light usage, then this really isn't an issue. Using an entry level phone and expecting it to run smoothly just isn't fair, so don't expect to play NBA 2k17 at its high, or highest graphics settings. It's going to hang and lag like crazy, which, then again, is expected. Put on normal settings, however, lag is greatly reduced. If it isn't obvious enough, an entry level phone limits you to average settings. Right out of the box, it'll play majority of the applications thrown at it, but at its normal setting.
The Moto C runs Android 7.0 Nougat, which is really neat. What is not commendable is its flawed design that's the culprit for the meager user experience. The phone wobbles when typing on a flat surface which is caused by the huge camera bump. Adding to this is the oh so inconveniently placed back speaker which breaks away from a supposed pleasant sound listening experience. You'd honestly wonder why they even put it at the back of phone.
The Moto C still comes as usable, tolerable, and surprisingly reliable for as long as you don't mess with those settings, and as long you don't mind its flaws.
VALUE 3.5 / 5.0
There are plenty of other entry-level phones out there, but with the Moto C significantly priced low at PHP 3,699, you get what you pay for.
Bottomline:
If you're absolutely frugal and don't mind being extra patient, buy it.
Also published in GADGETS MAGAZINE July 2017 issue
Words by Gerry Gaviola