Innovation in the smartphone world has come to a plateau. For years now, we've been seeing slab after indistinguishable slab of metal and glass. For a while, it had gotten pretty boring, to be frank. Fortunately, Moto has seen the need to change things up, and given us the Moto Z. Is modularity just a novelty, or is it ready for the limelight?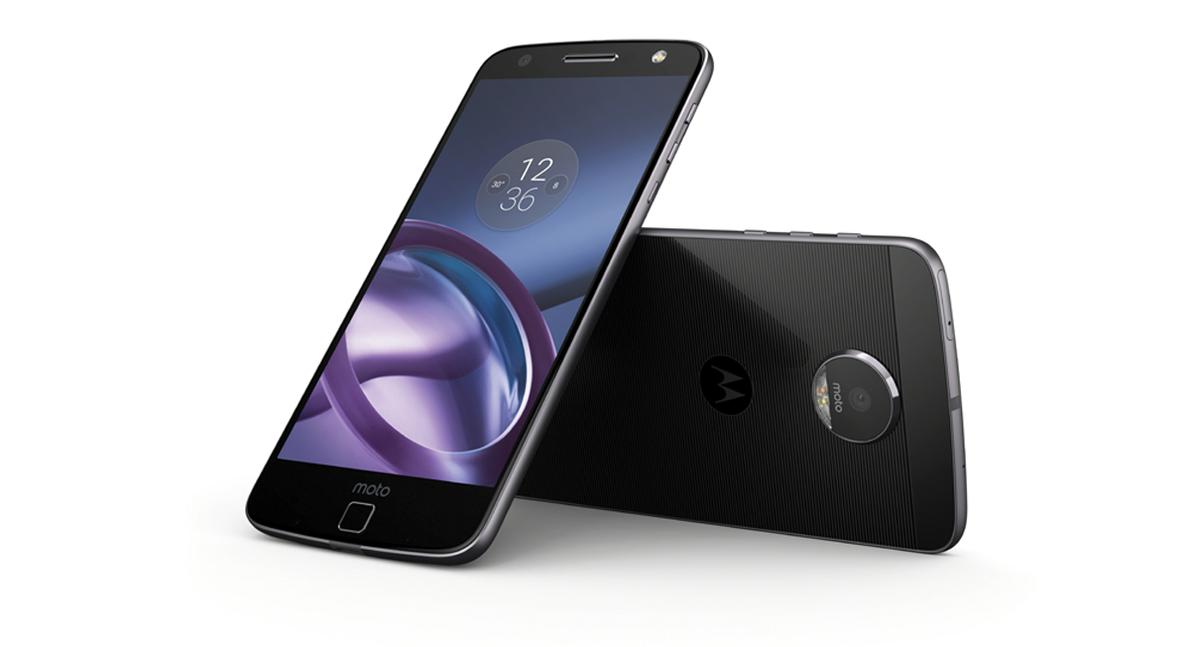 Design: 4/5
The device itself is impossibly thin. At just
5.19 mm, it's the thinnest flagship device available. That alone is remarkable, and shows just how far mobile phone technology has come. Turned sideways, you'd actually be hard-pressed to even see it in someone's hand. The bezels on the Moto Z are also very pleasantly thin, allowing the screen to make the most of the available space. The metal frame around the outside edge of the phone is nicely rounded, and feels great in the hand, though seems like it might be prone to scratches.
As for ports and connectors, there's a single USB C port at the bottom for charging and data, both in and out. It seems like they are of the conviction that the 3.5 mm jack is obsolete and unnecessary, and instead give you a USB C to 3.5mm adapter. The jury is still out on whether or not that's the direction the market will go, but that's where we're at.
Apart from that, there are three buttons on the right edge—two for volume, and one for power, and a single front button that serves as both the "Home" button and fingerprint scanner. The back of the unit is plain, save for the camera unit, and gold connectors that give you a hint at the phone's additional capabilities.
Hardware: 4/5
Since this is the flagship of the revamped Moto line, we can expect top-of-the-line specs. We are not disappointed. The monster Snapdragon 820, a 1.8 GHz quad-core processor, and Adreno 530 GPU, plus 4 GB of RAM make sure you get performance befitting a flagship device. Internal storage is at
64 GB, expandable with up to two more terabytes of storage via microSD.
The screen is a 5.5-inch AMOLED deal, with 531 pixels per inch. It's also a Quad HD display, so images are wonderfully sharp. Protecting it is Corning Gorilla Glass, so you worry significantly less. Connectivity is LTE, all the way down to EDGE, as well as the standard Bluetooth, GPS, and Wi-Fi, of course. The rear camera is a 13 MP deal with optical image stabilization.
User Experience: 4.5/5
The Z is just so super thin in its base form. It's not uncomfortable, but it does feel like it's going to jump out of your hands at any moment. It won't really, and it feels great in your pocket, like it's not even there. The phone itself performs superbly. It has a lightning-fast fingerprint scanner—one of the best I've had the pleasure of experiencing, and hardly noticeable. Daily use is likewise zippy and responsive. Though it doesn't run stock Android, it's close enough not to get in the way. All that RAM does a great job of keeping the experience buttery smooth and fluid—you'll be hard-pressed to make the thing struggle with any process.
The battery life on such a thin device is shocking. I wasn't expecting a workday's worth of performance from it, owing to just how thin it is, but with normal use, no videos, and limited navigation, I was able to make it last about eight hours. I had to charge before heading home, just to make sure I would make it with no problem, but seeing how thin the phone is, I was impressed.
Where the device really shines is with the mods. I was lucky enough to get the Hasselblad Camera Mod, which boosts the Z's camera performance several orders of magnitude. Along with dedicated shutter and zoom buttons, you also get a larger sensor, better controls, and a much more effective photography experience all in all. I would put it just a shade under a dedicated point-and-shoot, not because of image quality, but because it does put a strain on the phone's battery. Since there's no viewfinder, you're going to have to use your screen, and that really does a number on your power levels. Still, if you have the power to spare, this will easily take care of your basic point-and-shoot needs, in a way that even the best internal camera can't handle. I mean, 10x optical zoom, Xenon flash, and the ability to shoot in RAW. Seriously.
Another bonus is just how easy the mods are to attach and use. Whether it's a camera, speaker, projector, or power pack, they all just snap on. No pairing, precise fitting, or even powering down is necessary. This is one of the things that makes the system special, and so much fun to use.
Value: 3.5/5
This is a little tricky. On its own, the phone is already spectacular, and since you do get what you pay for, it does cost upwards of PHP 30,000. It's a lot of phone for that price, and well worth it. The ability to add greater usability through the mods is just icing on the cake. Those individual mods do cost a fair bit of coin, so you do have to weigh if their utility is worth the price of admission. I personally lean towards "yes," but that might not be the case for all. On its own though, there's no question that the Moto Z is a winner.
Bottomline:
Thin, powerful, and versatile, this is a phone worth looking at and keeping.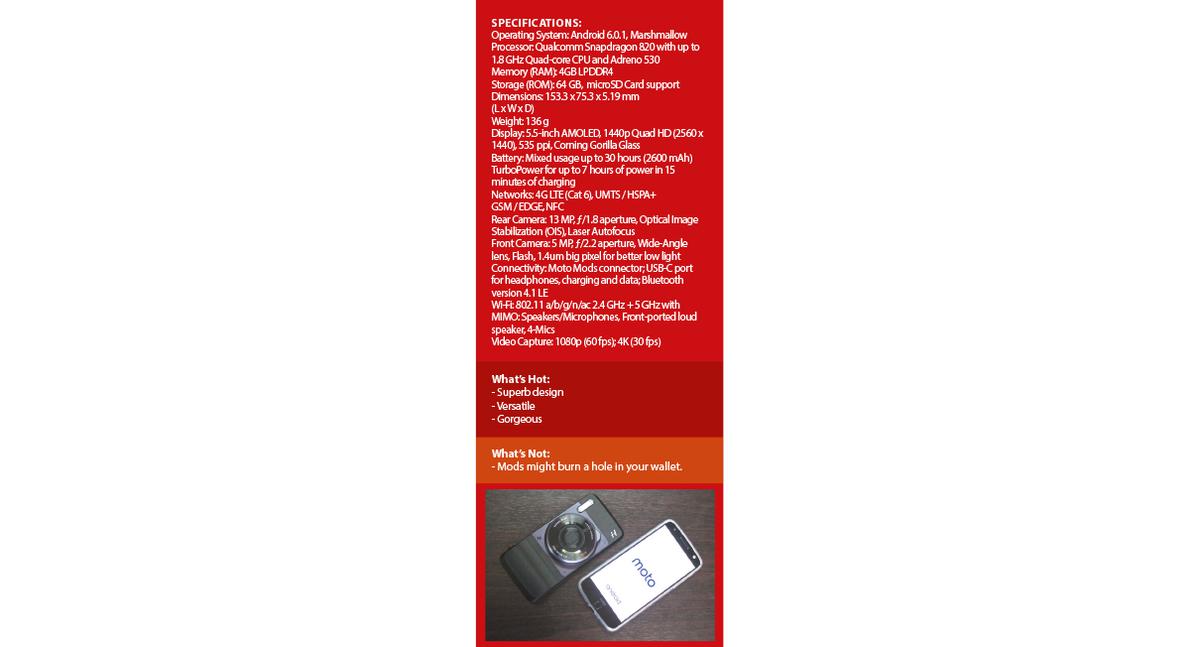 Also published in GADGETS MAGAZINE December 2016-January 2017 Issue.
Words by Ren Alcantara